Abstract
The percentage of the population being served by a transit system in a metropolitan region is a key system performance measure but depends heavily on the definition of service area. Observing existing service areas can help identify transit system gaps and redundancies. In the public transit industry, buffers at 400 m (0.25 miles) around bus stops and 800 m (0.5 miles) around rail stations are commonly used to identify the area from which most transit users will access the system by foot. This study uses detailed OD survey information to generate service areas that define walking catchment areas around transit services in Montreal, Canada. The 85th percentile walking distance to bus transit service is found to be around 524 m for home-based trip origins, 1,259 m for home-based commuter rail trip origins. Yet these values are found to vary based on our analysis using two statistical models. Walking distances vary based on route and trip qualities (such as type of transit service, transfers and wait time), as well as personal, household, and neighbourhood characteristics. Accordingly, service areas around transit stations should vary based on the service offered and attributes of the people and places served. The generated service areas derived from the generalized statistical model are then used to identify gaps and redundancies at the system and route level using Montreal region as an example. This study can be of benefit to transport engineers and planners trying to maximize transit service coverage in a region while avoiding oversupply of service.
This is a preview of subscription content, log in to check access.
Access options
Buy single article
Instant access to the full article PDF.
US$ 39.95
Price includes VAT for USA
Subscribe to journal
Immediate online access to all issues from 2019. Subscription will auto renew annually.
US$ 99
This is the net price. Taxes to be calculated in checkout.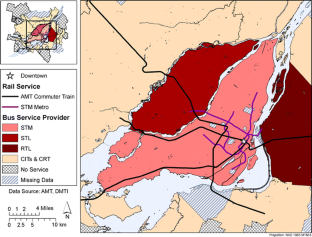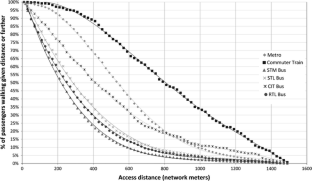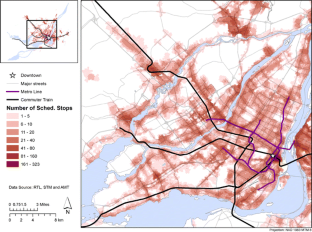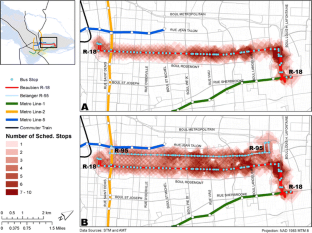 References
Agence métropolitaine de transport: Enquête origine-destination 2003. Montréal, QC (2003)

Alshalalfah, B., Shalaby, A.: Case study: relationship of walk access distance to transit with service, travel, and personal characteristics. J. Urban Plan. Dev. 133(2), 114–118 (2007)

Daniels, R., Mulley, C.: Explaining walking distance to public transport: the dominance of public transport supply. J. Transp. Land Use 6(2), 5–20 (2013)

El-Geneidy, A., Strathman, J., Kimpel, T., Crout, D.: The effects of bus stop consolidation on passenger activity and transit operations. Transp. Res. Rec. 1971, 32–41 (2006)

Fan, W., Machemehi, R.: Do transit users just wait for buses or wit with strategies? Transp. Res. Rec. 2111, 169–176 (2009)

Fielding, G., Glauthier, R., Lave, C.: Performance indicators for transit management. Transportation 7, 365–379 (1978)

Fitzpatrick, K., Perkinson, D., Hall, K.: Findings from a survey on bus stop design. J. Public Transp. 1(3), 17–27 (1997)

Furth, P., Rahbee, A.: Optimal bus stop spacing through dynamic programming and geographic modeling. Transp. Res. Rec. 1731, 15–22 (2000)

Gutiérrez, J., García-Palomares, J.C.: Distance-measure impacts on the calculation of transport service areas using GIS. Environ. Plan. B 35, 480–503 (2008)

Hall, R.: Passenger wait time and information acquisition using automatic vehicle location for verification. Transp. Plan. Technol. 24, 249–269 (2001)

Hsiao, S., Lu, J., Sterling, J., Weatherford, M.: Use of geographic information system for analysis of transit pedestrian access. Transp. Res. Rec. 1604, 50–59 (1997)

Kimpel, T., Dueker, K., El-Geneidy, A.: Using GIS to measure the effect of overlapping service areas on passenger boardings at bus stops. Urban Region. Inf. Syst. Assoc. J. 19(1), 5–11 (2007)

Kuby, M., Barranda, A., Upchurch, C.: Factors influencing light rail station boardings in the United States. Transp. Res. Part A 38, 223–247 (2004)

Lam, W., Morrall, J.: Bus passenger walking distances and waiting times: a summer-winter comparison. Transp. Quart. 36(3), 407–421 (1982)

Levinson, H., Brown-West, O.: Estimating bus ridership. Transp. Res. Rec. 994, 8–12 (1984)

Loutzenheiser, D.: Pedestrian access to transit: modeling of walk trips and theor design and urban form determination around bay area rapid transit stations. Transp. Res. Rec. 1604, 40–49 (1997)

Murray, A., Davis, R., Stimson, R., Ferreira, L.: Public transportation access. Transp. Res. Part D 3(5), 319–328 (1998)

Murray, A., Wu, X.: Accessibility tradeoffs in public transit planning. J. Geogr. Syst. 5(1), 93–107 (2003)

Neilson, G., Fowler, W.: Relation between transit ridership and walking distances in a low-density Florida retirement area. Highway Res. Rec. 403, 26–34 (1972)

O'Neill, W., Ramsey, D., Chou, J.: Analysis of transit service areas using geographic information systems. Transp. Res. Rec. 1364, 131–139 (1992)

O'Sullivan, S., Morrall, J.: Walking distance to and from light-rail transit stations. Transp. Res. Rec. 1538, 19–26 (1996)

Schlossberg, M., Agrawal, A., Irvin, K., Bekkouche, V.: How far, by which route, and why? A spatial analysis of pedestrian preference MTI Report 06-06. Mineta Transportation Institute & College of Business, San José State University, San José (2007)

Upchurch, C., Kuby, M., Zoldak, M., Barranda, A.: Using GIS to generate mutually exclusive service areas linking travel on and off a network. J. Transp. Geogr. 12, 23–33 (2004)

Zhao, F., Chow, L., Li, M., Ubaka, I., Gan, A.: Forecasting transit walk accessibility: regression model alternative to buffer. Transp. Res. Rec. 1835, 34–41 (2003)
Acknowledgments
This research was partially funded by the Agence métropolitaine de transport (AMT) and Natural Sciences and Engineering Research Council of Canada (NSERC). We would like to thank Ludwig Desjardins of the AMT and his research team for their support and feedback throughout the project. We wish to acknowledge Mr. Daniel Bergeron and Alfred Ka Kee Chu of the AMT for providing the detailed Montréal OD survey used in the analysis as well as the transit network. We would also like to thank Ehab Diab for his help with the final figures. Last but not least we would like to thank David Hartgen, US Co-Editor of Transportation and the five anonymous reviewers for their comments on the earlier version of the manuscript.
About this article
Cite this article
El-Geneidy, A., Grimsrud, M., Wasfi, R. et al. New evidence on walking distances to transit stops: identifying redundancies and gaps using variable service areas. Transportation 41, 193–210 (2014). https://doi.org/10.1007/s11116-013-9508-z
Keywords
Walking distance

Transit stops

Service area

Accessibility to transit

Redundancy in transit service

Gaps in transit service