Trichoderma affects the physiochemical characteristics and bacterial community composition of saline–alkaline maize rhizosphere soils in the cold-region of Heilongjiang Province
Abstract
Aims
Heilongjiang Province in China experiences extremely cold weather, and its soil is saline–alkaline. Salinity and alkalinity severely restrain the growth of maize. Although Trichoderma treatment has been extensively evaluated as a promising strategy to improve soil quality, its impact on the bacterial community and physiochemical properties of this soil type is unclear.
Methods
In the current study, different amounts of Trichoderma were used in field experiments in the Heilongjiang Province for two consecutive years. High-throughput sequencing was used to analyse the impact of Trichoderma on bacterial diversity in maize rhizosphere soils. Changes in root growth, crop yield, and soil physicochemical properties were also monitored.
Results
Treatment with Trichoderma increased the overall abundance of bacteria in soil and affected the bacterial community structure in the rhizosphere soil. It also significantly increased the relative abundance of beneficial bacterial genera, including Nitrospira and Sphingomonas. Bacteria from the genus Stenotrophomonas were identified exclusively in Trichoderma treatment groups. Pearson's correlation analysis revealed that changes in soil bacterial community composition were closely related to soil characteristics such as the pH, organic matter, and total nitrogen, and were highly correlated with Trichoderma treatment. Trichoderma treatment increased crop yield by 4.87–12.41%.
Conclusions
These findings suggest that Trichoderma treatment remarkably improves enzyme activity and nutrient content in soil; optimizes the microecological environment of the rhizosphere soil of maize; alleviates bacterial community degeneration in saline–alkaline soil from cold-region; and promotes the growth of maize plants, ultimately increasing crop yield.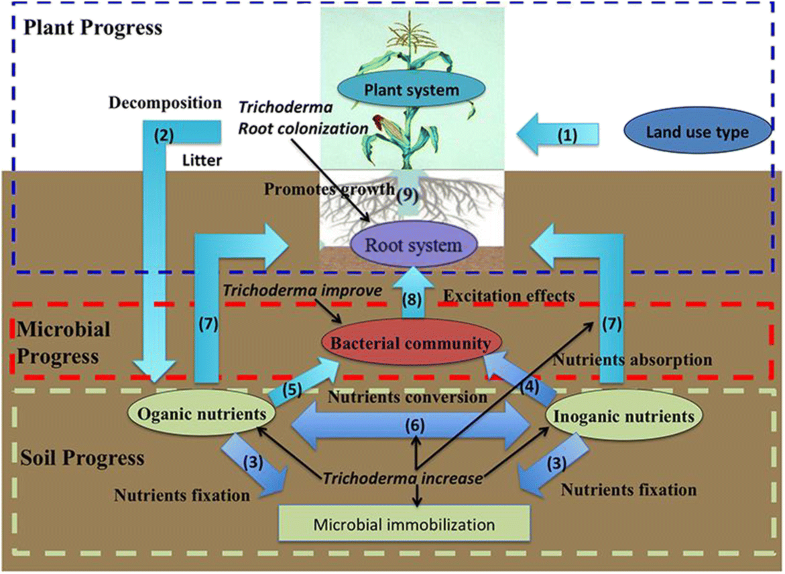 Keywords
Maize 
Trichoderma
Cold-region 
Saline-alkaline soil 
Bacterial community 
Soil properties 
Illumina Miseq 
Notes
Acknowledgments
This work was supported by grants from National science and technology support plan of china (2013BAD07B01); Chinese National science and technology support plan (2015BAD23B05-04); Heilongjiang Bayi Agricultural university graduate student innovation fund projects (YJSCX2016-Z01); Key Laboratory of Modern Agricultural Cultivation and Crop Germplasm Improvement of Heilongjiang Province Open Fund Project (101/2041180013). Thanks for forestry college of northeast forestry university "Trichoderma research team" to provide "Dedicated Trichoderma of maize".
Copyright information
© Springer Nature Switzerland AG 2019