Abstract
Background and aims
Knowledge of plant water fluxes is critical for assessing mechanistic processes linked to biogeochemical cycles, yet resolving root water transport dynamics has been a particularly daunting task. Our objectives were to demonstrate the ability to non-invasively monitor individual root functionality and water fluxes within Zea mays L. (maize) and Panicum virgatum L. (switchgrass) seedlings using neutron imaging.
Methods
Seedlings were propagated for 1–3 weeks in aluminum chambers containing sand. Pulses of water or deuterium oxide were then tracked through the root systems by collecting consecutive radiographs during exposure to a cold-neutron source. Water flux was manipulated by cycling on a growth lamp to alter foliar demand for water.
Results
Neutron radiography readily illuminated root structure, root growth, and relative plant and soil water content. After irrigation there was rapid root water uptake from the newly wetted soil, followed by hydraulic redistribution of water through the root system to roots terminating in dry soil. Water flux within individual roots responded differentially to foliar illumination based on supply and demand of water within the root system.
Conclusions
Sub-millimeter scale image resolution revealed timing and magnitudes of root water uptake, redistribution within the roots, and root-shoot hydraulic linkages—relationships not well characterized by other techniques.
This is a preview of subscription content, log in to check access.
Access options
Buy single article
Instant unlimited access to the full article PDF.
US$ 39.95
Price includes VAT for USA
Subscribe to journal
Immediate online access to all issues from 2019. Subscription will auto renew annually.
US$ 199
This is the net price. Taxes to be calculated in checkout.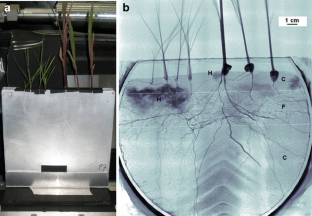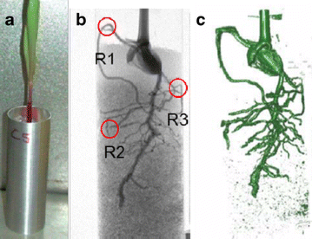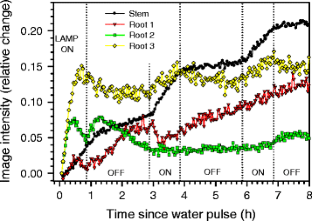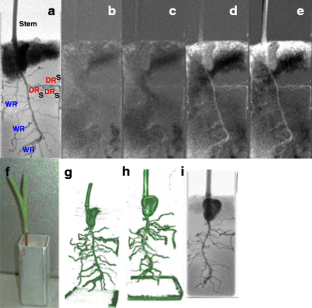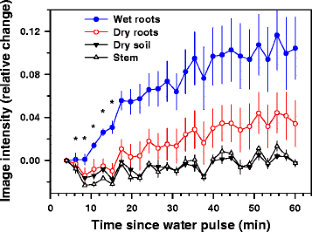 References
Baker JM, van Bavel CHM (1987) Measurement of mass-flow of water in the stems of herbaceous plants. Plant Cell Environ 10:777–782

Bilheux H, Crawford K, Walker L, Voisin S, Kang M, Harvey M, Bailey B, Phillips M, Bilheux J-C, Berry K, Anknera J, Warren J, Nanda J, Pannala S, Lance M (2013) Neutron imaging at the Oak Ridge National Laboratory: present and future capabilities. Physics Procedia (in press)

Caldwell MM, Richards JH (1989) Hydraulic lift: water efflux from upper roots improves effectiveness of water uptake by deep roots. Oecologia 79:1–5

Carminati A, Moradi AB, Vetterlein D, Vontobel P, Lehmann E, Weller U, Vogel H, Oswald SE (2010) Dynamics of soil water content in the rhizosphere. Plant Soil 332:163–176

Cheng CL, Kang M, Perfect E, Voisin S, Horita J, Bilheux HZ, Warren JM, Jacobson DL, Hussey DS (2012) Average soil water retention curves measured by neutron radiography. Soil Sci Soc Am J 76:1184–1191

Domec JC, Warren JM, Meinzer FC, Brooks JR, Coulombe R (2004) Native root xylem embolism and stomatal closure in stands of Douglas-fir and ponderosa pine: mitigation by hydraulic redistribution. Oecologia 141:7–16

Esser HG, Carminati A, Vontobel P, Lehmann EH, Oswald SE (2010) Neutron radiography and tomography of water distribution in the root zone. J Plant Nutr Soil Sci 173:757–764

Garrigues E, Doussan C, Pierret A (2006) Water uptake by plant roots: I. Formation and propagation of a water extraction front in mature root systems as evidenced by 2D light transmission imaging. Plant Soil 283:83–98

Hopmans JW, Bristow KL (2002) Current capabilities and future needs of root water and nutrient uptake modeling. In: Sparks DL (ed) Advances in agronomy. Academic, San Diego, pp 104–175

Javaux M, Schröder T, Vanderborght J, Vereecken H (2008) Use of a three-dimensional detailed modeling approach for predicting root water uptake. Vadose Zone J 7:1079–1088

Johnson DM, McCulloh KA, Woodruff DR, Meinzer F (2012) Evidence for xylem embolism as a primary factor in dehydration-induced declines in leaf hydraulic conductance. Plant Cell Environ 35:760–769

Kang M, Bilheux HZ, Voisin S, Cheng C, Perfect E, Horita J, Warren JM (2013) Water calibration measurements for neutron radiography: application to water content quantification in porous media. Nucl Instrum Methods A. doi:10.1016/j.nima.2012.12.112

Katz JJ, Crespi HL (1966) Deuterated organisms: cultivation and uses. Science 151:1187–1194

Kim HK, Lee SJ (2010) Synchrotron x-ray imaging for nondestructive monitoring of sap flow dynamics through xylem vessel elements in rice leaves. New Phytol 188:1085–1098

Lawrence DM, Thornton PE, Oleson KW, Bonan GB (2007) The partitioning of evapotranspiration into transpiration, soil evaporation, and canopy evaporation in a GCM: impacts on land–atmosphere interaction. J Hydrometeorol 8:862–880

Matsushima U, Kardjilov N, Hilger A, Graf W, Herppich WB (2008a) Application potential of cold neutron radiography in plant science research. J Appl Bot Food Qual 82:90–98

Matsushima U, Kardjilov N, Hilger A, Ueno M, Kawamitsu Y, Nishizawa T, Herppich WB (2008b) Visualization of water flow in tomato seedlings using neutron imaging. In: Arif M, Downing RG (eds) Neutron radiography. Destech Publications, Inc., Lancaster, pp 358–362

Matsushima U, Herppich WB, Kardjilov N, Graf W, Hilger A, Manke I (2009) Estimation of water flow velocity in small plants using cold neutron imaging with D2O tracer. Nucl Instrum Meth A 605:146–149

Menon M, Robinson B, Oswald SE, Kaestner A, Abbaspour KC, Lehmann E (2007) Visualization of root growth in heterogeneously contaminated soil using neutron radiography. Eur J Soil Sci 58:802–810

Moradi AB, Conesa HM, Robinson B, Lehmann E, Kuehne G, Kaestner A, Oswald S, Schulin R (2009) Neutron radiography as a tool for revealing root development in soil: capabilities and limitations. Plant Soil 318:243–255

Moradi AB, Carminati A, Vetterlein D, Vontobel P, Lehmann E, Weller U, Vogel H, Oswald SE (2011) Three-dimensional visualization and quantification of water content in rhizosphere. New Phytol 192:653–663

Nakanishi TM, Don-Jin K, Kitamura T, Ishii R, Matsubayashi M (1999) Identification of water storage tissue in the stem of cowpea plant (Vigna unguliculata Walp) by neutron radiography. J Radioanal Nucl Ch 242:353–359

Nakanishi TM, Okuni Y, Furukawa J, Tanoi K, Yokota H, Ikeue N, Matsubayashi M, Uchida H, Tsiji A (2003) Water movement in a plant sample by neutron beam analysis as well as positron emission tracer imaging system. J Radioanal Nucl Ch 255:149–153

Nakanishi TM, Okuni Y, Hayashi Y, Nishiyama H (2005) Water gradient profiles at bean plant roots determined by neutron beam analysis. J Radioanal Nucl Ch 264:313–317

Oswald SE, Menon M, Carminati A, Vontobel P, Lehmann E, Schulin R (2008) Quantitative imaging of infiltration, root growth and root water uptake via neutron radiography. Vadose Zone J 7:1035–1047

Parsons LR, Kramer PJ (1974) Diurnal cycling in root resistance to water movement. Physiol Plantarum 30:19–23

Pierret A, Kirby M, Moran C (2003) Simultaneous x-ray imaging of plant root growth and water uptake in thin-slab systems. Plant Soil 255:361–373

Pierret A, Moran CJ, Doussan C (2005) Conventional detection methodology is limiting our ability to understand the roles and functions of fine roots. New Phytol 166:967–980

Querejeta JI, Egerton-Warburton LM, Allen MF (2003) Direct nocturnal water transfer from oaks to their mycorrhizal symbiots during severe soil drying. Oecologia 134:55–64

Rewald B, Ephrath JE, Rachmilevitch S (2011) A root is a root is a root? Water uptake rates of citrus root orders. Plant Cell Environ 34:33–42

Sperry JS, Adler FR, Campbell GS, Comstock JP (1998) Limitation of plant water use by rhizosphere and xylem conductance: results from a model. Plant Cell Environ 21:347–359

Strobl M, Manke I, Kardjilov N, Hilger A, Dawson M, Banhart J (2009) Advances in neutron radiography and tomography. J Phys D Appl Phys 42:243001

Tumlinson LG, Liu H, Silk WK, Hopmans JW (2008) Thermal neutron computed tomography of soil water and plant roots. Soil Sci Soc Am J 72:1234–1242

Van As H (2007) Intact plant MRI for the study of cell water relations, membrane permeability, cell-to-cell and long distance water transport. J Exp Bot 58:743–756

Van As H, Scheenen T, Vergeldt FJ (2009) MRI of intact plants. Photosynth Res 102:213–222

Varney GT, Canny MJ (1993) Rates of water uptake into the mature root system of maize plants. New Phytol 123:775–786

Waring RH, Roberts JM (1979) Estimating water flux through stems of scots pine with tritiated-water and P-32. J Exp Bot 30:459–471

Zarebanadkouki M, Kim YX, Moradi AB, Vogel H-J, Kaestner A, Carminati A (2012) Quantification and modeling of local root water uptake using neutron radiography and deuterated water. Vadose Zone J 11: doi: 10.2136/vzj2011.0196
Acknowledgments
We thank Stan Wullschleger for discussion, Terry Pfeiffer for editorial assistance, Lowell Crow and Lakeisha Walker for beam line assistance and J-C Bilheux and Keely Willis for image reconstruction. Research was sponsored by the Laboratory Directed Research and Development Program of Oak Ridge National Laboratory, managed by UT-Battelle, LLC, for the U.S. Department of Energy under contract DE-AC05-00OR22725, and by the Joint Directed Research and Development Program with the University of Tennessee – Knoxville. The High Flux Isotope Reactor is supported by the Division of Scientific User Facilities, Office of Basic Energy Sciences, U.S. Department of Energy.
Funding
This work was supported by UT-Battelle, LLC, under Contract No. DE-AC05-00OR22725 with the U.S. Department of Energy. The United States Government retains and the publisher, by accepting the article for publication, acknowledges that the United States Government retains a non-exclusive, paid-up, irrevocable, world-wide license to publish or reproduce the published form of this manuscript, or allow others to do so, for United States Government purposes.
Additional information
Responsible Editor: Rafael S. Oliveira.
Electronic supplementary material
Below is the link to the electronic supplementary material.
12-hour image sequence of water uptake and transport dynamics for 10-day old maize seedling #2 (Fig. 2) following addition of a pulse of D2O. Notice the root system and stem are progressively revealed as water is taken up, redistributed within the root system and transported out through the leafy stem tissue. (MPG 2562 kb)
12-hour image sequence of water uptake and transport dynamics for 10-day old maize seedling #2 (Fig. 2) following addition of a pulse of D2O. Notice the root system and stem are progressively revealed as water is taken up, redistributed within the root system and transported out through the leafy stem tissue. (MPG 2562 kb)
About this article
Cite this article
Warren, J.M., Bilheux, H., Kang, M. et al. Neutron imaging reveals internal plant water dynamics. Plant Soil 366, 683–693 (2013). https://doi.org/10.1007/s11104-012-1579-7
Received:

Accepted:

Published:

Issue Date:
Keywords
Computed tomography

Hydraulic redistribution

Maize

Radiography

Root water uptake

Water transport