The evolution of the plastid chromosome in land plants: gene content, gene order, gene function
Abstract
This review bridges functional and evolutionary aspects of plastid chromosome architecture in land plants and their putative ancestors. We provide an overview on the structure and composition of the plastid genome of land plants as well as the functions of its genes in an explicit phylogenetic and evolutionary context. We will discuss the architecture of land plant plastid chromosomes, including gene content and synteny across land plants. Moreover, we will explore the functions and roles of plastid encoded genes in metabolism and their evolutionary importance regarding gene retention and conservation. We suggest that the slow mode at which the plastome typically evolves is likely to be influenced by a combination of different molecular mechanisms. These include the organization of plastid genes in operons, the usually uniparental mode of plastid inheritance, the activity of highly effective repair mechanisms as well as the rarity of plastid fusion. Nevertheless, structurally rearranged plastomes can be found in several unrelated lineages (e.g. ferns, Pinaceae, multiple angiosperm families). Rearrangements and gene losses seem to correlate with an unusual mode of plastid transmission, abundance of repeats, or a heterotrophic lifestyle (parasites or myco-heterotrophs). While only a few functional gene gains and more frequent gene losses have been inferred for land plants, the plastid Ndh complex is one example of multiple independent gene losses and will be discussed in detail. Patterns of ndh-gene loss and functional analyses indicate that these losses are usually found in plant groups with a certain degree of heterotrophy, might rendering plastid encoded Ndh1 subunits dispensable.
Keywords
Plastid genome 
Land plants 
Genome evolution 
Plastid gene function 
Gene retention 
Abbreviations
gII(A)

Group II(A) intron

IR

Inverted repeat

LSC

Large single copy region

NEP

Nuclear encoded polymerase

ORF

Open reading frame

Ori

Origin of replication

PEP

Plastid encoded polymerase

PSI

Photosystem I

PSII

Photosystem II

PSRP

Nuclear-encoded plastid ribosome specific proteins

SC

Single copy

SDR

Small dispersed repeat

SSC

Small single copy region
Introduction
Plastids are one of the main distinguishing characteristics of the plant cell. The central function of the plastid is to carry out photosynthesis, but other major cellular functions also take place in plastids, including synthesis of starch, fatty acids, pigments and amino acids (reviewed by Neuhaus and Emes
2010
). As early as 1905, Konstantin S. Mereschkowski hypothesized that plant "chromatophores" are the result of the uptake of a cyanobacterium by a eukaryotic organism (English translation available by Martin and Kowallik
1999
). It is now generally accepted that the plastid originated via incorporation of a free-living cyanobacterial-like prokaryote into a eukaryotic cell (primary endosymbiosis), thereby enabling the transition from heterotrophy to autotrophy by gaining the ability of utilizing photoenergy. Recent phylogenetic analyses of plastid genes from major plant lineages have converged on the hypothesis that plastids of the plant kingdom, i.e. the clade including Glaucophytes, Rhodophytes, Chlorophytes, and Streptophytes (Fig. 
1
; Keeling
2004
), are derived from a single origin (Palmer
2000
; McFadden and van Dooren
2004
; Keeling
2010
). This is also supported by several biochemical features, such as the composition of light harvesting complexes and their components, structural RNAs, membrane structure, and the protein import/targeting machinery (Weeden 1981; Bölter et al. 1998; Keeling
2004
; Yang and Cheng 2004; Koziol et al. 2007; Vesteg et al. 2009).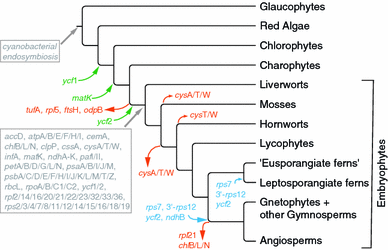 Over evolutionary time, genetic information was functionally or more often non-functionally transferred from the endosymbiont's genetic system to the host nuclear genome, genetically intertwining the two genomes. Except for genes involved in photometabolic processes, most other genes have been incorporated into the nuclear genome. This has resulted in a highly reduced plastid genome in Streptophytes (land plants plus their closest algal relatives), comprising less than 5–10% of the genes hypothesized for the ancestral cyanobacterial genome (ca. 2000 to 3000 genes; Martin et al. 2002). A corollary of this process is that the plastid genome (plastome) became subjected to nuclear regulation (Timmis et al. 2004), locking in their symbiotic relationship. The transfer of sequences and both functional and non-functional genes from the plastid genome to both the nuclear and the mitochondrial genome remains an ongoing process (Stern and Lonsdale 1982; Stern and Astwood 1986; Nakazono and Hira 1993; Albus et al. 2010, 1998; Shahmuradov et al. 2003; Matsuo et al. 2005; Guo et al. 2008; Sheppard and Timmis 2009). This intracellular gene transfer is considered "frequent and [to occur] in big chunks" (Martin 2003:1; Stegemann et al. 2003; Noutsos et al. 2005). The question of how many genes can eventually be transferred to the nuclear genome (and whether the plastome could eventually be lost) has been discussed for some time (Barbrook et al. 2006). Massive gene loss has been observed in several parasitic plants (e.g. Orobanchaceae: Wolfe et al. 1992; Cuscuta: Funk et al. 2007, McNeal et al. 2007). In these plants, gene loss is not restricted to genes that are primarily involved in photosynthesis and related pathways (Wolfe et al. 1992; Krause 2008); additional losses or pseudogenization is seen in genes encoding subunits of the genetic apparatus (e.g., plastid-encoded RNA polymerase, some tRNAs, some ribosomal proteins; dePamphilis and Palmer 1990; Wolfe et al. 1992; Lohan and Wolfe 1998).
Four decades of genetic, genomic and physiological research have contributed substantially to assign genes and gene functions to land plant plastid encoded proteins. Plastid genes have been grouped into functionally defined classes, including (i) those involved in primary and secondary photosynthesis pathways (photosynthetic light and dark reactions), (ii) genes not involved in photosynthetic pathways, such as sulfate transport and lipid acid synthesis, (iii) genes involved in transcription and translation, and (iv) a number of structural RNA genes (Palmer 1991; Sugiura 1992; Bock 2007). Subsequent studies have identified the roles of additional genes not falling into any of these genes classes, including genes involved in post-transcriptional modification (matK, Liere and Link 1995), protein turnover or protein complex assemblies (Peltier et al. 2004). Currently, only two genes remain, ycf1 and ycf2, whose metabolic or genetic roles have not yet been unambiguously defined (Bock 2007).
In this review, we will discuss functional and evolutionary insights from research on land plant plastid chromosomes, providing a synthesis of our knowledge of their evolution and conservation. Accordingly, particular emphasis will be placed on genetics of plastomes in the context of land plant diversification, with special attention to the roles of plastid-encoded proteins in photosynthesis and other principal genetic pathways.
Plastid genetics and synteny of land plant plastid chromosomes
Conclusions
In terms of structure, land plant plastid chromosomes evolve much more slowly than their mitochondrial or nuclear counterparts. This structural conservatism might be a result of the common organization of genes in operons that are conserved features between cyanobacteria, green algae and land plants. Other relevant factors include the mode of plastid transmission, the activity of highly effective repair mechanisms, as well as the rarity of plastid fusion and fission. The latter property is one of the major differences relative to mitochondrial genomes that have been shown to frequently fuse, and in doing so, provide opportunities for exchanging divergent genome copies. Most plastome rearrangements appear to be restricted to lineages that show one or more of the following characteristics: (i) aberrant behavior of the inverted repeat region (expansion, contraction, loss), (ii) biparental plastid transmission; (iii) a high frequency of small dispersed repeat sequences, (iv) heterotrophic lifestyle (parasites, myco-heterotrophs). Among land plants, angiosperms show the greatest variation in plastome structure, although distortion of gene synteny by rearrangements and gene loss is still rare compared to the genomes of other cell compartments. Interestingly, plastid chromosome restructuring appears to occur most commonly in the more derived clades of a given lineage (leptosporangiate ferns, Funariales within mosses, Pinaceae and Gnetophytes within gymnosperms, eudicots and Poales within angiosperms). It will be interesting to see whether similar patterns occur in liverwort plastome evolution. The gene content of land plants does not appear to have dramatically changed, and only few gene losses or putative functional transfers (chl, cys) might have taken place in the course of land plant evolution. The retention of photosynthetically relevant genes might be attributable to several factors. On the one hand, functional gene transfer is a complex issue since it involves the transfer itself and the evolution of transit peptides; thus, it is expected to be rare. On the other hand, most protein subunits encoded by the plastome (in particular photosynthesis relevant proteins) harbor trans-membrane proteins, and might therefore be difficult to import (as known from mitochondria). Finally, many gene products are required at high expression levels and at early developmental stages (e.g. translation/transcription apparatus, photosynthesis genes) and their retention might be selected for.
Notes
Acknowledgments
Thanks are especially due to Monika Ballmann (Bonn) and Ortrun Lepping (Münster) for assistance in retrieving genome annotations from public databases. We are very grateful to Norman Wickett (PSU), Paul Wolf (USU), Yan Zhang (PSU) and Josh Der (PSU) for fruitful and inspiring discussions on plastid genome evolution in land plants. We thank Laura Forrest and Bernard Goffinet (UConn) as well as Bastian Schäferhoff (IEB, Muenster) for sharing unpublished data with us. We appreciate helpful suggestions on an earlier version of this manuscript by two anonymous reviewers. Funding of our own research on parasitic plants and carnivores was obtained from the Austrian Science Fund (FWF grant 19404 to G.M.S), DFG grant MU2875/2, to K.F.M), and N.S.F. grants DEB-0120709 and DBI-0701748 to C.W.D.). Financial support to S.W. from the University of Vienna (Austria) and the Botanical Society of America is gratefully acknowledged.
Open Access
This article is distributed under the terms of the Creative Commons Attribution Noncommercial License which permits any noncommercial use, distribution, and reproduction in any medium, provided the original author(s) and source are credited.
Copyright information
© The Author(s) 2011
Open AccessThis is an open access article distributed under the terms of the Creative Commons Attribution Noncommercial License (https://creativecommons.org/licenses/by-nc/2.0), which permits any noncommercial use, distribution, and reproduction in any medium, provided the original author(s) and source are credited.