Abstract
Prolactinomas are the most frequently seen pituitary adenomas in clinical practice. A correct biochemical diagnosis of hyperprolactinemia is a prerequisite for further investigation but may be hampered by analytical difficulties as well as a large number of potentially overlapping conditions associated with increased prolactin levels. Suspicion should rise in patients whose symptoms and biochemical results do not match. Assay problems, macroprolactinemia, and high-dose hook effect are discussed as possible reasons for false positive or false negative prolactin levels. Physiological and pathological causes of hyperprolactinemia and their implications for interpreting prolactin results are reviewed.
This is a preview of subscription content, log in to check access.
Access options
Buy single article
Instant unlimited access to the full article PDF.
US$ 39.95
Price includes VAT for USA
Subscribe to journal
Immediate online access to all issues from 2019. Subscription will auto renew annually.
US$ 99
This is the net price. Taxes to be calculated in checkout.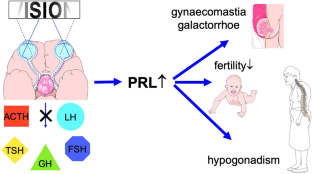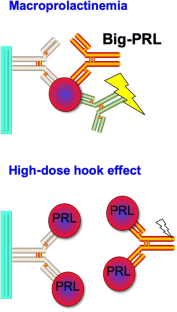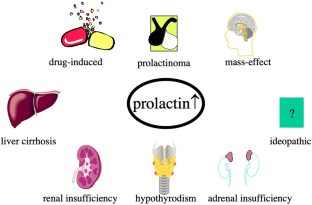 References
1.

Saleem M, Martin H, Coates P (2018) Prolactin biology and laboratory measurement: an update on physiology and current analytical issues. Clin Biochem Rev 39:3–16

2.

Bernard V, Young J, Chanson P, Binart N (2015) New insights in prolactin: pathological implications. Nat Rev Endocrinol 11:265–275

3.

Casanueva FF, Molitch ME, Schlechte JA, Abs R, Bonert V, Bronstein MD, Brue T, Cappabianca P, Colao A, Fahlbusch R, Fideleff H, Hadani M, Kelly P, Kleinberg D, Laws E, Marek J, Scanlon M, Sobrinho LG, Wass JA, Giustina A (2006) Guidelines of the Pituitary Society for the diagnosis and management of prolactinomas. Clin Endocrinol (Oxf) 65:265–273

4.

Seppälä M, Ranta T, Hirvonen E (1976) Hyperprolactinaemia and luteal insufficiency. Lancet 1:229–230

5.

Garde AH, Hansen AM, Skovgaard LT, Christensen JM (2000) Seasonal and biological variation of blood concentrations of total cholesterol, dehydroepiandrosterone sulfate, hemoglobin A(1c), IgA, prolactin, and free testosterone in healthy women. Clin Chem 46:551–559

6.

Overgaard M, Pedersen SM (2017) Serum prolactin revisited: parametric reference intervals and cross platform evaluation of polyethylene glycol precipitation-based methods for discrimination between hyperprolactinemia and macroprolactinemia. Clin Chem Lab Med 55:1744–1753

7.

Melmed S, Casanueva FF, Hoffman AR, Kleinberg DL, Montori VM, Schlechte JA, Wass JA, Endocrine S (2011) Diagnosis and treatment of hyperprolactinemia: an endocrine society clinical practice guideline. J Clin Endocrinol Metab 96:273–288

8.

Hattori N (2003) Macroprolactinemia: a new cause of hyperprolactinemia. J Pharmacol Sci 92:171–177

9.

Wallace IR, Satti N, Courtney CH, Leslie H, Bell PM, Hunter SJ, McCance DR, Sheridan B, Atkinson AB (2010) Ten-year clinical follow-up of a cohort of 51 patients with macroprolactinemia establishes it as a benign variant. J Clin Endocrinol Metab 95:3268–3271

10.

Smith TP, Suliman AM, Fahie-Wilson MN, McKenna TJ (2002) Gross variability in the detection of prolactin in sera containing big big prolactin (macroprolactin) by commercial immunoassays. J Clin Endocrinol Metab 87:5410–5415

11.

Fahie-Wilson M, Smith TP (2013) Determination of prolactin: the macroprolactin problem. Best Pract Res Clin Endocrinol Metab 27:725–742

12.

Samson SL, Hamrahian AH, Ezzat S (2015) American Association of Clinical Endocrinologists, American College of Endocrinology Disease state clinical review: clinical relevance of macroprolactin in the absence or presence of true hyperprolactinemia. Endocr Pract 21:1427–1435

13.

Kavanagh L, McKenna TJ, Fahie-Wilson MN, Gibney J, Smith TP (2006) Specificity and clinical utility of methods for the detection of macroprolactin. Clin Chem 52:1366–1372

14.

Olukoga AO, Kane JW (1999) Macroprolactinaemia: validation and application of the polyethylene glycol precipitation test and clinical characterization of the condition. Clin Endocrinol (Oxf) 51:119–126

15.

Suliman AM, Smith TP, Gibney J, McKenna TJ (2003) Frequent misdiagnosis and mismanagement of hyperprolactinemic patients before the introduction of macroprolactin screening: application of a new strict laboratory definition of macroprolactinemia. Clin Chem 49:1504–1509

16.

Beltran L, Fahie-Wilson MN, McKenna TJ, Kavanagh L, Smith TP (2008) Serum total prolactin and monomeric prolactin reference intervals determined by precipitation with polyethylene glycol: evaluation and validation on common immunoassay platforms. Clin Chem 54:1673–1681

17.

Ram S, Harris B, Fernando JJ, Gama R, Fahie-Wilson M (2008) False-positive polyethylene glycol precipitation tests for macroprolactin due to increased serum globulins. Ann Clin Biochem 45:256–259

18.

Petakov MS, Damjanović SS, Nikolić-Durović MM, Dragojlović ZL, Obradović S, Gligorović MS, Simić MZ, Popović VP (1998) Pituitary adenomas secreting large amounts of prolactin may give false low values in immunoradiometric assays. The hook effect. J Endocrinol Invest 21:184–188

19.

Schöfl C, Schöfl-Siegert B, Karstens JH, Bremer M, Lenarz T, Cuarezma JS, Samii M, von zur Mühlen A, Brabant G (2002) Falsely low serum prolactin in two cases of invasive macroprolactinoma. Pituitary 5:261–265

20.

Unnikrishnan AG, Rajaratnam S, Seshadri MS, Kanagasapabathy AS, Stephen DC (2001) The 'hook effect' on serum prolactin estimation in a patient with macroprolactinoma. Neurol India 49:78–80

21.

Barkan AL, Chandler WF (1998) Giant pituitary prolactinoma with falsely low serum prolactin: the pitfall of the "high-dose hook effect": case report. Neurosurgery 42:913–915 (discussion 915)

22.

Lennartsson AK, Jonsdottir IH (2011) Prolactin in response to acute psychosocial stress in healthy men and women. Psychoneuroendocrinology 36:1530–1539

23.

Hackney AC, Saeidi A (2019) The thyroid axis, prolactin, and exercise in humans. Curr Opin Endocr Metab Res 9:45–50

24.

Daly W, Seegers CA, Rubin DA, Dobridge JD, Hackney AC (2005) Relationship between stress hormones and testosterone with prolonged endurance exercise. Eur J Appl Physiol 93:375–380

25.

Hu Y, Ding Y, Yang M, Xiang Z (2018) Serum prolactin levels across pregnancy and the establishment of reference intervals. Clin Chem Lab Med 56:803–807

26.

Molitch ME (2008) Drugs and prolactin. Pituitary 11:209–218

27.

Smith SM, O'Keane V, Murray R (2002) Sexual dysfunction in patients taking conventional antipsychotic medication. Br J Psychiatry 181:49–55

28.

Haddad PM, Wieck A (2004) Antipsychotic-induced hyperprolactinaemia: mechanisms, clinical features and management. Drugs 64:2291–2314

29.

Kapur S, Seeman P (2001) Does fast dissociation from the dopamine d(2) receptor explain the action of atypical antipsychotics?: a new hypothesis. Am J Psychiatry 158:360–369

30.

Byerly M, Suppes T, Tran QV, Baker RA (2007) Clinical implications of antipsychotic-induced hyperprolactinemia in patients with schizophrenia spectrum or bipolar spectrum disorders: recent developments and current perspectives. J Clin Psychopharmacol 27:639–661

31.

Madhusoodanan S, Parida S, Jimenez C (2010) Hyperprolactinemia associated with psychotropics—a review. Hum Psychopharmacol 25:281–297

32.

Hutchinson J, Murphy M, Harries R, Skinner CJ (2000) Galactorrhoea and hyperprolactinaemia associated with protease-inhibitors. The Lancet 356:1003–1004

33.

Luciano AA, Sherman BM, Chapler FK, Hauser KS, Wallace RB (1985) Hyperprolactinemia and contraception: a prospective study. Obstet Gynecol 65:506–510

34.

Reyniak JV, Wenof M, Aubert JM, Stangel JJ (1980) Incidence of hyperprolactinemia during oral contraceptive therapy. Obstet Gynecol 55:8–11

35.

Bourgeois AL, Auriche P, Palmaro A, Montastruc JL, Bagheri H (2016) Risk of hormonotherapy in transgender people: literature review and data from the French Database of Pharmacovigilance. Ann Endocrinol (Paris) 77:14–21

36.

Holley JL (2004) The hypothalamic-pituitary axis in men and women with chronic kidney disease. Adv Chronic Kidney Dis 11:337–341

37.

Hou SH, Grossman S, Molitch ME (1985) Hyperprolactinemia in patients with renal insufficiency and chronic renal failure requiring hemodialysis or chronic ambulatory peritoneal dialysis. Am J Kidney Dis 6:245–249

38.

Lo JC, Beck GJ, Kaysen GA, Chan CT, Kliger AS, Rocco MV, Chertow GM, FHN Study (2017) Hyperprolactinemia in end-stage renal disease and effects of frequent hemodialysis. Hemodial Int 21:190–196

39.

Saha MT, Saha HH, Niskanen LK, Salmela KT, Pasternack AI (2002) Time course of serum prolactin and sex hormones following successful renal transplantation. Nephron 92:735–737

40.

Yavuz D, Topçu G, Ozener C, Akalin S, Sirikçi O (2005) Macroprolactin does not contribute to elevated levels of prolactin in patients on renal replacement therapy. Clin Endocrinol (Oxf) 63:520–524

41.

Farthing MJ, Green JR, Edwards CR, Dawson AM (1982) Progesterone, prolactin, and gynaecomastia in men with liver disease. Gut 23:276–279

42.

Morgan MY, Jakobovits AW, Gore MB, Wills MR, Sherlock S (1978) Serum prolactin in liver disease and its relationship to gynaecomastia. Gut 19:170–174

43.

McClain CJ, Kromhout JP, Elson MK, Van Thiel DH (1981) Hyperprolactinemia in portal systemic encephalopathy. Dig Dis Sci 26:353–357

44.

Corenblum B, Shaffer EA (1989) Hyperprolactinemia in hepatic encephalopathy may result from impaired central dopaminergic neurotransmission. Horm Metab Res 21:675–677

45.

Ress C, Maeser PA, Tschoner A, Loacker L, Salzmann K, Staudacher G, Melmer A, Zoller H, Vogel W, Griesmacher A, Tilg H, Kaser I (2014) Serum prolactin in advanced chronic liver disease. Horm Metab Res 46:800–803

46.

Potter E, Nicolaisen AK, Ong ES, Evans RM, Rosenfeld MG (1981) Thyrotropin-releasing hormone exerts rapid nuclear effects to increase production of the primary prolactin mRNA transcript. Proc Natl Acad Sci USA 78:6662–6666

47.

Cave WT, Paul MA (1980) Effects of altered thyroid function on plasma prolactin clearance. Endocrinology 107:85–91

48.

Foord SM, Peters JR, Dieguez C, Jasani B, Hall R, Scanlon MF (1984) Hypothyroid pituitary cells in culture: an analysis of thyrotropin and prolactin responses to dopamine (DA) and DA receptor binding. Endocrinology 115:407–415

49.

Davis JR, Lynam TC, Franklyn JA, Docherty K, Sheppard MC (1986) Tri-iodothyronine and phenytoin reduce prolactin messenger RNA levels in cultured rat pituitary cells. J Endocrinol 109:359–364

50.

Hekimsoy Z, Kafesçiler S, Güçlü F, Ozmen B (2010) The prevalence of hyperprolactinaemia in overt and subclinical hypothyroidism. Endocr J 57:1011–1015

51.

Sharma LK, Sharma N, Gadpayle AK, Dutta D (2016) Prevalence and predictors of hyperprolactinemia in subclinical hypothyroidism. Eur J Intern Med 35:106–110

52.

Raber W, Gessl A, Nowotny P, Vierhapper H (2003) Hyperprolactinaemia in hypothyroidism: clinical significance and impact of TSH normalization. Clin Endocrinol (Oxf) 58:185–191

53.

Morley JE, Dawson M, Hodgkinson H, Kalk WJ (1977) Galactorrhea and hyperprolactinemia associated with chest wall injury. J Clin Endocrinol Metab 45:931–935
Ethics declarations
Conflict of interest
Author SP declares that he has no conflict of interest.
Ethical approval
This article does not contain any studies with human participants performed by any of the authors.
Additional information
Publisher's Note
Springer Nature remains neutral with regard to jurisdictional claims in published maps and institutional affiliations.
About this article
Cite this article
Petersenn, S. Biochemical diagnosis in prolactinomas: some caveats. Pituitary 23, 9–15 (2020). https://doi.org/10.1007/s11102-019-01024-z
Keywords
Hyperprolactinemia

Macroprolactinemia

High-dose hook effect

Hypothyroidism

Chronic kidney disease

Liver disease

Pregnancy