Abstract
Lactotroph adenomas, also called prolactinomas and prolactin-secreting adenomas, constitute nearly 80% of functioning pituitary tumors and about 30–50% of all adenomas in the clinical practice. Lactotroph adenomas occur in the general population at a prevalence of 45/100,000, are more common in women, but also involve men and children of both sexes. Most lactotroph adenomas are microadenomas occurring in reproductive-age women who present with oligo/amenorrhea, galactorrhea, and infertility. In men and elderly women, lactotroph adenomas are usually macroadenomas and are most commonly associated with symptoms of a tumoral mass, including headaches, neurologic defects, and visual loss. Although clinical and laboratory features may differ depending on patient's gender and age, the histopathology of the tumors is similar. Lactotroph adenomas are histologically classified into three subtypes: the common sparsely granulated lactotroph adenoma, and the rare densely granulated lactotroph adenoma and acidophilic stem cell adenoma. We will review the main pathological features of the lactotroph adenomas and some of their characteristics that may predict biological behavior and responsiveness to treatment.
This is a preview of subscription content, log in to check access.
Access options
Buy single article
Instant unlimited access to the full article PDF.
US$ 39.95
Price includes VAT for USA
Subscribe to journal
Immediate online access to all issues from 2019. Subscription will auto renew annually.
US$ 99
This is the net price. Taxes to be calculated in checkout.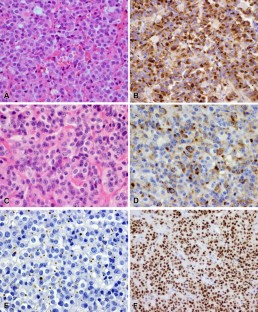 References
1.

Ciccarelli A, Daly AF, Beckers A (2005) The epidemiology of prolactinomas. Pituitary 8(1):3–6

2.

Patil CG et al (2009) Non-surgical management of hormone-secreting pituitary tumors. J Clin Neurosci 16(8):985–993

3.

Fernandez A, Karavitaki N, Wass JA (2010) Prevalence of pituitary adenomas: a community-based, cross-sectional study in Ban- bury (Oxfordshire, UK). Clin Endocrinol (Oxf) 72(3):377–382

4.

Klibanski A (2010) Clinical practice: prolactinomas. N Engl J Med 362:1219–1226

5.

Delgrange E, Trouillas J, Maiter D et al (1997) Sex-related difference in the growth of prolactinomas: a clinical and proliferation marker study. J Clin Endocrinol Metab 82:2102–2107

6.

Song YJ, Chen MT, Lian W et al (2017) Surgical treatment for male prolactinoma: a retrospective study of 184 cases. Medicine (Baltimore) 96(2):e5833

7.

Moraes AB, Silva CM, Vieira Neto L et al (2013) Giant prolactinomas: the therapeutic approach. Clin Endocrinol (Oxf) 79(4):447–456

8.

Hoffmann A, Adelmann S, Lohle K et al (2018) Pediatric prolactinoma: initial presentation, treatment, and long-term prognosis. Eur J Pediatr 177(1):125–132

9.

Guaraldi F, Storr HL, Ghizzoni L et al (2014) Paediatric pituitary adenomas: a decade of change. Horm Res Paediatr 81(3):145–155

10.

Liu Y, Yao Y, Xing B, Lian W, et al (2015) Prolactinomas in children under 14. Clinical presentation and long-term follow-up. Childs Nerv Syst 31(6):909–916

11.

Salenave S, Ancelle D, Bahougne T et al (2015) Macroprolactinomas in children and adolescents: factors associated with the response to treatment in 77 patients. J Clin Endocrinol Metab 100(3):1177–1186

12.

Beckers A, Aaltonen LA, Daly AF et al (2013) Familial isolated pituitary adenomas (FIPA) and the pituitary adenoma predisposition due to mutations in the aryl hydrocarbon receptor interacting protein (AIP) gene. Endocr Rev 34(2):239–277

13.

Schernthaner-Reiter MH, Trivellin G et al (2016) MEN1, MEN4, and Carney Complex: pathology and molecular genetics. Neuroendocrinology 103(1):18–31

14.

Alband N, Korbonits M (2014) Familial pituitary tumors. Handb Clin Neurol 124:339–360

15.

Melmed S, Casanueva FF, Hoffman AR, et al (2011) Endocrine Society. Diagnosis and treatment of hyperprolactinemia: an Endocrine Society clinical practice guideline. J Clin Endocrinol Metab 96(2):273–288

16.

Colao A (2009) Pituitary tumours: the prolactinoma. Best Pract Res Clin Endocrinol Metab 23(5):575–596

17.

Wong A, Eloy JA, Couldwell WT, et al (2015) Update on prolactinomas. Part 2: treatment and management strategies. J Clin Neurosci 22(10):1568–1574

18.

Nosé V, Grossman A, Mete O (2017) Lactotroph adenoma. In: Lloyd RV, Osamura RY, Kloppel G, Rosai J (eds) WHO classification of tumours of endocrine organs, 4th edn. IARC Press, Lyon, pp 24–27

19.

Osamura RY, Watanabe K, Komatsu N et al (1982) Amorphous and stellate amyloid in functioning human pituitary adenomas: histochemical, immunohistochemical and electron microscopic studies. Acta Pathol Jpn 32(4):605–611

20.

Steusloff K, Röcken C, Saeger W (1998) Basement membrane proteins, apolipoprotein E and glycosaminoglycans in pituitary adenomas and their correlation to amyloid. Virchows Arch 433(1):29–34

21.

Horvath E, Kovacs K (1992) Ultrastructural diagnosis of human pituitary adenomas. Microsc Res Tech 20:107–135

22.

Friend KE, Chiou YK, Lopes MB et al (1994) Estrogen receptor expression in human pituitary: correlation with immunohistochemistry in normal tissue, and immunohistochemistry and morphology in macroadenomas. J Clin Endocrinol Metab 78:1497–1504

23.

Zafar M, Ezzat S, Ramyar L et al (1995) Cell-specific expression of estrogen receptor in the human pituitary and its adenomas. J Clin Endocrinol Metab 80:3621–3627

24.

Kaptain GJ, Simmons NE, Alden TD et al (1999) Estrogen receptors in prolactinomas: a clinico-pathological study. Pituitary 1(2):91–98

25.

Burdman JA, Pauni M, Heredia Sereno GM et al (2008) Estrogen receptors in human pituitary tumors. Horm Metab Res 40(8):524–527

26.

Manoranjan B, Salehi F, Scheithauer BW et al (2010) Estrogen receptors alpha and beta immunohistochemical expression: clinicopathological correlations in pituitary adenomas. Anticancer Res 30(7):2897–2904

27.

Delgrange E, Vasiljevic A, Wierinckx A et al (2015) Expression of estrogen receptor alpha is associated with prolactin pituitary tumor prognosis and supports the sex-related difference in tumor growth. Eur J Endocrinol 172(6):791–801

28.

Horvath E, Kovacs K, Singer W et al (1981) Acidophil stem cell adenoma of the human pituitary: clinico-pathological analysis of 15 cases. Cancer 47:761–771

29.

Kreutzer J, Vance ML, Lopes MBS et al (2001) Surgical management of GH-secreting pituitary adenomas: an outcome study using modern remission criteria. J Clin Endocrinol Metabol 86:4072–4077

30.

Roncaroli F, Kovacs K, Lloyd RV et al (2017) Pituitary carcinoma. In: Lloyd RV, Osamura RY, Kloppel G, Rosai J (eds) WHO classification of tumours of endocrine organs, 4th edn. IARC Press, Lyon, pp 41–44

31.

Saeger W, Lüdecke DK, Buchfelder M et al (2007) Pathohistological classification of pituitary tumors: 10 years of experience with the German Pituitary Tumor Registry. Eur J Endocrinol 156:203–216

32.

Miermeister CP, Petersenn S, Buchfelder M, et al (2015) Histological criteria for atypical pituitary adenomas—data from the German pituitary adenoma registry suggests modifications. Acta Neuropathol Commun 3:50. Erratum in: Acta Neuropathol Commun. 2016;4(1):21

33.

Kovacs K, Stefaneanu L, Horvath E et al (1991) Effect of dopamine agonist medication on prolactin producing adenomas: a morphological study including immunocytochemistry, electron microscopy and in situ hybridization. Virchows Arch A 418:439–446

34.

Smith TR, Hulou MM, Huang KT et al (2015) Current indications for the surgical treatment of prolactinomas. J Clin Neurosci 22(11):1785–1791

35.

DeLellis RA, Lloyd RV, Heitz PU et al (2004) World Health Organization classification of tumours: pathology and genetics of tumours of endocrine organs. IARC Press, Lyon, France, pp 9–47

36.

Raverot G, Wierinckx A, Dantony E et al (2010) Prognostic factors in prolactin pituitary tumors: clinical, histological, and molecular data from a series of 94 patients with a long postoperative follow-up. J Clin Endocrinol Metab 95(4):1708–1716

37.

De Caro MDB, Solari D, et al (2017) Atypical pituitary adenomas: clinical characteristics and role of ki-67 and p53 in prognostic and therapeutic evaluation. A series of 50 patients. Neurosurg Rev 40(1):105–114

38.

Osamura RY, Lopes MBS, Grossman A et al (2017) Introduction. In: Lloyd RV, Osamura RY, Kloppel G, Rosai J (eds) WHO classification of tumours of endocrine organs, 4th edn. IARC Press, Lyon, p 13

39.

Shupnik MA (2002) Oestrogen receptors, receptor variants and oestrogen actions in the hypothalamic-pituitary axis. J Neuroendocrinol 14(2):85–94

40.

Calle-Rodrigue RD, Giannini C, Scheithauer BW et al (1998) Prolactinomas in male and female patients: a comparative clinicopathologic study. Mayo Clin Proc 73(11):1046–1052

41.

Di Sarno A, Landi ML, Cappabianca P et al (2001) Resistance to cabergoline as compared with bromocriptine in hyperprolactinemia: prevalence, clinical definition, and therapeutic strategy. J Clin Endocrinol Metab 86:5256–5261

42.

Oh MC, Aghi MK (2011) Dopamine agonist-resistant prolactinomas. J Neurosurg 114(5):1369–1379

43.

Delgrange E, Daems T, Verhelst J et al (2009) Characterization of resistance to the prolactin-lowering effects of cabergoline in macroprolactinomas: a study in 122 patients. Eur J Endocrinol 160:747–752

44.

Delgrange E, Sassolas G, Perrin G et al (2005) Clinical and histological correlations in prolactinomas, with special reference to bromocriptine resistance. Acta Neurochir (Wien) 147:751–758

45.

Liu W, Zahr RS, McCartney S et al (2018) Clinical outcomes in male patients with lactotroph adenomas who required pituitary surgery: a retrospective single center study. Pituitary 21(5):454–462
Acknowledgements
The author is thankful to Dr. Mary Lee Vance, Professor of Medicine at the Division of Endocrinology & Metabolism, University of Virginia, for her insightful review of the manuscript.
Ethics declarations
Conflict of interest
The author declares that she has no conflict of interest.
Research involving human participants and/or animals
This paper does not contain any studies with human participants or animals performed by the author.
Additional information
Publisher's Note
Springer Nature remains neutral with regard to jurisdictional claims in published maps and institutional affiliations.
About this article
Cite this article
Lopes, M.B.S. Pathology of prolactinomas: any predictive value?. Pituitary 23, 3–8 (2020) doi:10.1007/s11102-019-00997-1
Keywords
Pituitary neoplasm

Prolactinoma

Lactotroph adenoma

Prl-secreting adenoma