Abstract
Purpose
Acromegaly is a systemic disease which causes multiple bony alterations. Some authors reported that acromegalic patients have risk factors for an intraoperative vascular injury due to the specific anatomical features of their sphenoid sinus. The objective of our study was to analyze the anatomic characteristics of sphenoid sinus in acromegalic patients compared with controls, by evaluation of computed tomography (CT) findings.
Methods
We examined 45 acromegalic (acromegaly group) and 45 non-acromegalic patients (control group) with pituitary adenomas who were matched for sex, age, height, tumor size, and cavernous sinus invasion (Knosp grade). Preoperative CT of the pituitary region including the sphenoid sinus was used to evaluate the following anatomic characteristics: type of sphenoid sinus (sellar or pre-sellar/conchal); intrasphenoid septa (non/single or multiple); carotid artery protrusion; carotid artery dehiscence; intercarotid distance.
Results
Sixteen acromegalic patients (35.5 %) and 6 controls (13.3 %) had carotid artery protrusion. Additionally, 10 acromegalic patients (22.2 %) and 3 controls (6.6 %) had carotid artery dehiscence. Carotid artery protrusion and dehiscence were more frequent in the acromegaly group than in control group (p = 0.013 and 0.035, respectively). Other anatomic characteristics (type of sphenoid sinus, intrasphenoid septa, and intracarotid distance) showed no significant differences between acromegaly and control groups.
Conclusions
Our study suggests that carotid artery protrusion and dehiscence occur more frequently among acromegalic patients, compared with non-acromegalic patients. It is important for surgeons to be aware of these anatomic variations to avoid vital complications, such as carotid injuries, during surgery.
This is a preview of subscription content, log in to check access.
Access options
Buy single article
Instant unlimited access to the full article PDF.
US$ 39.95
Price includes VAT for USA
Subscribe to journal
Immediate online access to all issues from 2019. Subscription will auto renew annually.
US$ 99
This is the net price. Taxes to be calculated in checkout.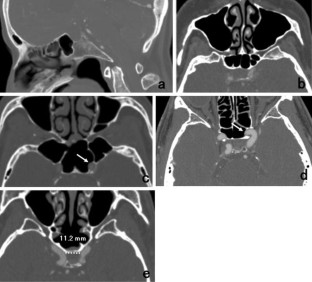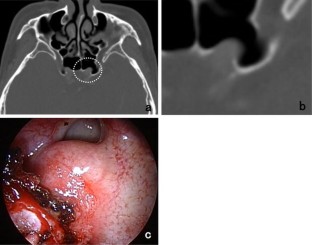 References
1.

Dekkers OM, Biermasz NR, Pereira AM, Romijn JA, Vandenbroucke JP (2008) Mortality in acromegaly: a metaanalysis. J Clin Endocrinol Metab 93:61–67

2.

Berker M, Aghayev K, Saatci I, Palaoglu S, Onerci M (2010) Overview of vascular complications of pituitary surgery with special emphasis on unexpected abnormality. Pituitary 13:160–167

3.

Saeki N, Iuchi T, Higuchi Y, Uchino Y, Murai H, Isono S, Yasuda T, Minagawa M, Yamaura A, Sunami K (2000) Bone CT evaluation of nasal cavity of acromegalics—its morphological and surgical implication in comparison to non-acromegalics. Endocr J 47:S65–S68

4.

Ebner FH, Kuerschner V, Dietz K, Bueltmann E, Naegele T, Honegger J (2009) Reduced intercarotid artery distance in acromegaly: pathophysiologic considerations and implications for transsphenoidal surgery. Surg Neurol 72:456–460

5.

Carrabba G, Locatelli M, Mattei L, Guastella C, Mantovani G, Rampini P, Gaini SM (2013) Transsphenoidal surgery in acromegalic patients: anatomical considerations and potential pitfalls. Acta Neurochir (Wien) 155:125–130

6.

Giustina A, Barkan A, Casanueva FF, Cavagnini F, Frohman L, Ho K et al (2000) Criteria for cure of acromegaly: a consensus statement. J Clin Endocrinol Metab 85:526–529

7.

Knosp E, Steiner E, Kitz K, Matula C (1993) Pituitary adenomas with invasion of the cavernous sinus space: a magnetic resonance imaging classification compared with surgical findings. Neurosurgery 33:610–618

8.

Kazkayasi M, Karadeniz Y, Arikan OK (2005) Anatomic variations of the sphenoid sinus on computed tomography. Rhinology 43:109–114

9.

Arslan H, Aydinlioğlu A, Bozkurt M, Egeli E (1999) Anatomic variations of the paranasal sinuses: CT examination for endoscopic sinus surgery. Auris Nasus Larynx 26:39–48

10.

Tomovic S, Esmaeili A, Chan NJ, Shukla PA, Choudhry OJ, Liu JK, Eloy JA (2013) High-resolution computed tomography analysis of variations of the sphenoid sinus. J Neurol Surg B Skull Base 74:82–90

11.

Vázquez JFP, Verona JAG, Porrero MG (1999) Carotid canal dehiscence in the human skull. Neuroradiology 41:447–449

12.

Paisley AN, Banerjee M, Rezai M, Schofield RE, Balakrishnannair S, Herbert A, Lawrance JA, Trainer PJ, Cruickshank JK (2011) Changes in arterial stiffness but not carotid intimal thickness in acromegaly. J Clin Endocrinol Metab 96:1486–1492

13.

Casini AF, Neto LV, Fontes R, França RF, Xavier SS, Gadelha MR (2011) Aortic root ectasia in patients with acromegaly: experience at a single center. Clin Endocrinol (Oxf) 75:495–500

14.

Rizzoni D, Porteri E, Giustina A, De Ciuceis C, Sleiman I, Boari GE, Castellano M, Muiesan ML, Bonadonna S, Burattin A, Cerudelli B, Agabiti-Rosei E (2004) Acromegalic patients show the presence of hypertrophic remodeling of subcutaneous small resistance arteries. Hypertension 43:561–565

15.

Sivakumar W, Chamoun RB, Riva-Cambrin J, Salzman KL, Couldwell WT (2013) Fusiform dilatation of the cavernous carotid artery in acromegalic patients. Acta Neurochir (Wien) 155:1077–1083

16.

Manara R, Gabrieli J, Citton V, Ceccato F, Rizzati S, Bommarito G, Briani C, Della Puppa A, Dassie F, Milanese L, Di Salle F, Ermani M, Scaroni C, Martini C, Maffei P (2014) Intracranial internal carotid artery changes in acromegaly: a quantitative magnetic resonance angiography study. Pituitary 17:414–422

17.

Zada G, Cavallo LM, Esposito F, Fernandez-Jimenez JC, Tasiou A, De Angelis M, Cafiero T, Cappabianca P, Laws ER (2010) Transsphenoidal surgery in patients with acromegaly: operative strategies for overcoming technically challenging anatomical variations. Neurosurg Focus 29:E8

18.

de Souza JM, Domingues FS, Espinosa G, Gadelha M (2003) Cavernous carotid artery pseudo-aneurysm treated by stenting in acromegalic patient. Arq Neuropsiquiatr 61:459–462

19.

Jane JA Jr, Starke RM, Elzoghby MA, Reames DL, Payne SC, Thorner MO, Marshall JC, Laws ER Jr, Vance ML (2011) Endoscopic transsphenoidal surgery for acromegaly: remission using modern criteria, complications, and predictors of outcome. J Clin Endocrinol Metab 96:2732–2740

20.

Griauzde J, Gemmete JJ, Pandey AS, McKean EL, Sullivan SE, Chaudhary N (2015) Emergency reconstructive endovascular management of intraoperative complications involving the internal carotid artery from trans-sphenoidal surgery. J Neurointerv Surg 7:67–71

21.

Shin JH, Kim SW, Hong YK, Jeun SS, Kang SG, Kim SW, Cho JH, Park YJ (2011) The Onodi cell: an obstacle to sellar lesions with a transsphenoidal approach. Otolaryngol Head Neck Surg 145:1040–1042
Ethics declarations
Conflicts of interest
The authors declare that they have no conflicts of interest.
Electronic supplementary material
Below is the link to the electronic supplementary material.
Supplementary material 1 (WMV 8165 kb)
About this article
Cite this article
Sasagawa, Y., Tachibana, O., Doai, M. et al. Carotid artery protrusion and dehiscence in patients with acromegaly. Pituitary 19, 482–487 (2016). https://doi.org/10.1007/s11102-016-0728-z
Keywords
Acromegaly

Sphenoid sinus

Carotid artery protrusion

Carotid artery dehiscence