Exploring the concept of patient centred communication for the pharmacy practice
Open Access
Review Article
Abstract
Background Patient centred communication can improve pharmaceutical care, but is not well described for pharmacists. Aim of the review To provide a comprehensive and accessible overview of the concept of patient centred communication for the pharmacy practice. Method A scoping review and thematic analysis was undertaken to synthesize the extracted data and present it in a model. Results Literature search and selection resulted in eighteen articles. Thematic analysis of the extracted data led to five categories regarding patient centred communication. Two categories refer to phases of a pharmaceutical consultation: (1) shared problem defining and (2) shared decision making; three refer to underlying concepts and assumptions about patient centredness regarding (3) the patient, (4) the pharmacist and (5) the therapeutic relation. The categories were modelled in the so called Utrecht's Model for Patient centred communication in the Pharmacy. Conclusion Although there might be barriers to implement patient centred communication in the pharmacy, the concept of patient centred communication as described in the literature is relevant for the pharmacy practice.
Keywords
Communication 
Patient centredness 
Pharmaceutical care 
Pharmacy practice 
UMPA model 
Impacts of practice
Training of pharmacy staff in patient centred communication may be helpful in addressing drug related problems and achieving better health outcomes.

Patient centred communication by pharmacists may enhance their role of care giver.
Introduction
Communicating with patients about their experiences, needs and concerns regarding their health and medication is essential to identify drug related problems such as overuse, adverse drug reactions and non-adherence [1]. Such communication is an important part of pharmaceutical care: care which urges pharmacists to take responsibility for the clinical outcomes of drug therapy by preventing, identifying and resolving drug related problems [2].
This was also explicitly recommended in a recent Cochrane review. This review suggests that solely providing information or education appears ineffective to improve adherence or clinical outcomes [3]. There is evidence that successful interventions combined patient education with counselling [4]. In pharmacy practice different kinds of interventions can be distinguished, such as counselling when dispensing drugs or medication use review services. Studies have shown that cognitive pharmaceutical services improve the quality of drug therapy and outcomes of several chronic diseases [5, 6, 7, 8]. However, the improved quality of drug therapy does not always seem to lead to better patient outcomes. This may be caused by factors concerning the illness or the patient's lifestyle, but also by difficulties that pharmacists experience with exploring patients' needs and concerns [9, 10, 11]. Almost half of the studies about patient-provider interactions in pharmacy practice focussed solely on information giving [12]. All this suggests that patient communication in pharmacy practice needs improvement. The concept of patient centred communication is widely advocated as a way to improve communication [2, 13, 14].
Aim of the study
Patient centred communication is extensively described and studied regarding doctors and nurses, but it is not well defined for pharmacists. Bensing states that patient-centredness is an ambiguous and multidimensional concept, which is interpreted differently by individual caregivers [15]. Therefore it might be difficult for pharmacists to properly understand patient centred communication. The aim of this study is to provide a comprehensive and accessible overview of the concept of patient centred communication for the pharmacy practice.
Methods
A scoping review was conducted. Scoping reviews 'aim to map
rapidly
the key concepts underpinning a research area and the main sources and types of evidence available' [
16
] As Arksey and O'Malley stated, a scoping review is suitable to summarize and disseminate research findings to professionals, which is in line with the aim of our research (Table 
1
) [
17
,
18
]. Table 
1
contains a detailed description of the six different phases of our scoping review, starting with phase 1: determining the aim of the review.
Phases

Detailed description

1. Identifying the aim and research question

Aim: provide a comprehensive and accessible overview of the concept of patient centred communication for the pharmacy practice

2. Identifying relevant studies while considering the balance between feasibility and comprehensiveness

Search strategy

Cochrane search: MESH descriptor 'patient centered care' (12 Feb 2012)

Pubmed search: MESH major topics 'patient centered care' AND 'communication' (21 Feb 2012)

Pubmed search: key words 'patient cent(e)red care' AND 'communication' (21 Feb 2012)

3. Study selection by a team of reviewers

Selection of eligible articles

a. Screening on title and abstract according to the inclusion and exclusion criteria (MW and LB)

b. Screening full text determining conceptualization of patient centred communication or describing a measurement instrument for patient centred communication which refers to an underlying conceptualization (MW, LB, RvH)

c. Snowballing on the selected articles (MW)

4. Charting the data

a. Extraction of descriptions of patient centred communication from the selected articles

5. Collating, summarising and reporting the results with implications for practice, policy or research

a. Thematic analysis by open coding (by MW and RvH by hand); (iterative process)

b. Description of the different themes

c. Discussion of the relations between the different themes and defining the main categories (by MW and RvH)

d. Presentation of the different categories and underlying themes in a concept -model

6. Consultation of stakeholders on the results

a. Presentation and discussion of the concept model individually with 6 community pharmacists, who work as teachers or researchers at Utrecht University

b. Suggestions were processed in the final model
In phase 2 a literature search was performed in Cochrane and Pubmed database (respectively 12 and 21 February 2012) using a limited amount of search terms in order to narrow the amount of references but still being able to identify the main authors on patient centred communication.
For the selection of relevant articles (phase 3), articles were screened judging whether they focused on communication between health care provider and patient in general and were published in English (based on title and abstract). Excluded were articles about inter-professional communication, e-health, management, aspects of patient centred care other than communication or on specific groups (patients, diseases, gender, culture) (see Fig. 
1
flow chart).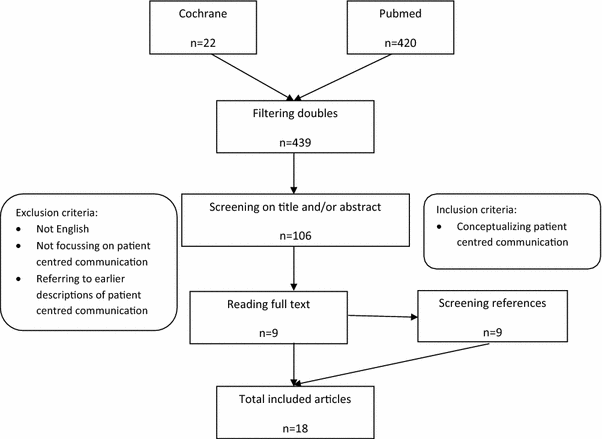 Subsequently, full-text articles were read to determine whether they conceptualized patient centred communication (inclusion criterion). Articles were excluded when referring to older articles and not giving a different or more elaborate view on patient centred communication than the earlier article.
Finally, through snowballing to earlier publications by examining the full-text articles for relevant references, articles were included that gave a different or additional view on patient centred communication.
In phase 4 the text segments of the descriptions of patient centred communication were extracted from the selected articles. In phase 5 a thematic analysis of the data was done until agreement was reached on all the themes/categories. The different categories were interconnected to one another and presented in a model. Finally, in phase 6 stakeholders were interviewed individually for feedback on this model.
Discussion
The current study provides an overview of patient centred communication, based on the descriptions found in eighteen publications. The different descriptions of patient centred communication have been translated to pharmacy practise and are presented in a model for the pharmaceutical consultation, the so called UMPA-model (Utrecht's Model for Patient centred Communication in the Pharmacy). Central in this model are shared problem defining and shared decision making. These are supported by assumptions about patient centredness regarding the patient, the pharmacist and the therapeutic relationship.
The six phases of a scoping review were performed as described by Arksey and O'Malley and by Levac [17, 18]. Although a limited literature search was done, we argue that the main descriptions on patient centred communication were identified, because of extensive snowballing until saturation.
The process of study selection and the thematic analysis was done by a small team, therefore there might be a risk of bias. The feedback of the stakeholders however showed that the model has face value.
When describing patient centred communication there is the risk of oversimplifying and consequently not doing the concept justice [39]. However, the included data were rich: some authors focussed on the consultation and practical skills (e.g. Makoul et al.) [21], others more on theoretical notions on patient centred communication (e.g. Mead and Bower) [36], sometimes it was mixed (e.g. Epstein and Street) [31]. We did justice to the complexity by using all data.
The included articles described patient centred communication mostly for doctors or for health care providers in general. We argue that it is also applicable to pharmacy practice.
Firstly, pharmaceutical patient care aims at optimising the outcomes of drug treatment for the individual patient. When a patient experiences problems with medication, a pharmacist can help to solve these problems by communicating with the patient (e.g. by giving information, reassurance or advice, by motivating or by solving (practical) problems).
Secondly, although one may question to what extent pharmacists are involved in shared decision making, which often seems to refer to decisions on treatment [22, 25, 27], in our view pharmacists have a specific role as health provider and they as well as other health professionals help patients to make decisions regarding treatment, e.g. managing the drug regimen. We argue that a pharmacist can play an active role in defining the specific drug problems and solve them together with the patient, which is in line with the two phases of a patient centred consultation.
Finally, in the pharmacy practice pharmacists monitor and evaluate patient's medication use and therefore they can signal possible problems of which the patient is not aware. Therefore it might be that the consultation does not start with a request for help from the patient, but with the pharmacist exploring whether there is a problem, e.g. under consumption. However, none of the authors stated that it is a requisite for patient centred communication that the patient always have to bring in the problem theirself. And even so, especially in this kind of situations the pharmacist has to take the steps of shared problem defining to determine together with the patient what the exact problem is, which makes the need for patient centred communication even bigger.
In our view these characteristics that are specific for pharmaceutical patient care, do not change the suitability of patient centred communication to pharmaceutical patient care.
Nevertheless one could argue that there are practical objections that might hinder patient centred communication in the pharmacy practice. Firstly, it could be more difficult to build a relationship with patients because they communicate with different staff members. Secondly, patients may be reluctant to discuss their problems, due to the poor privacy conditions in pharmacies. Thirdly, communication may be hampered when staff is busy and do not seem to have time for consultation. Fourthly, patients do not always collect the medication themselves which may limit the communication about patients' drug problems/questions. Lastly, patients may be unaware of the possible support of the pharmacy staff to resolve their drug related problems. Therefore they do not always have an explicit wish for help or consultation of the pharmacist.
Pharmacists have to put more effort into connecting with the patient to overcome these barriers to patient centred communication. Therefore training of pharmacy staff is useful, but it is also important to rethink the organisational process of preparing and delivering medications to patients in the pharmacy. All this does not proof the concept of patient centred communication less valuable for the pharmacy practice, but implementing patient centred communication in practice needs attention to overcome these obstacles.
Conclusion
Patient centred communication is a new concept for the pharmaceutical consultation. According to the literature, it refers to both the consultation process with the phases of shared problem defining and shared decision making, and to underlying concepts and assumptions regarding the patient, the pharmacist and their relationship. All themes from the thematic analysis seem to be relevant for the pharmaceutical practice, although there might be barriers to implement patient centred communication in the pharmacy. The UMPA-model can be helpful in presenting patient centred communication and supporting (future) pharmacists to understand the requirements for patient centred pharmaceutical care, not only as a practical set of communication skills or phases in a consultation, but also as a principle and attitude towards pharmaceutical care.
Footnotes
1.

For reasons of readability 'pharmacist' was used instead of 'health care provider' in the description of the results.

2.

The model was named the UMPA-model, where UMPA is an acronym of Utrecht's Model for Patient centred Communication in the Pharmacy (in Dutch Apotheek). (UMPA also seems to be Gaelic for 'about them', which is an appropriate thought considering patient centred communication.)
Notes
Conflicts of interest
None.
Copyright information
© The Author(s) 2017
Open AccessThis article is distributed under the terms of the Creative Commons Attribution 4.0 International License (http://creativecommons.org/licenses/by/4.0/), which permits unrestricted use, distribution, and reproduction in any medium, provided you give appropriate credit to the original author(s) and the source, provide a link to the Creative Commons license, and indicate if changes were made.