Abstract
Purpose
Solid tumors exhibit an altered redox state in comparison with normal tissues due to tumor hypoxia, lower pH, and elevated levels of the tripeptide glutathione. This study describes the preparation of functional redox-responsive nanoparticles proposed as delivery vehicle of Doxorubicin in adrenocortical cancer in vitro.
Methods
Curcumin and Lipoic acid were conjugated to Human Serum Albumin and nanoparticle systems were prepared via a modified desolvation method. Scanning electron microscopy, Fourier transmission IR, dynamic light scattering and differential scanning calorimetry analyses were used to characterize the nanoparticles. Balb3T3 and H295R were used as in vitro models of health and cancer cells, respectively.
Results
Nanoparticles with a spherical shape and a mean diameter of 70 nm were observed, increasing up to ten-folds upon exposure to glutathione 10 mM. Redox responsive Doxorubicin release was recorded, with loaded nanoparticles significantly enhancing the drug cytotoxicity against H295R adrenocortical tumor cells. Cell uptake experiments revealed a rapid and efficient internalization of the nanoparticles.
Conclusions
A valuable tools to actively improve the in vitro anticancer activity of Doxorubicin against adrenocortical cancer was proposed. The effectiveness of the delivery vehicle is related to the presence of both Lipoic acid and Curcumin moieties, enhancing the glutathione responsivity, and the drug cytotoxicity, respectively.
This is a preview of subscription content, log in to check access.
Access options
Buy single article
Instant access to the full article PDF.
US$ 39.95
Price includes VAT for USA
Subscribe to journal
Immediate online access to all issues from 2019. Subscription will auto renew annually.
US$ 199
This is the net price. Taxes to be calculated in checkout.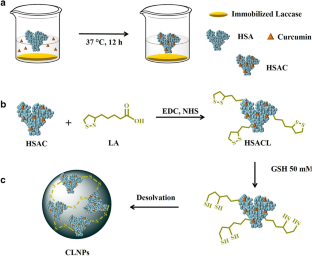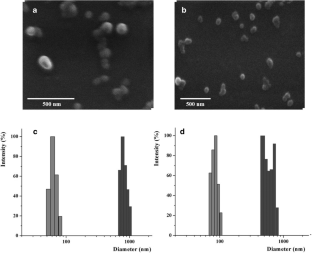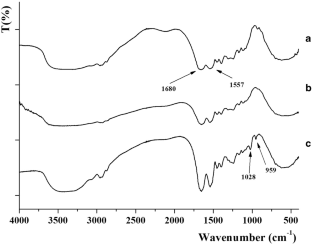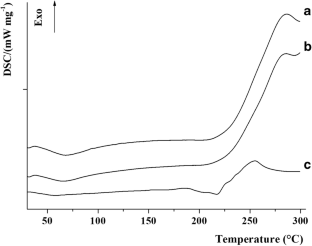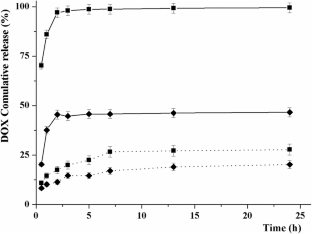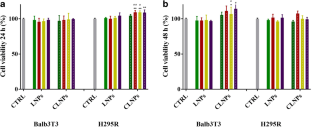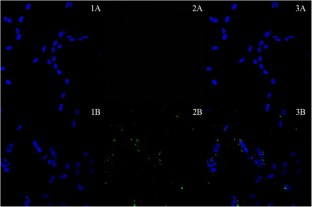 References
1.

Icard P, Goudet P, Charpenay C, Andreassian B, Carnaille B, Chapuis Y, et al. Adrenocortical carcinomas: surgical trends and results of a 253-patient series from the French Association of Endocrine Surgeons Study Group. World J Surg. 2001;25(7):891–7.

2.

Paragliola RM, Torino F, Papi G, Locantore P, Pontecorvi A, Corsello SM. Role of mitotane in adrenocortical carcinoma - review and state of the art. European Endocrinology. 2018;14(2):62–6.

3.

Schulick RD, Brennan MF. Long-term survival after complete resection and repeat resection in patients with adrenocortical carcinoma. Ann Surg Oncol. 1999;6(8):719–26.

4.

Ayala-Ramirez M, Jasim S, Feng L, Ejaz S, Deniz F, Busaidy N, et al. Adrenocortical carcinoma: clinical outcomes and prognosis of 330 patients at a tertiary care center. Eur J Endocrinol. 2013;169(6):891–9.

5.

Fassnacht M, Terzolo M, Allolio B, Baudin E, Haak H, Berruti A, et al. Combination chemotherapy in advanced adrenocortical carcinoma. N Engl J Med. 2012;366(23):2189–97.

6.

Fassnacht M, Dekkers OM, Else T, Baudin E, Berruti A, De Krijger RR, et al. European society of endocrinology clinical practice guidelines on the management of adrenocortical carcinoma in adults, in collaboration with the European network for the study of adrenal tumors. Eur J Endocrinol. 2018;179(4):G1–G46.

7.

Guo X, Wei X, Chen Z, Zhang XB, Yang G, Zhou SB. Multifunctional nanoplatforms for subcellular delivery of drugs in cancer therapy. Prog Mater Sci. 2020;107.

8.

Ilangovan G, Li HQ, Zweier JL, Kuppusamy P. In vivo measurement of tumor redox environment using EPR spectroscopy. Mol Cell Biochem. 2002;234(1):393–8.

9.

Stratford IJ, Adams GE, Bremner JCM, Cole S, Edwards HS, Robertson N, et al. Manipulation and exploitation of the tumor environment for therapeutic benefit. Int J Radiat Biol. 1994;65(1):85–94.

10.

Curcio M, Diaz-Gomez L, Cirillo G, Concheiro A, Iemma F, Alvarez-Lorenzo C. pH/redox dual-sensitive dextran nanogels for enhanced intracellular drug delivery. Eur J Pharm Biopharm. 2017;117:324–32.

11.

Shen Y, Li W. HA/HSA co-modified erlotinib–albumin nanoparticles for lung cancer treatment. Drug Design, Development and Therapy. 2018;12:2285–92.

12.

Kouchakzadeh H, Shojaosadati SA, Tahmasebi F, Shokri F. Optimization of an anti-HER2 monoclonal antibody targeted delivery system using PEGylated human serum albumin nanoparticles. Int J Pharm. 2013;447(1–2):62–9.

13.

Catanzaro G, Curcio M, Cirillo G, Spizzirri UG, Besharat ZM, Abballe L, et al. Albumin nanoparticles for glutathione-responsive release of cisplatin: new opportunities for medulloblastoma. Int J Pharm. 2017;517(1–2):168–74.

14.

Nosrati H, Rakhshbahar A, Salehiabar M, Afroogh S, Manjili HK, Danafar H, et al. Bovine serum albumin: An efficient biomacromolecule nanocarrier for improving the therapeutic efficacy of chrysin. J Mol Liq. 2018;271:639–46.

15.

An FF, Zhang XH. Strategies for preparing albumin-based nanoparticles for multifunctional bioimaging and drug delivery. Theranostics. 2017;7(15):3667–89.

16.

Deng W, Qiu J, Wang S, Yuan Z, Jia Y, Tan H, et al. Development of biocompatible and VEGF-targeted paclitaxel nanodrugs on albumin and graphene oxide dual-carrier for photothermal-triggered drug delivery in vitro and in vivo. Int J Nanomedicine. 2018;13:439–53.

17.

Demeure MJ, Stephan E, Sinari S, Mount D, Gately S, Gonzales P, et al. Preclinical investigation of nanoparticle albumin-bound paclitaxel as a potential treatment for adrenocortical cancer. Ann Surg. 2012;255(1):140–6.

18.

Hou Z, Sang S, You H, Lee MJ, Hong J, Chin KV, et al. Mechanism of action of (−)-epigallocatechin-3-gallate: auto-oxidation- dependent inactivation of epidermal growth factor receptor and direct effects on growth inhibition in human esophageal cancer KYSE 150 cells. Cancer Res. 2005;65(17):8049–56.

19.

Poschner S, Maier-Salamon A, Thalhammer T, Jäger W. Resveratrol and other dietary polyphenols are inhibitors of estrogen metabolism in human breast cancer cells. J Steroid Biochem Mol Biol. 2019;190:11–8.

20.

Vittorio O, Curcio M, Cojoc M, Goya GF, Hampel S, Iemma F, et al. Polyphenols delivery by polymeric materials: challenges in cancer treatment. Drug Delivery. 2017;24(1):162–80.

21.

Mortezaee K, Salehi E, Mirtavoos-mahyari H, Motevaseli E, Najafi M, Farhood B, et al. Mechanisms of apoptosis modulation by curcumin: implications for cancer therapy. J Cell Physiol. 2019;234(8):12537–50.

22.

Farhood B, Mortezaee K, Goradel NH, Khanlarkhani N, Salehi E, Nashtaei MS, et al. Curcumin as an anti-inflammatory agent: implications to radiotherapy and chemotherapy. J Cell Physiol. 2019;234(5):5728–40.

23.

Wang W, Huang Y, Zhao S, Shao T, Cheng Y. Human serum albumin (HSA) nanoparticles stabilized with intermolecular disulfide bonds. Chem Commun. 2013;49(22):2234–6.

24.

Lerra L, Farfalla A, Sanz B, Cirillo G, Vittorio O, Voli F, et al. Graphene oxide functional nanohybrids with magnetic nanoparticles for improved vectorization of doxorubicin to neuroblastoma cells. Pharmaceutics. 2019;11(1).

25.

Vittorio O, Cojoc M, Curcio M, Spizzirri UG, Hampel S, Nicoletta FP, et al. Polyphenol conjugates by immobilized Laccase: the green synthesis of dextran-Catechin. Macromol Chem Phys. 2016;217(13):1488–92.

26.

Hadi S, Artanti AN, Rinanto Y, Wahyuni DSC, Editors. Curcuminoid content of Curcuma longa L. and Curcuma xanthorrhiza rhizome based on drying method with NMR and HPLC-UVD. IOP Conference Series: Materials Science and Engineering; 2018.

27.

Garcia DR, Lavignac N. Poly (amidoamine)-BSA conjugates synthesised by Michael addition reaction retained enzymatic activity. Polym Chem. 2016;7(47):7223–9.

28.

Provencher SW. A constrained regularization method for inverting data represented by linear algebraic or integral equations. Comput Phys Commun. 1982;27(3):213–27.

29.

Peppas NA, Sahlin JJ. A simple equation for the description of solute release. III. Coupling of diffusion and relaxation. Int J Pharm. 1989;57(2):169–72.

30.

Tavano L, Infante MR, Riya MA, Pinazo A, Vinardell MP, Mitjans M, et al. Role of aggregate size in the hemolytic and antimicrobial activity of colloidal solutions based on single and gemini surfactants from arginine. Soft Matter. 2013;9(1):306–19.

31.

Curcio M, Blanco-Fernandez B, Diaz-Gomez L, Concheiro A, Alvarez-Lorenzo C. Hydrophobically modified keratin vesicles for GSH-responsive intracellular drug release. Bioconjug Chem. 2015;26(9):1900–7.

32.

Subedi RK, Kang KW, Choi HK. Preparation and characterization of solid lipid nanoparticles loaded with doxorubicin. Eur J Pharm Sci. 2009;37(3–4):508–13.

33.

Curcio M, Altimari I, Spizzirri UG, Cirillo G, Vittorio O, Puoci F, et al. Biodegradable gelatin-based nanospheres as pH-responsive drug delivery systems. J Nanopart Res. 2013;15(4).

34.

Tahir N, Madni A, Correia A, Rehman M, Balasubramanian V, Khan MM, et al. Lipid-polymer hybrid nanoparticles for controlled delivery of hydrophilic and lipophilic doxorubicin for breast cancer therapy. Int J Nanomedicine. 2019;14:4961–74.

35.

Castro Nava A, Cojoc M, Peitzsch C, Cirillo G, Kurth I, Fuessel S, et al. Development of novel radiochemotherapy approaches targeting prostate tumor progenitor cells using nanohybrids. Int J Cancer. 2015;137(10):2492–503.
ACKNOWLEDGMENTS AND DISCLOSURES
Supports by University of Calabria funds and MIUR Excellence Department Project funds, awarded to the Department of Pharmacy, Health and Nutritional Sciences, University of Calabria, L.232/2016 are acknowledged.
Additional information
Publisher's Note
Springer Nature remains neutral with regard to jurisdictional claims in published maps and institutional affiliations.
About this article
Cite this article
Curcio, M., Avena, P., Cirillo, G. et al. Functional Albumin Nanoformulations to Fight Adrenocortical Carcinoma: a Redox-Responsive Approach. Pharm Res 37, 55 (2020). https://doi.org/10.1007/s11095-020-2775-4
Received:

Accepted:

Published:
Key Words
adrenocortical carcinoma

curcumin conjugate

human serum albumin nanoparticles

redox-responsive