Correction to: Comparative Study of the Dose-Dependence of OATP1B Inhibition by Rifampicin Using Probe Drugs and Endogenous Substrates in Healthy Volunteers
Correction to: Pharm Res (2018) 35: 138
  https://doi.org/10.1007/s11095-018-2416-3
There was a miscalculation of coproporphyrin I AUC0-24h in the published article (Volume 35, Number 7). After the correction of AUC0-24h, AUC ratio and R-square were re-calculated. Then, following corrections were made in the abstract, the body, Fig. 3, Fig. 4 and Table 2 in this article. The interpretation of data in this article was not influenced.
The corrected sentences are below.
Page 1.
Abstract
line 20: coproporphyrin I (r2 = 0.78).
line 23: (r2 = 0.48–0.70).
Page 5.
Effect of Rifampicin on the Plasma Concentrations of Coproporphyrin I.
line 4: 2.3- and 3.5-times higher.
Correlations between the AUC0–24h of Endogenous OATP1B Substrates, and of these with the AUC0–24h of Atorvastatin.
line 6: coproporphyrin I (r2 = 0.78).
line 8: atorvastatin (r2 of 0.65, 0.70 and 0.48, respectively).
The corrected Figures and Table appears below.
Page 9.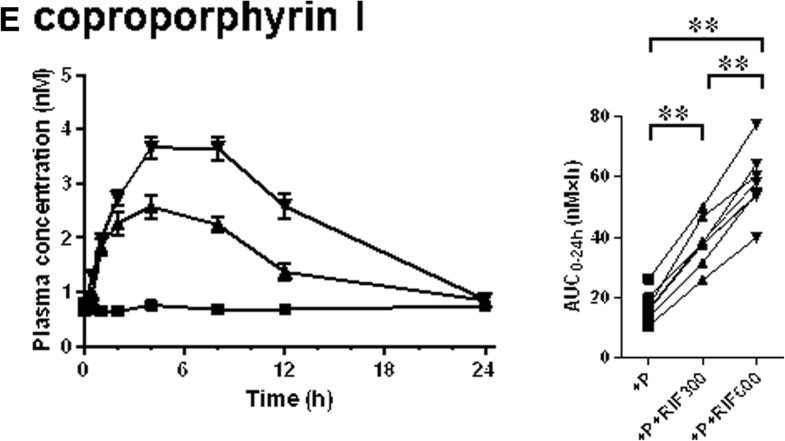 Page 10.
Table 2, line 6 Coproporphyrin I.
| Probe drug | Control | +P | +RIF300 | Fold changea | +RIF600 | Fold changea |
| --- | --- | --- | --- | --- | --- | --- |
| Coproporphyrin I | nd | 16.8 ± 1.6 | 38.1 ± 2.7** | 2.3 ± 0.1 | 57.8 ± 3.8**,†† | 3.5 ± 0.1 |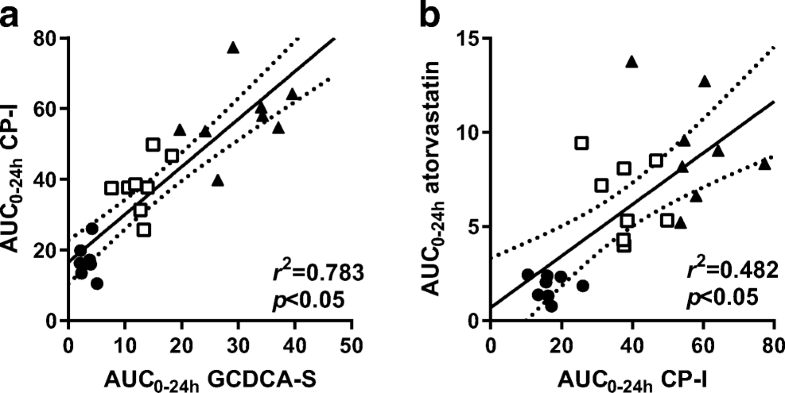 Copyright information
© Springer Science+Business Media, LLC, part of Springer Nature 2019