Decorated Superparamagnetic Iron Oxide Nanoparticles with Monoclonal Antibody and Diethylene-Triamine-Pentaacetic Acid Labeled with Thechnetium-99m and Galium-68 for Breast Cancer Imaging
Abstract
Purpose
In this study we developed and tested an iron oxide nanoparticle conjugated with DTPA and Trastuzumab, which can efficiently be radiolabeled with 99m-Tc and Ga-68, generating a nanoradiopharmaceutical agent to be used for SPECT and PET imaging.
Methods
The production of iron oxide nanoparticle conjugated with DTPA and Trastuzumab was made using phosphorylethanolamine (PEA) surface modification. Both radiolabeling process was made by the direct radiolabeling of the nanoparticles. The in vivo assay was done in female Balb/c nude mice xenografted with breast cancer. Also a planar imaging using the radiolabeled nanoparticle was performed.
Results
No thrombus and immune response leading to unwanted interaction and incorporation of nanoparticles by endothelium and organs, except filtration by the kidneys, was observed. In fact, more than 80% of 99mTc-DTPA-TZMB@Fe3O4 nanoparticles seems to be cleared by the renal pathway but the implanted tumor whose seems to increase the expression of HER2 receptors enhancing the uptake by all other organs.
Conclusion
However, even in this unfavorable situation the tumor bioconcentrated much larger amounts of the nano-agent than normal tissues giving clear enough contrast for breast cancer imaging for diagnostics purpose by both SPECT and PET technique.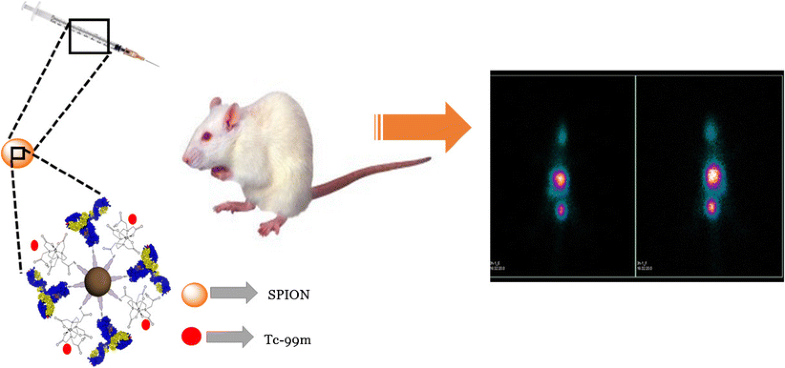 KEY WORDS
imaging 
nanoradiopharmaceuticals 
oncology 
smart device 
Abbreviations
@Fe3O4

Iron oxide nanoparticles

99mTc

Technetium 99 metastable

BT-474

Invasive ductal carcinoma cell line

DTPA

Diethylene triamine pentaacetic acid

GA

Glutaraldehyde

Ga-68

Gallium-68

Ge68– Ga68

Germanium 68 – Gallium-68

GIST

Gastrointestinal stromal tumor

HER2 receptors

Human epidermal growth factor receptor 2

ITLC-SG

Instant Thin Layer Chromatography – Silica Gel

IV

Intravenous

MBq

Mega Becquerel

mCi

Mili Curie

PEA

Phosphorylethanolamine

PET

Positron Emission Tomography

ROI

Regions of interest

RPMI

Roswell Park Memorial Institute médium

SC

Subcutaneous

SPECT

Single Photon Emission Computed Tomography

SPIONs

Superparamagnetic iron oxide nanoparticles

TEM

Transmission Electron Microscopy

TZMB

Trastuzumab
Notes
ACKNOWLEDGMENTS AND DISCLOSURES
Authors thankfully acknowledge Conselho Nacional de Desenvolvimento Científico e Tecnológico (CNPq) and Fundação de Amparo à Pesquisa do Estado de São Paulo (FAPESP) for the financial support.
Copyright information
© Springer Science+Business Media, LLC, part of Springer Nature 2018