Versatile Methodology to Encapsulate Gold Nanoparticles in PLGA Nanoparticles Obtained by Nano-Emulsion Templating
Abstract
Purpose
Gold nanoparticles have been proved useful for many biomedical applications, specifically, for their use as advanced imaging systems. However, they usually present problems related with stability and toxicity.
Methods
In the present work, gold-nanoparticles have been encapsulated in polymeric nanoparticles using a novel methodology based on nano-emulsion templating. Firstly, gold nanoparticles have been transferred from water to ethyl acetate, a solvent classified as class III by the NIH guidelines (low toxic potential). Next, the formation of nano-emulsions loaded with gold nanoparticles has been performed using a low-energy, the phase inversion composition (PIC) emulsification method, followed by solvent evaporation giving rise to polymeric nanoparticles.
Results
Using this methodology, high concentrations of gold nanoparticles (>100 pM) have been encapsulated. Increasing gold nanoparticle concentration, nano-emulsion and nanoparticle sizes increase, resulting in a decrease on the stability. It is noteworthy that the designed nanoparticles did not produce cytotoxicity neither hemolysis at the required concentration.
Conclusions
Therefore, it can be concluded that a novel and very versatile methodology has been developed for the production of polymeric nanoparticles loaded with gold nanoparticles.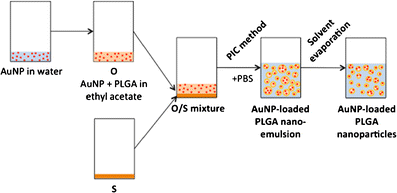 KEY WORDS
AuNP-loaded polymeric nanoparticles 
nano-emulsion templating 
novel imaging systems 
phase inversion composition (PIC) emulsification method) 
polymeric nanoparticles 
ABBREVIATIONS
AuNP

Gold nanoparticles

CTAB

Cetyltrimethylammonium bromide

DLS

Dynamic light scattering

NE(Au)

AuNP-loaded nano-emulsions

NP(Au)

AuNP-loaded PLGA nanoparticles

PIC

Phase inversion composition method

PLGA

Poly(lactide-co-glycolic acid)

RES

Reticuloendothelial system

TOAB

Tetraoctylammonium bromide
Notes
ACKNOWLEDGMENTS AND DISCLOSURES
Financial support from MINECO (grants CTQ2014-52687-C3-1-P and CTQ2016-80645-R); Generalitat de Catalunya (grant 2014-SGR-1655), and CIBER-BBN are acknowledged. CIBER-BBN is an initiative funded by the VI National R&D&I Plan 2008–2011, Iniciativa Ingenio 2010, Consolider Program, CIBER Actions and financed by the Instituto de Salud Carlos III with assistance from the European Regional Development Fund. Cristina Fornaguera is grateful to AGAUR for their Predoctoral Fellowship (grant FI-DGR 2012). Natàlia Feiner is grateful to CIBER-BBN for their Research Initiation Fellowship.
Copyright information
© Springer Science+Business Media New York 2017