Abstract
This work deals with the luminous chemical vapour deposition (plasma polymerization) of hydrocarbon polymeric thin films in a magnetic field enhanced discharge of methane. The films were deposited on 4″ <111> single crystal silicon substrates. We investigated the influence of the different glow discharge parameters (e.g. pressure, flow rate, power input, etc.) on the deposition rate of methane and the refractive index of the resulting polymeric films, as well as the distribution of these parameters across the wafer. We used a Shinko Seiki Plasma Polymerization equipment with a bell jar reactor comprising two electrodes connected to a symmetric AC power supply of 15 kHz. Two magnetrons were formed by placing two circular shaped concentric magnetic poles behind each electrode. The substrates were attached on both sides of a rotating wheel held at a floating potential in the middle of the two electrodes. This equipment allowed us to vary a single parameter and keep the other parameters constant over the whole process. We measured the thickness and the refractive index and their distribution over the wafer. The effect of the system pressure, decoupled from the effect of flow rate, is explained by the characteristic nature of luminous gas phase and by the polymerization/deposition mechanism of luminous chemical vapour deposition.
This is a preview of subscription content, log in to check access.
Access options
Buy single article
Instant access to the full article PDF.
US$ 39.95
Price includes VAT for USA
Subscribe to journal
Immediate online access to all issues from 2019. Subscription will auto renew annually.
US$ 99
This is the net price. Taxes to be calculated in checkout.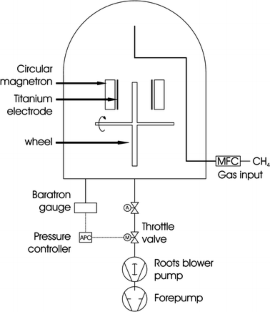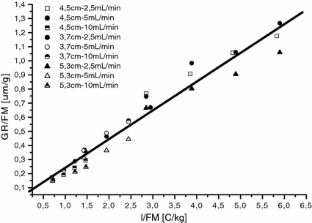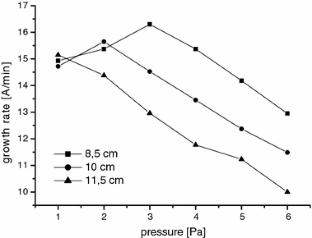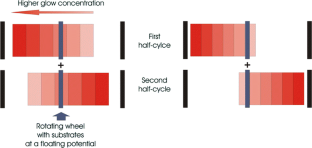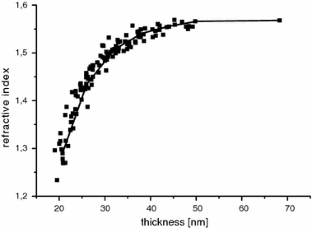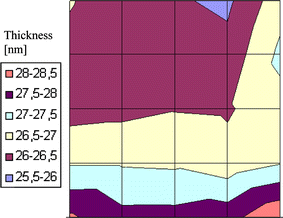 References
1.

Reinberg A (1979) Plasma deposition of inorganic thin films. Ann Rev Mater Sci 9:341–347

2.

Yasuda H, Yu Q (2004) Creation of polymerizable species in plasma polymerization. Plasma Chem Plasma Process 24(2):325–351

3.

Chapman B (1980) Glow discharge processes. John Wiley & Sons, Inc., New York

4.

Lieberman MA, Lichtenberg AJ (1994) Principles of plasma discharges and materials processing. Wiley, New York

5.

Window B, Savvides N (1986) Charged particle fluxes from planar magnetron sputtering sources. J Vac Sci Technol A4:196–202

6.

Tompkins H (1993) A user's guide to ellipsometry. Academic Press

7.

Yasuda HK (2005) Some important aspects of plasma polymerization. Plasma Process Polym 2(4):293–304

8.

Yasuda H, Yu Q (2004) Cathode glow polymerization of trimethylsilane. J Vac Sci Technol A 22(3):472–476

9.

Yasuda HK, Yu QS (2001) Deposition of trimethylsilane in glow discharges. J Vac Sci Technol A19(3):773

10.

Miyama M, Yasuda H (1998) Direct current cathodic glow discharge polymerization of methane and butane. J Appl Polym Sci 70:237–245
Acknowledgment
This study was supported by the Landesstiftung Baden Württemberg gGmbH in the frame of the Research Program "Internationale Spitzenforschung".
About this article
Cite this article
Ledernez, L., Olcaytug, F., Urban, G.A. et al. Magnetically Enhanced 15 kHz Glow Discharge of Methane. Plasma Chem Plasma Process 27, 659–667 (2007). https://doi.org/10.1007/s11090-007-9098-7
Received:

Revised:

Accepted:

Published:

Issue Date:
Keywords
AF magnetron glow discharge

Methane

Deposition kinetic

Refractive index