Corrosion Evaluation and Material Selection for Supercritical Water Reactor Used for Heavy Oil Upgradation
Abstract
Supercritical water is uniquely a green medium for diverse applications because of its changing nature from polar to non-polar. Owing to this property, it is being considered for heavy oil upgradation since it dissolves both organics (oil) and hydrogen while inorganics behave conversely. However, because of the high pressure and temperature (22.1 MPa, 374 °C), corrosive environment (chlorides, sulfides and salt deposition) and stresses involved, there are serious concerns encountered while utilizing supercritical water in reactors. These include change in the component-material microstructure due to hydrogen ingress, sulfide stress corrosion cracking and salt deposition leading to pitting and de-alloying. Various alloys such as ferritic–martensitic steels, austenitic stainless steels, Ti-, Ni- and Zr-based alloys have been used, while new alloys and materials are continuously being investigated to considerably help abate these problems and ultimately improve the life of reactors. Despite significant past efforts in material development, reactors still suffer from these problems and challenges. This review assesses materials selection, the current progress in material development as well as their potentials in ameliorating reactors resistance to oxidation, pitting, embrittlement, etc. This study aims to improve understanding of material selection for supercritical water reactors based on the corrosive environment of the reactor and hence help engineers to make insightful decisions in selecting material for the specific corrosive environment.
Graphical Abstract
Schematic illustration of materials susceptibility in supercritical water reactor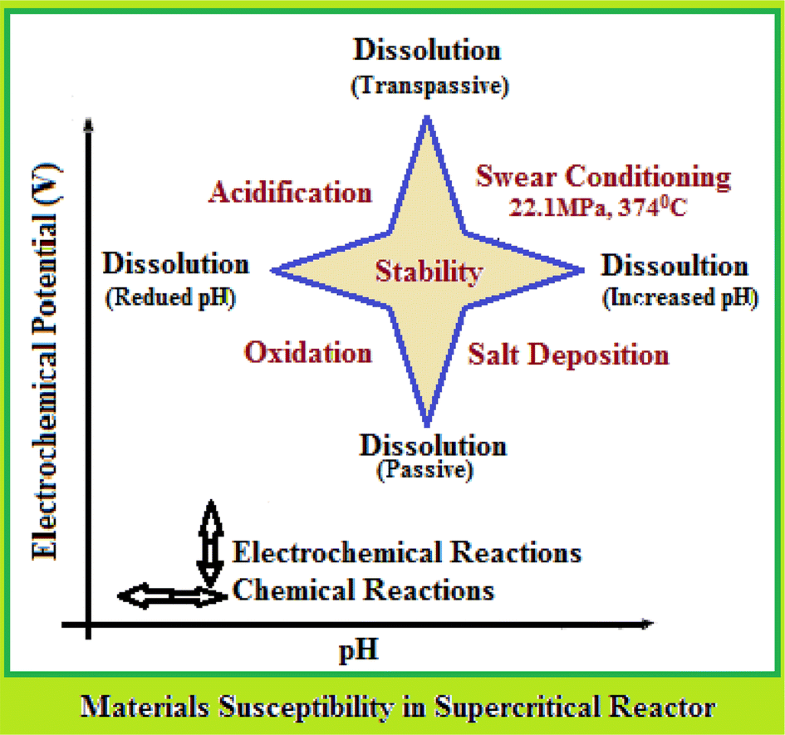 Keywords
Supercritical water 
Heavy oil upgrading 
Corrosion 
Oxidation 
Reduction 
Reactors 
Alloys 
Materials 
Notes
Acknowledgements
Special thanks to Mechanical Engineering Department, King Fahd University of Petroleum and Minerals, 31261, Dhahran, Saudi Arabia and the Center of Research Excellence in Corrosion (CoRE-C), Research Institute, King Fahd University of Petroleum and Minerals, Dhahran, 31261, Saudi Arabia.
Copyright information
© Springer Science+Business Media, LLC, part of Springer Nature 2019