Abstract
The influence of including the dynamic effects of future shoreline changes associated with sea level rise into hydrodynamic modeling is evaluated for the coast of the Northern Gulf of Mexico from Mobile Bay, AL to St. Andrew Bay, FL. A two-dimensional, depth-integrated hydrodynamic model forced by astronomic tides and hurricane winds and pressures representative of Hurricanes Ivan (2004), Dennis (2005) and Katrina (2005) is used to simulate present conditions, 2050 projected sea level (0.46 m rise) with present-day shorelines, and 2050 sea level with projected 2050 shorelines. The 2050 shoreline and nearshore morphology are projected using Coastal Vulnerability Index shoreline change rates to determine the position of the new Gulf and bay shorelines, while the active beach profile is shifted horizontally according to the amount of erosion or accretion, and vertically to keep pace with rising seas. Hydrodynamic model results show that taking a dynamic approach to modeling sea level rise (as opposed to a static, or "bathtub" approach) increases tidal ranges and tidal prisms within the bay systems. Incorporating the projected shoreline changes does not alter tidal ranges, but some bays experience changes in tidal prisms depending on whether the planform area of the bay increases or decreases with the projected erosion or accretion. Barrier islands with projected erosion are vulnerable to increased overtopping from storm surge inundation, which impels more water into the back-bays and increases the inland inundation extent and magnitude. Inundation along barrier islands with projected accretion remains relatively the same as inundation under present-day shorelines, which prevents additional overtopping and limits more water from entering back-bays. Results demonstrate that although modeling sea level rise as a dynamic process is necessary, the incorporation of shoreline changes has variable impacts when evaluating future hydrodynamics and the response of the coastal system to sea level rise.
This is a preview of subscription content, log in to check access.
Access options
Buy single article
Instant unlimited access to the full article PDF.
US$ 39.95
Price includes VAT for USA
Subscribe to journal
Immediate online access to all issues from 2019. Subscription will auto renew annually.
US$ 199
This is the net price. Taxes to be calculated in checkout.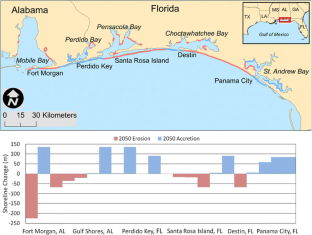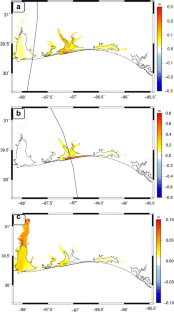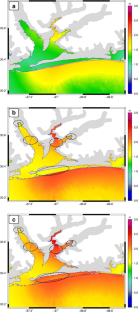 References
Atkinson JH, Smith JM, Bender C (2013) Sea-level rise effects on storm surge and nearshore waves on the Texas coast: influence of landscape and storm characteristics. J Waterw Port Coastal Ocean Eng 139(2):98–117

Bilskie MV, Hagen SC, Medeiros SC, Passeri DL (2014) Dynamics of sea level rise and coastal flooding on a changing landscape. Geophys Res Lett 41(3):927-934. doi:10.1002/2013GL058759

Bruun P (1954) Coast erosion and the development of beach profiles. Technical Memorandum No. 44. Beach Erosion Board

Bruun P (1962) Sea-level rise as a cause of shore erosion. J Waterw Harbors Div 88:117–130

Church JA, White NJ (2006) A 20th century acceleration in global sea-level rise. Geophys Res Lett 33(1):L01602

Cobell Z, Zhao H, Roberts HJ, Clark FR, Zou S (2013) Surge and wave modeling for Louisiana 2012 coastal master plan. J Coast Res SI(67):88–108

Crowell M, Leatherman SP (1999) Coastal erosion mapping and management. J Coast Res 28(Special Issue):196

Crowell M, Douglas BC, Leatherman SP (1997) On forecasting future U.S. shoreline positions: a test of algorithms. J Coast Res 13(4):1245–1255

Davidson-Arnott RGD (2005) Conceptual model of the effects of sea level rise on sandy coasts. J Coast Res 21(6):1166–1172

Dawson AG, Gomez C, Ritchie W, Batstone C, Lawless M, Rowan JS, Dawson S, McIlveny J, Bates R, Muir D (2012) Barrier island geomorphology, hydrodynamic modeling, and historic shoreline change: an example from South Uist and Benbecula, Scottish Outer Hebrides. J Coast Res 28(6):1462–1476

Dean RG (1991) Equilibrium beach profiles: characteristics and applications. J Coast Res 7(1):53–84

Dean RG, Grant J (1989) Development of methodology for thirty-year shoreline projections in the vicinity of beach nourishment projects. Tallahassee, FL, Division of Beaches and Shores, Florida Department of Natural Resources

Department of Environmental and Heritage Protection (2013) Coastal hazard technical guide, determining coastal hazard areas, The State of Queensland

Donoghue JF (2011) Sea level history of the northern Gulf of Mexico coast and sea level rise scenarios for the near future. Clim Change 107(1–2):17–33

Fenster MS, Dolan R, Elder JF (1993) A new method for predicting shoreline positions from historical data. J Coast Res 9(1):147–171

Fitzgerald DM, Howes N, Kulp M, Hughes Z, Georgiou I, Penland S (2007) Impacts of rising sea level to backbarrier wetlands, tidal inlets, and barriers: Barataria Coast, Louisiana. Proceedings of Coastal Sediments 2007 CD-ROM13

Fitzgerald DM, Fenster MS, Argow BA, Buynevich IV (2008) Coastal impacts due to sea level rise. Ann Rev Earth Planet Sci 36:601–647

Galgano FA, Douglas BC (2000) Shoreline position prediction: methods and errors. Environ Geosci 7(1):1–10

Hagen SC, Bacopoulos P (2012) Coastal flooding in Florida's big bend region with application to sea level rise based on synthetic storms analysis. Terr Atmos Ocean Sci 23:481–500

Hagen S, Daranpob A, Bacopoulos P, Medeiros S, Bilskie M, Coggin D, Salisbury M, Atkinson J, Roberts H (2011) Storm surge modeling for FEMA flood map modernization for the Northwest Florida and Alabama Coast, Digital Elevation Model and Finite Element Mesh Development. University of Central Florida

Hagen SC, Morris JT, Bacopoulos P, Weishampel JF (2013) Sea-level rise impact on a salt marsh system of the lower St. Johns river. J Waterw Port Coast Ocean Eng 139(2):118–125

Hallegatte S, Patmore N, Mestre O, Dumas P, Corfee-Morlot J, Herweijer C, Muir-Wood R (2011) Assessing climate change impacts, sea level rise and storm surge risk in port cities: a case study on Copenhagen. Clim Change 104:113–137

Hallegatte S, Green C, Nicholls RJ, Corfee-Morlot J (2013) Future flood losses in major coastal cities. Nat Clim Change 3:802-806. doi: 10.1038/nclimate1979

Hanson H (1989) Genesis—a generalized shoreline change numerical model. J Coast Res 5(1):1–27

Hapke CJ, Himmelstoss EA, Kratzmann M, List JH, Thieler ER (2010) National assessment of shoreline change; historical shoreline change along the New England and Mid-Atlantic coasts. Open-File Report 2010-1118, U.S. Geological Survey: 57 p

Irish JL, Resio DT, Cialone MA (2009) A surge response function approach to coastal hazard assessment. Part 2: quantification of spatial attributes of response functions. Nat Hazards 51:183–205

Leadon ME (1999) Beach, dune and offshore profile response to a severe storm event. ASCE Coastal Sediments Long Island, NY

Leatherman SP (1990) Modeling shore response to sea-level rise on sedimentary coasts. Prog Phys Geol 14(4):447–464

Luettich RA, Westerink JJ, Scheffner NW (1992) ADCIRC: an advanced three-dimensional circulation model for shelves, coasts, and estuaries, I: theory and methodology of ADCIRC-2DDI and ADCIRC-3DL, U.S. Army Corps of Engineers

May SK, Kimball WH, Grady N, Dolan R (1982) CEIS: the coastal erosion information system. Shore Beach 50:19–26

Miller TL, Morton RA, Sallenger AH, Moore LJ (2004) The National assessment of shoreline change: a GIS compilation of vector shorelines and associated shoreline change data for the US Gulf of Mexico. USGS Open File Report 2005-1089. St. Petersburg, Florida, US Geological Survey, St. Petersburg Coastal and Marine Science Center

Morton RA, Miller TL, Moore LJ (2004) National assessment of shoreline change: part 1: historical shoreline changes and associated coastal land loss along the U.S. Gulf of Mexico. Open-file Report 2004-1043. St. Petersburg, Florida, U.S. Geological Survey: 45 p

Mousavi ME, Irish JL, Frey AE, Olivera F, Edge BL (2011) Global warming and hurricanes: the potential impact of hurricane intensification and sea level rise on coastal flooding. Clim Change 104(3–4):575–597

National Research Council (1987) Responding to changes in sea level: engineering applications. The National Academies Press, Washington DC

Nicholls RJ, Hoozemans FMJ, Marchand M (1999) Increasing flood risk and wetland losses due to sea-level rise: regional and global analyses. Glob Environ Change 9:S69–S87

Parris A, Bromirski P, Burkett V, Cayan D, Culver M, Hall J, Horton R, Knuuti K, Moss R, Obeysekera J, Sallenger A, Weiss J (2012) Global sea level rise scenarios for the United States National Climate Assessment. NOAA Tech Memo OAR CPO-1: 37

Passeri DL, Hagen SC, Irish JL (2014) Comparison of shoreline change rates along the South Atlantic Bight and Northern Gulf of Mexico coasts for better evaluation of future shoreline positions under sea level rise. J Coast Res (Special Issue) (accepted)

Patterson D (2009) Modeling the shoreline impacts of Richmond river training walls. In: Proceedings of the 18th NSW Coastal Conference

Ranasinghe R, Watson P, Lord D, Hanslow D, Cowell P (2007) Sea level rise, coastal recession and the Bruun rule. Proceedings of the 18th Australasian Coastal and Ocean Engineering Conference

Ranasinghe R, Duong TM, Uhlenbrook S, Roelvink D, Stive M (2012) Climate-change impact assessment for inlet-interrupted coastlines. Nat Clim Change 3:83–87

Resio DT, Irish JL, Cialone MA (2008) A surge response function approach to coastal hazard assessment—part 1: basic concepts. Nat Hazards 51:163–182

Reyes E, Georgiou I, Reed D, McCorquodale A (2005) Using models to evaluate the effects of barrier islands on estuarine hydrodynamics and habitats: a numerical experience. J Coast Res 44:176–185

Rice TM (2012) Inventory of habitat modifications to tidal inlets in the coastal migration and wintering range of the piping plover (charadrius melodus). Appendix 1B in Draft Comprehensive Conservation Strategy for the Piping Plover (Charadrius melodus) Coastal Migration and Wintering Range, U.S. Fish and Wildlife Service: 35

Rosati JD, Dean RG, Walton TL (2013) The modified Bruun Rule extended for landward transport. Mar Geol 340:71–81

Rossington SK (2008) Modelling large scale estuarine morphodynamics using equilibrium concepts: responses to anthropogenic disturbance and climatic change, University of Southampton. Dissertation

Slinn D (2013) Wave setup validation report for the Alabama-Florida panhandle flood study. University of Florida, Gainesville, FL

Smith JM, Cialone MA, Wamsley TV, McAlpin TO (2010) Potential impact of sea level rise on coastal surges in southeast Louisiana. Ocean Eng 37:37–47

Stevens S (2010) Estuarine shoreline response to sea level rise. Prepared for Lake Macquarie City Council

Thieler ER, Hammar-Klose ES (1999) National assessment of coastal vulnerability to sea level rise: preliminary results for the U.S. Atlantic Coast. Woods Hole, Massachusetts, US Geological Survey

Thieler ER, Hammar-Klose ES (2000) National assessment of coastal vulnerability to sea-level rise: preliminary results for the U.S. Gulf of Mexico Coast. Woods Hole, MA, U.S. Geological SUrvey

University of Central Florida (2011) Flood insurance study: Florida Panhandle and Alabama, Model Validation. Technical Study Documentation Notebook, FEMA

Vitousek S, Fletcher CH, Merrifield MA, Pawlak G, Storlazzi CD (2007) Model scenarios of shoreline change at Kaanapali Beach, Maui, Hawaii: Seasonal and Extreme Events. Coastal Sediments, ASCE

Walton TL, Dean RG (2007) Temporal and spatial change in equilibrium beach profiles from the Florida Panhandle. J Waterw Port Coast Ocean Eng 133:364–376

Wang P, Kirby JH, Haber JD, Horwitz MH, Knorr PO, Krock JR (2006) Morphological and sedimentological impacts of hurricane Ivan and immediate Poststorm Beach recovery along the Northwestern Florida Barrier-Island Coasts. J Coast Res 22(6):1382–1402

Williams SJ (2004) Coastal erosion and land loss around the United States: strategies to manage and protect coastal resources—examples from Louisiana. In: Coastal ecosystems and federal activities technical training symposium proceedings, Gulf Shores State Park, AL

Williams SJ, Penland S, Sallenger AHJ (1992) Louisiana Barrier Island erosion study. Atlas of shoreline changes in Louisiana from 1853 to 1989. USGS Reston, VA, USGS/La. State Universtity Misc. Investig. Ser. I-2150-A

Woodruff JD, Irish JL, Camargo SJ (2013) Coastal flooding by tropical cyclones and sea level rise. Nature 504:44–52

Zhang K, Douglas B, Leatherman S (2002) Do storms cause long-term beach erosion along the U.S. East Barrier Coast? J Geol 110(4):493–502

Zhang K, Douglas BC, Leatherman SP (2004) Global warming and coastal erosion. Clim Change 64(1/2):41–58
Acknowledgments
This research was funded in part under Award No. NA10NOS4780146 from the National Oceanic and Atmospheric Administration (NOAA) Center for Sponsored Coastal Ocean Research (CSCOR). The STOKES Advanced Research Computing Center (ARCC) (webstokes.ist.ucf.edu) provided computational resources for the simulations (System Administrators: C. Finch and S. Tafur). The authors would like to thank A. Warnock, S. Stephens, K. Alizad and the two anonymous reviewers for their constructive comments. The statements and conclusions are those of the authors and do not necessary reflect the views of NOAA-CSCOR, STOKES ARCC, or their affiliates.
About this article
Cite this article
Passeri, D.L., Hagen, S.C., Bilskie, M.V. et al. On the significance of incorporating shoreline changes for evaluating coastal hydrodynamics under sea level rise scenarios. Nat Hazards 75, 1599–1617 (2015) doi:10.1007/s11069-014-1386-y
Received:

Accepted:

Published:

Issue Date:
Keywords
Hydrodynamic modeling

Sea level rise

Shoreline changes