Comments on "Assessing future risk: quantifying the effects of sea level rise on storm surge risk for the southern shores of Long Island, New York," by Christine C. Shepard, Vera N. Agostini, Ben Gilmer, Tashya Allen, Jeff Stone, William Brooks and Michael W. Beck (Volume 60, Number 2, 727–745, DOI: 10.1007/s11069-011-0046-8)
To the Editors, Natural Hazards:
At its western tip, Long Island meets Manhattan Island, at a place called The Battery. There is an excellent GLOSS-LTT tide gauge, there which has been measuring sea levels since 1856.
Due to local land subsidence, sea level is rising faster at The Battery than at 85% of the other GLOSS-LTT tide gauges in the world, but the rate of rise has been nearly constant for over a century, at 2.77 ± 0.09 mm/year (95 % CI).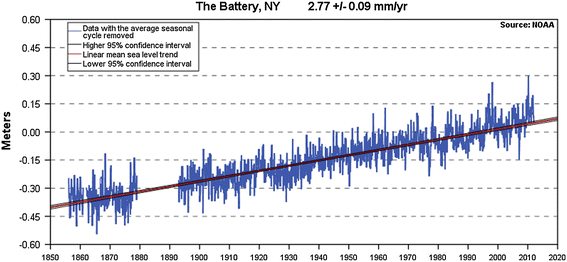 Copyright information
© Springer Science+Business Media B.V. 2012