Abstract
District-wide drought climatology over India for the southwest monsoon season (June–September) has been examined using two simple drought indices; Percent of Normal Precipitation (PNP) and Standardized Precipitation Index (SPI). The season drought indices were computed using long times series (1901–2003) of southwest monsoon season rainfall data of 458 districts over the country. Identification of all India (nation-wide) drought incidences using both PNP and SPI yielded nearly similar results. However, the district-wide climatology based on PNP was biased by the aridity of the region. Whereas district-wide drought climatology based on SPI was not biased by aridity. This study shows that SPI is a better drought index than PNP for the district-wide drought monitoring over the country. SPI is also suitable for examining break and active events in the southwest monsoon rainfall over the country. The trend analysis of district-wide season (June–September) SPI series showed significant negative trends over several districts from Chattisgarh, Bihar, Kerala, Jharkhand, Assam and Meghalaya, Uttaranchal, east Madhya Pradesh, Vidarbha etc., Whereas significant positive trends in the SPI series were observed over several districts from west Uttar Pradesh, west Madhya Pradesh, South & north Interior Karnataka, Konkan and Goa, Madhya Maharashtra, Tamil Nadu, East Uttar Pradesh, Punjab, Gujarat etc.
This is a preview of subscription content, log in to check access.
Access options
Buy single article
Instant unlimited access to the full article PDF.
US$ 39.95
Price includes VAT for USA
Subscribe to journal
Immediate online access to all issues from 2019. Subscription will auto renew annually.
US$ 199
This is the net price. Taxes to be calculated in checkout.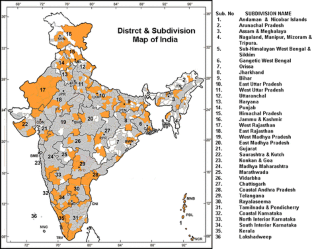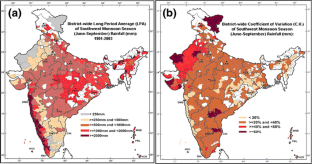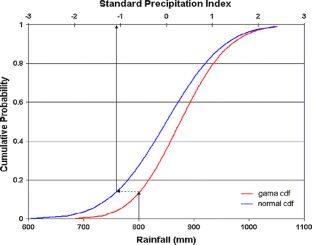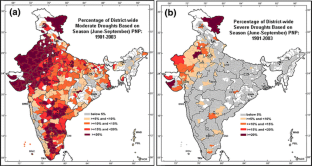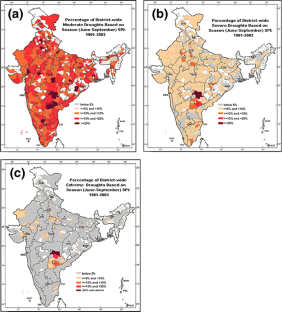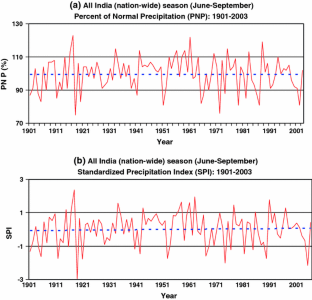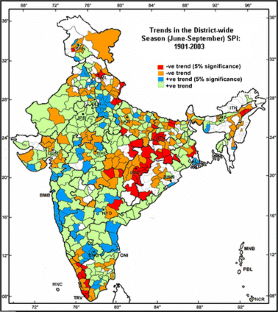 References
Appa Rao G (1991) Drought and southwest monsoon, training course on monsoon meteorology. 3rd WMO Asian/African Monsoon Workshop, Pune, India

ASRAS Sastri (1993) Agricultural drought management strategies to alleviate impacts: examples from the arid and sub humid regions of the Indian subcontinent. In: Wilhite DA (ed) Drought assessment, management, and planning: theory and case studies. Kluwer, Dordrecht, pp 65–86

Banerji S, Chabra BM (1964) Drought characteristics and estimating probabilities of their occurrences. In: Surface waters symposium, WMO/IASH, Belgium, Publication No. 63, pp 189–192

Bates CG (1935) Climatic characteristics of the plains region. In: Silcox M, et al. (eds) Possibilities of shelterbelt planting in the plains region, Washington, DC

Bhalme HN, Mooley DA (1980) Large scale droughts/floods and monsoon circulation. Mon Wea Rev 108:1197–1211

Chowdhury A, Dandekar MM, Raut PS (1989) Variability in drought incidence over India–A statistical approach. Mausam 40:207–214

Frere M, Popov GF (1979) Agro meteorological crop monitoring and forecasting, FAO Plant Production and Protection Paper No. 17, p 64

Gibbs WJ, Maher JV (1967) Rainfall deciles as drought indicators. Bureau of Meteorology Bulletin No. 48, Commonwealth of Australia, Melbourne

Gore PG, Sinha Ray KC (2002) Variability in drought incidence over districts of Maharashtra. Mausam 53:533–542

Gore PG, Prasad T, Hatwar HR (2010) Mapping of drought areas over India, NCC Research Report. No. 12, India Meteorological Department, Pune

Guhathakurta P (2003) Drought in districts of India during the recent all India normal monsoon years and its probability of occurrence. Mausam 54:542–545

Guhathakurta P, Rajeevan M (2008) Trends in the rainfall pattern over India. Int J Climatol 28(11):1453–1469

Heddinghaus TR (1991) Monitoring and dissemination of drought conditions at the joint agricultural weather facility. In: Wilhite DA, Wood DA, Kay PA (eds) Proceedings of the seminar and workshop on drought management and planning. Institute of Agriculture and Natural Resources, University of Nebraska-Lincoln, pp 67–72

Huete A, Didan K, Miura T, Rodriguez EP, Gao X, Ferreira LG (2002) Overview of the radiometric and biophysical performance of the MODIS vegetation indices. Remote Sens Environ 83:195–213

Jordan CF (1969) Derivation of leaf area index from quality of light on the forest floor. Ecology 50:663–666

Kogan FN (1995) Droughts of the late 1980s in the United States as derived from NOAA polar-orbiting satellite data. Bull Am Meteorol Soc 76(5):655–668

Kogan FN (1997) Global drought watch from space. Bull Amer Meteor Soc 78:21–636

Lilliefors H (1967) On the Kolmogorov–Smirnov test for normality with mean and variance unknown. J Am Stat As 62:399–402

Lloyd-Hughes B, Saunders MA (2002) A drought climatology for Europe. Int J Climatol 22(13):1571–1592

McKee TB, Doesken NJ, Kliest J (1993) The relationship of drought frequency and duration to time scales. In: Proceedings of the 8th conference on applied climatology, 17–22 January, Anaheim, CA. American Meteorological Society: Boston, MA, pp 179–184

Oladipio EO (1985) A comparative performance analysis of three meteorological drought indices. Int J Climatol 5:655–664

Pai DS, Sreejith OP (2010) Global and regional circulation features in monsoon 2009: In: Ajit Tyagi, Hatwar HR, Pai DS (eds) A Report, IMD Met. Monograph No. Synoptic Meteorology No. 9/2010. IMD, Pune, pp 56–76

Palmer WC (1965) Meteorological drought. Research Paper No. 45, US Weather Bureau: Washington, DC

Palmer WC (1968) Keeping track of crop moisture conditions, nationwide: the new crop moisture index. Weatherwise 21:156–161

Petrasovits I (1990) General review on drought strategies. In: Transactions of the 14th congress on irrigation and drainage, Rio de Janeiro, vol 1-C. International Commission on Irrigation and Drainage (ICID), pp 1–12

Ramdas DA (1950) Rainfall and agriculture. Ind J Met Geophys 1:262–274

Rao R, Sastri BV, ASRAS, Rama Krishna YS (1981) An integrated scheme of drought classification as applicable to Indian arid region. IDOJARAS 85:317–22

Sen AK, Sinha Ray KC (1997) Recent trends in drought affected areas in India. In: Presented at International symposium on tropical meteorology, INTROPMET-1997 at IIT, New Delhi

Sinha Ray KC, Shewale MP (2001) Probability of occurrence of drought in various subdivisions of India. Mausam 52:541–546

Tate EL, Meigh JR, Prudhomme C, McCartney MP (2000) Drought assessment in Southern Africa using river flow data. DFID report 00/4, London, UK

Tucker CJ (1979) Red and photographic infrared linear combinations for monitoring vegetation. Remote Sens Environ 8:127–150

Wilhite DA, Glantz MH (1985) Understanding the drought phenomenon: the role of definitions. Water Int 10:111–120

WMO (2006) Drought monitoring and early warning: concepts, progress and future challenges. WMO- No. 1006, World Meteorological Organization, p 4
Acknowledgments
We express our sincere thanks to Dr. Shailesh Naik, Secretary MoES and Dr. Ajit Tyagi, DGM, India Meteorological Department (IMD) for the guidance, encouragement and support in carrying out this research work. We thank the anonymous reviewers for their valuable comments and suggestions that helped in the overall improvement of this manuscript.
About this article
Cite this article
Pai, D.S., Sridhar, L., Guhathakurta, P. et al. District-wide drought climatology of the southwest monsoon season over India based on standardized precipitation index (SPI). Nat Hazards 59, 1797–1813 (2011) doi:10.1007/s11069-011-9867-8
Received:

Accepted:

Published:

Issue Date:
Keywords
Southwest monsoon

District-wide drought climatology over India

Standardized precipitation index

Percent of normal precipitation

Linear trends