Abstract
Accumulating evidences demonstrated that Reactive Oxygen Species (ROS) may lead to serious damages to numerous cellular biomolecules, consequently resulting in the development of several neurological diseases. Diclofenac (Dic), the most widely preferred non-steroidal anti-inflammatory drug (NSAID) induces apoptosis by an alteration in function of mitochondria and creation of ROS. Chrysin (Chr) is a naturally active component that is found in numerous plants and bee products and retains strong neuroprotective and antioxidant properties. However its effect of Dic induced injury on SH-SY5Y neuron cells have not been investigated to date. The goal of present research was to study the molecular mechanisms of Chr protection from oxidative injury caused by Dic in SH-SY5Y cells. Dic induced significant toxicity on the cells and this effect was reversed by pre-treatment with Chr. Dic triggered a noteworthy increase in the cellular ROS and Lipid peroxidation (LPO) levels and decrease in Total antioxidant status (TAS) level while pre-treatment with Chr reversed these effects. Dic induction increased the Bax, cytochrome c, cas-3, cas-8 and p53 expression at gene transcription level. Elevated levels of these genes considerably decreased by Chr pre-treatment revealing the defensive effects of Chr. The results obviously presented that exposure of SH-SY5Y with Dic resulted in oxidative stress and apoptosis while pre-treatment of neuron cells with Chr protects the cells against apoptosis triggered by Dic induction.
This is a preview of subscription content, log in to check access.
Access options
Buy single article
Instant access to the full article PDF.
US$ 39.95
Price includes VAT for USA
Subscribe to journal
Immediate online access to all issues from 2019. Subscription will auto renew annually.
US$ 199
This is the net price. Taxes to be calculated in checkout.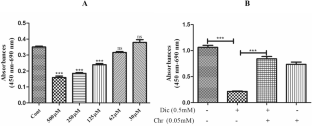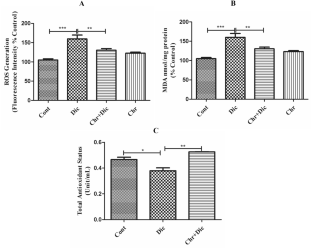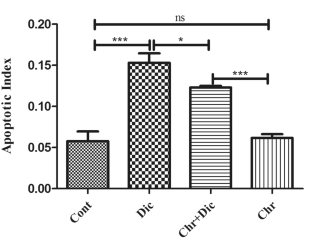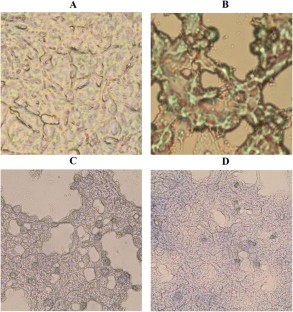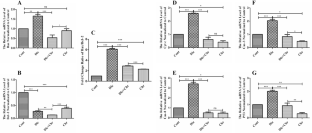 References
1.

Darendelioglu E, Aykutoglu G, Tartik M, Baydas G (2016) Turkish propolis protects human endothelial cells in vitro from homocysteine-induced apoptosis. Acta Histochem 118(4):369–376

2.

Santos AL, Sinha S, Lindner AB (2018) The good, the bad, and the ugly of ROS: new insights on aging and aging-related diseases from eukaryotic and prokaryotic model organisms. Oxid Med Cell Longev. https://doi.org/10.1155/2018/1941285

3.

Giorgi C, Marchi S, Simoes IC, Ren Z, Morciano G, Perrone M, Szymański J (2018) Mitochondria and reactive oxygen species in aging and age-related diseases. Int Rev Cell Mol Biol 340:209–344

4.

Liu Z, Ren Z, Zhang J, Chuang CC, Kandaswamy E, Zhou T, Zuo L (2018) Role of ROS and nutritional antioxidants in human diseases. Front Physiol 9:477

5.

Sik KS et al (2004) Neuroprotective effects of flavones on hydrogen peroxide-induced apoptosis in SH-SY5Y neuroblostoma cells. Bioorg Med Chem Lett 14(9):2261–2264

6.

Klein JA, Ackerman SL (2003) Oxidative stress, cell cycle, and neurodegeneration. J Clin Investig 111(6):785–793

7.

Jenner P (2003) Oxidative stress in Parkinson's disease. Ann Neurol 53(S3):S26–S38

8.

McGettigan P, Henry D (2013) Use of non-steroidal anti-inflammatory drugs that elevate cardiovascular risk: an examination of sales and essential medicines lists in low-, middle-, and high-income countries. PLoS Med 10(2):e1001388

9.

Gómez-Lechón MJ, Ponsoda X, O'Connor E, Donato T, Jover R, Castell JV (2003) Diclofenac induces apoptosis in hepatocytes. Toxicol In Vitro 17(5–6):675–680

10.

Tsutsumi S, Gotoh T, Tomisato W, Mima S, Hoshino T, Hwang HJ, Mizushima T (2004) Endoplasmic reticulum stress response is involved in nonsteroidal anti-inflammatory drug-induced apoptosis. Cell Death Differ 11(9):1009

11.

Simon HU, Haj-Yehia A, Levi-Schaffer F (2000) Role of reactive oxygen species (ROS) in apoptosis induction. Apoptosis 5(5):415–418

12.

Issaeva N (2019). p53 Signaling in Cancers.

13.

Pietta PG (2000) Flavonoids as antioxidants. J Nat Prod 63(7):1035–1042

14.

Mittler R (2002) Oxidative stress, antioxidants and stress tolerance. Trends Plant Sci 7(9):405–410

15.

Sies H (1997) Oxidative stress: oxidants and antioxidants. Exp Physiol 82(2):291–295

16.

Shahidi F, Janitha PK, Wanasundara PD (1992) Phenolic antioxidants. Crit Rev Food Sci Nutr 32(1):67–103

17.

Fishkin RJ, Winslow JT (1997) Endotoxin-induced reduction of social investigation by mice: interaction with amphetamine and anti-inflammatory drugs. Psychopharmacology 132(4):335–341

18.

Habtemariam S (1997) Flavonoids as inhibitors or enhancers of the cytotoxicity of tumor necrosis factor-α in L-929 tumor cells. J Nat Prod 60(8):775–778

19.

Chaudhuri S, Banerjee A, Basu K, Sengupta B, Sengupta PK (2007) Interaction of flavonoids with red blood cell membrane lipids and proteins: antioxidant and antihemolytic effects. Int J Biol Macromol 41(1):42–48

20.

Vauzour D, Vafeiadou K, Rodriguez-Mateos A, Rendeiro C, Spencer JP (2008) The neuroprotective potential of flavonoids: a multiplicity of effects. Genes Nutr 3(3):115

21.

Zhang G, Chen X, Guo J, Wang J (2009) Spectroscopic investigation of the interaction between chrysin and bovine serum albumin. J Mol Struct 921(1–3):346–351

22.

Ohkawa H, Ohishi N, Yagi K (1979) Assay for lipid peroxides in animal tissues by thiobarbituric acid reaction. Anal Biochem 95(2):351–358

23.

Mukherjee B, Mahapatra S, Das S, Roy G, Dey S (2006) HPLC detection of plasma concentrations of diclofenac in human volunteers administered with povidone-ethyl cellulose based experimental transdermal matrix-type patches. Methods Find Exp Clin Pharmacol 28(5):301–306

24.

Tang W (2003) The metabolism of diclofenac-enzymology and toxicology perspectives. Curr Drug Metab 4(4):319–329

25.

Boelsterli UA (2003) Diclofenac-induced liver injury: a paradigm of idiosyncratic drug toxicity. Toxicol Appl Pharmacol 192(3):307–322

26.

El Khashab IH, Abdelsalam RM, Elbrairy AI, Attia AS (2019) Chrysin attenuates global cerebral ischemic reperfusion injury via suppression of oxidative stress, inflammation and apoptosis. Biomed Pharmacother 112:108619

27.

Sidoti-de Fraisse C, Rincheval V, Risler Y, Mignotte B, Vayssi`ere JL, (1998) TNF-α activates at least two apoptotic signaling cascades. Oncogene 17(13):1639–2165

28.

Kusuhara H, Komatsu H, Sumichika H, Sugahara K (1999) Reactive oxygen species are involved in the apoptosis induced by nonsteroidal anti-inflammatory drugs in cultured gastric cells. Eur J Pharmacol 383(3):331–337

29.

Hickey EJ, Raje RR, Reid VE, Gross SM, Ray SD (2001) Diclofenac induced in vivo nephrotoxicity may involve oxidative stress-mediatedmassive genomic DNA fragmentation and apoptotic cell death". Free Radical Biol Med 31(2):139–152

30.

El-Sisi AE, El-Sayad ME, Abdelsalam NM (2017) Protective effects of mirtazapine and chrysin on experimentally induced testicular damage in rats. Biomed Pharmacother 95:1059–1066

31.

Reed JC (2001) Apoptosis-regulating proteins as targets for drug discovery. Trends Mol Med 7(7):314–319

32.

Stennicke HR, Jürgensmeier JM, Shin H, Deveraux Q, Wolf BB, Yang X, Green DR (1998) Pro-caspase-3 is a major physiologic target of caspase-8. J Biol Chem 273(42):27084–27090

33.

Mantawy EM, Esmat A, El-Bakly WM, ElDin RAS, El-Demerdash E (2017) Mechanistic clues to the protective effect of chrysin against doxorubicin-induced cardiomyopathy: Plausible roles of p53 MAPK, and AKT pathways. Sci Rep 7(1):4795

34.

Earnshaw WC, Martins LM, Kaufmann SH (1999) Mammalian caspases: structure, activation, substrates, and functions during apoptosis. Annu Rev Biochem 68(1):383–424

35.

Bal-Price A, Guy CB (2000) Nitric-oxide-induced necrosis and apoptosis in PC12 cells mediated by mitochondria. J Neurochem 75(4):1455–1464

36.

Buckley CD, Pilling D, Henriquez NV, Parsonage G, Threlfall K, Scheel-Toellner D et al (1999) RGD peptides induce apoptosis by direct caspase-3 activation. Nature 397(6719):534–539

37.

Andoh T, Chock PB, Chiueh CC (2002) The roles of thioredoxin in protection against oxidative stress-induced apoptosis in SH-SY5Y cells. J Biol Chem 277(12):9655–9660

38.

Procházková D, Boušová I, Wilhelmová N (2011) Antioxidant and prooxidant properties of flavonoids. Fitoterapia 82(4):513–523

39.

Ryu S, Lim W, Bazer FW, Song G (2017) Chrysin induces death of prostate cancer cells by inducing ROS and ER stress. J Cell Physiol 232(12):3786–3797

40.

Kasala ER, Bodduluru LN, Barua CC, Gogoi R (2015) Chrysin and its emerging role in cancer drug resistance. Chem Biol Interact 236:7–8

41.

Tsuji PA, Walle T (2008) Cytotoxic effects of the dietary flavones chrysin and apigenin in a normal trout liver cell line. Chem Biol Interact 171(1):37–44

42.

Kandhare AD, Shivakumar V, Rajmane A, Ghosh P, Bodhankar SL (2014) Evaluation of the neuroprotective effect of chrysin via modulation of endogenous biomarkers in a rat model of spinal cord injury. J Nat Med 68(3):586–603

43.

Samarghandian S, Azimi Nezhad M, Mohammadi G (2014) Role of caspases, Bax and Bcl-2 in chrysin-induced apoptosis in the A549 human lung adenocarcinoma epithelial cells. Anti-Cancer Agents Med Chem 14(6):901–909
Acknowledgements
The author would like to thank the head of the Molecular Biology and Genetics department and the directorate of Central Research Laboratory of the Bingol University for their laboratory facilities.
Ethics declarations
Conflict of interest
The author declares that he has no conflict of interest.
Additional information
Publisher's Note
Springer Nature remains neutral with regard to jurisdictional claims in published maps and institutional affiliations.
About this article
Cite this article
Darendelioglu, E. Neuroprotective Effects of Chrysin on Diclofenac-Induced Apoptosis in SH-SY5Y Cells. Neurochem Res (2020). https://doi.org/10.1007/s11064-020-02982-8
Received:

Revised:

Accepted:

Published:
Keywords
Antioxidant

Oxidative stress

Apoptosis

Diclofenac

Chrysin

Caspase-3