Abstract
Neuroblastoma (NB) is a common intracranial solid tumor with high mortality. Small nucleolar RNA host gene 16 (SNHG16), one of the long noncoding RNAs (lncRNAs), has been reported to be linked to the poor prognosis of NB. However, the mechanisms of SNHG16 in regulating NB progression remain poorly understood. The expression level of SNHG16 was measured by quantitative real time polymerase chain reaction (qRT-PCR). The starBase was employed to predict the interaction of miR-128-3p and SNHG16 or HOXA7, which was verified by dual-luciferase reporter assay and RNA immunoprecipitation (RIP) assay. Cell proliferation and apoptosis were assessed by 3-(4,5-dimethylthiazol-2-yl)-2,5-diphenyltetrazolium bromide (MTT) and flow cytometry, respectively. Transwell assay was used to detect cell invasion or migration. The mRNA and protein levels of homeobox protein A7 (HOXA7) were determined by qRT-PCR and western blot, respectively. The levels of SNHG16 and HOXA7 were conspicuously increased in NB tissues and cells, while the expression of miR-128-3p was obviously declined, compared with corresponding normal tissues and cells. SNHG16 silencing inhibited proliferation, migration and invasion and induced apoptosis of NB cells. We identified that SNHG16 directly interacted with miR-128-3p, and miR-128-3p could target the 3′UTR of HOXA7 in NB cells. Simultaneously, miR-128-3p expression was negatively associated with SNHG16 or HOXA7. Further studies indicated that SNHG16 overexpression rescued the effects of miR-128-3p-mediated on inhibiting proliferation, migration, invasion and promoting apoptosis of NB cells. Moreover, SNHG16 could modulate HOXA7 by sponging miR-128-3p in NB cells. Besides, SNHG16 silencing suppressed tumor growth in vivo. Knockdown of SNHG16 impeded proliferation, migration, invasion and induced apoptosis through the SNHG16/miR-128-3p/HOXA7 axis in NB cells.
This is a preview of subscription content, log in to check access.
Access options
Buy single article
Instant access to the full article PDF.
US$ 39.95
Price includes VAT for USA
Subscribe to journal
Immediate online access to all issues from 2019. Subscription will auto renew annually.
US$ 199
This is the net price. Taxes to be calculated in checkout.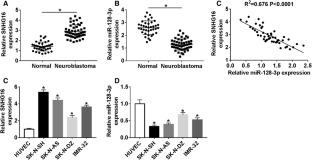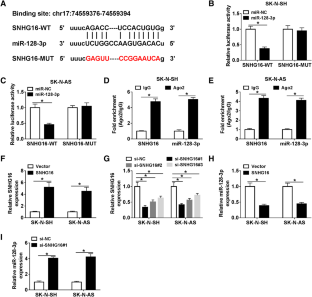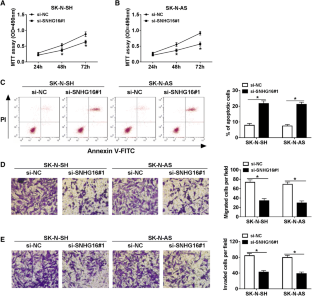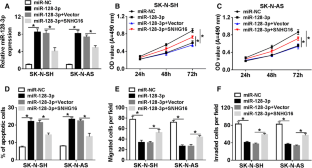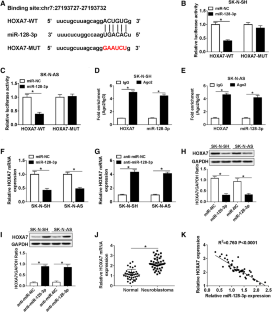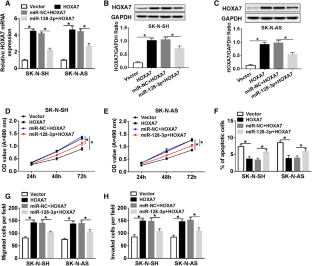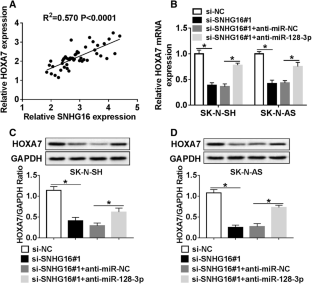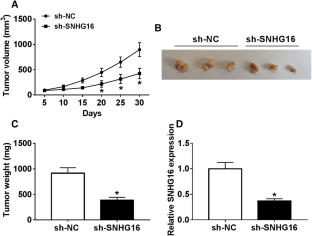 References
1.

Maris JM, Hogarty MD, Bagatell R, Cohn SL (2007) Neuroblastoma. Lancet 369:2106–2120

2.

Whittle SB, Smith V, Doherty E, Zhao S, McCarty S, Zage PE (2017) Overview and recent advances in the treatment of neuroblastoma. Expert Rev Anticancer Ther 17:369–386

3.

Johnson E, Dean SM, Sondel PM (2007) Antibody-based immunotherapy in high-risk neuroblastoma. Expert Rev Mol Med 9:1–21

4.

Hiyama E, Iehara T, Sugimoto T, Fukuzawa M, Ohtaki M (2008) Effectiveness of screening for neuroblastoma at 6 months of age: a retrospective population-based cohort study. Lancet 371:1173–1180

5.

Mercer TR, Dinger ME, Mattick JS (2009) Long non-coding RNAs: insights into functions. Nat Rev Genet 10:155–159

6.

Iguchi T, Uchi R, Nambara S, Saito T, Komatsu H, Hirata H, Ueda M, Sakimura S, Takano Y, Kurashige J (2015) A long noncoding RNA, lncRNA-ATB, is involved in the progression and prognosis of colorectal cancer. Anticancer Res 35:1385

7.

Zhi X, Chen J, Luk JM, Wei D (2015) Abstract 157: LncRNA ANRIL indicates a potential prognostic biomarker in gastric cancer and promotes tumor growth by silencing of miR-99a/miR-449a. Can Res 75:157–157

8.

Mao Y, Liu R, Zhou H, Yin S, Zhao Q, Ding X, Wang H (2017) Transcriptome analysis of miRNA-lncRNA-mRNA interactions in the malignant transformation process of gastric cancer initiation. Cancer Gene Ther 24:267–275

9.

Cao S, Liu W, Li F, Zhao W, Qin C (2014) Decreased expression of lncRNA GAS5 predicts a poor prognosis in cervical cancer. Int J Clin Exp Pathol 7:6776–6783

10.

Zheng X, Hu H, Li S (2016) High expression of lncRNA PVT1 promotes invasion by inducing epithelial-to-mesenchymal transition in esophageal cancer. Oncol Lett 12:2357–2362

11.

Pan W, Liu L, Wei J, Ge Y, Zhang J, Chen H, Zhou L, Yuan Q, Zhou C, Yang M (2016) A functional lncRNA HOTAIR genetic variant contributes to gastric cancer susceptibility. Mol Carcinog 55:90–96

12.

Liu Y, He A, Liu B, Huang Z, Mei H (2019) Potential role of lncRNA H19 as a cancer biomarker in human cancers detection and diagnosis: a pooled analysis based on 1585 subjects. Biomed Res Int 2019:1–11

13.

Liu Q, Huang J, Zhou N, Zhang Z, Zhang A, Lu Z, Wu F, Mo YY (2013) LncRNA loc285194 is a p53-regulated tumor suppressor. Nucleic Acids Res 41:4976–4987

14.

Li J, Zhang M, An G, Ma Q (2016) LncRNA TUG1 acts as a tumor suppressor in human glioma by promoting cell apoptosis. Exp Biol Med 241:644

15.

Chen H, Li M, Huang P (2019) LncRNA SNHG16 promotes hepatocellular carcinoma proliferation, migration and invasion by regulating miR-186 expression. J Cancer 10:3571–3581

16.

Liu S, Zhang W, Liu K, Liu Y (2019) LncRNA SNHG16 promotes tumor growth of pancreatic cancer by targeting miR-218-5p. Biomed. Pharmacother. 114:108862

17.

Christensen LL, True K, Hamilton MP, Nielsen MM, Damas ND, Damgaard CK, Ongen H, Dermitzakis E, Bramsen JB, Pedersen JSJMO (2016) SNHG16 is regulated by the Wnt pathway in colorectal cancer and affects genes involved in lipid metabolism. Mol Oncol 10:1266–1282

18.

Yu Y, Chen F, Yang Y, Jin Y, Shi J, Han S, Chu P, Lu J, Tai J, Wang S, Yang W, Wang H, Guo Y, Ni X (2019) lncRNA SNHG16 is associated with proliferation and poor prognosis of pediatric neuroblastoma. Int J Oncol 55:93–102

19.

Fromm B, Billipp T, Peck LE, Johansen M, Tarver JE, King BL, Newcomb JM, Sempere LF, Flatmark K, Hovig E, Peterson KJ (2015) A uniform system for the annotation of vertebrate microrna genes and the evolution of the human microRNAome. Annu Rev Genet 49:213–242

20.

Bartel DP (2004) MicroRNAs: genomics, biogenesis, mechanism, and function. Cell 116:281–297

21.

Bracken CP, Scott HS, Goodall GJ (2016) A network-biology perspective of microRNA function and dysfunction in cancer. Nat Rev Genet 17:719–732

22.

Grigelioniene G, Suzuki HI, Taylan F, Mirzamohammadi F, Borochowitz ZU, Ayturk UM, Tzur S, Horemuzova E, Lindstrand A, Weis MA, Grigelionis G, Hammarsjö A, Marsk E, Nordgren A, Nordenskjöld M, Eyre DR, Warman ML, Nishimura G, Sharp PA, Kobayashi T (2019) Gain-of-function mutation of microRNA-140 in human skeletal dysplasia. Nat Med 25:583–590

23.

Yu D, Green B, Marrone A, Guo Y, Kadlubar S, Lin D, Fuscoe J, Pogribny I, Ning B (2015) Suppression of CYP2C9 by microRNA hsa-miR-128-3p in human liver cells and association with hepatocellular carcinoma. Sci Rep 5:8534

24.

Cai J, Fang L, Huang Y, Li R, Xu X, Hu Z, Zhang L, Yang Y, Zhu X, Zhang H (2017) Simultaneous overactivation of Wnt/β-catenin and TGFβ signalling by miR-128-3p confers chemoresistance-associated metastasis in NSCLC. Nat Commun 8:15870

25.

Liu T, Zhang X, Du L, Wang Y, Liu X, Tian H, Wang L, Li P, Zhao Y, Duan W (2019) Exosome-transmitted miR-128-3p increase chemosensitivity of oxaliplatin-resistant colorectal cancer. Mol Cancer 18:43

26.

Evangelisti C, Florian MC, Massimi I, Dominici C, Giannini G, Galardi S, Buè MC, Massalini S, McDowell HP, Messi E, Gulino A, Farace MG, Ciafrè SA (2009) MiR-128 up-regulation inhibits Reelin and DCX expression and reduces neuroblastoma cell motility and invasiveness. Faseb J 23:4276–4287

27.

Naora H, Montz FJ, Chai CY, Roden RBS (2001) Aberrant expression of homeobox gene HOXA7 is associated with mullerian-like differentiation of epithelial ovarian tumors and the generation of a specific autologous antibody response. Proc Natl Acad Sci USA 98:15209–15214

28.

Tang B, Qi G, Sun X, Tang F, Yuan S, Wang Z, Liang X, Li B, Yu S, Liu J (2016) HOXA7 plays a critical role in metastasis of liver cancer associated with activation of snail. Mol Cancer 15:57

29.

Yu Z, Jung-Chien C, He-Feng H, Leung PCK (2013) Homeobox A7 stimulates breast cancer cell proliferation by up-regulating estrogen receptor-alpha. Biochem Biophys Res Commun 440:652–657

30.

Cao XY, Sun ZY, Zhang LJ, Chen MK, Yuan B (2019) microRNA-144-3p suppresses human neuroblastoma cell proliferation by targeting HOXA7. Eur Rev Med Pharmacol Sci 23:716–723

31.

Jovanovic M, Hengartner MO (2006) miRNAs and apoptosis: RNAs to die for. Oncogene 25:6176–6187

32.

Chao-Yuan H, Xin-Ping H, Ji-Ye Z, Zhi-Gang C, Xian-Jian L, Xue-Hui Z, Shan H, Jian-Bo H, Fang L, Yin-Nong ZJOR (2015) miR-128-3p suppresses hepatocellular carcinoma proliferation by regulating PIK3R1 and is correlated with the prognosis of HCC patients. Oncol Rep 33:2889–2898

33.

Zhao L, Li R, Xu S, Li Y, Zhao P, Dong W, Liu Z, Zhao Q, Tan B (2018) Tumor suppressor miR-128-3p inhibits metastasis and epithelial-mesenchymal transition by targeting ZEB1 in esophageal squamous-cell cancer. Acta Biochim Biophys Sin (Shanghai) 50:171–180

34.

Song X, Cao G, Jing L, Lin S, Wang X, Zhang J, Wang M, Liu W, Lv C (2014) Analysing the relationship between lncRNA and protein-coding gene and the role of lncRNA as ceRNA in pulmonary fibrosis. J Cell Mol Med 18:991–1003

35.

Xie J, Guo B, Ding Z, Kang J, Deng X, Wu B, Fan Y (2015) Microarray analysis of lncRNAs and mRNAs co-expression network and lncRNA function as ceRNA in papillary thyroid carcinoma. J Biomater Tissue Eng 5:872–880
Ethics declarations
Conflict of interest
The authors declare that they have no financial conflicts of interest.
Additional information
Publisher's Note
Springer Nature remains neutral with regard to jurisdictional claims in published maps and institutional affiliations.
About this article
Cite this article
Bao, J., Zhang, S., Meng, Q. et al. SNHG16 Silencing Inhibits Neuroblastoma Progression by Downregulating HOXA7 via Sponging miR-128-3p. Neurochem Res (2020). https://doi.org/10.1007/s11064-020-02955-x
Received:

Revised:

Accepted:

Published:
Keywords
Neuroblastoma (NB)

SNHG16

Apoptosis

miR-128-3p

HOXA7