Abstract
Despite progress in conventional treatment for glioblastoma (GBM), the prognosis remains poor due to high tumor recurrence. Therefore, identification of new molecular mechanisms is a pressing need for betterment of GBM patient outcomes. qRT-PCR was used to determine BDNF-AS expression in GBM cells. CCK-8, EdU incorporation, and caspase-3 activity assays were employed to analyze biological functions of BDNF-AS. RIP and RNA pull-down were conducted to detect the interactions among BDNF-AS, ADAR, and p53. Actinomycin D was utilized to examine the stability of p53 mRNA. ChIP and luciferase reporter assays were performed to detect transcriptional activation of BDNF-AS by p53. We found that BDNF-AS was significantly downregulated in GBM cell lines, and its overexpression inhibited GBM cell growth, and promoted apoptosis. Importantly, we illustrated that BDNF-AS coupled with ADAR protein to potentiate stability of p53 mRNA and thus upregulate p53. Interestingly, we further identified p53 as a transcription factor of BDNF-AS, activating transcription of BNDF-AS. This study firstly demonstrated that BDNF-AS acted as a tumor suppressor in GBM and the positive feedback circuit of BDNF-AS/ADAR/p53 served an important mechanism to control GBM proliferation. Targeting this auto-regulatory loop may provide a potential therapeutic strategy for GBM patients.
This is a preview of subscription content, log in to check access.
Access options
Buy single article
Instant access to the full article PDF.
US$ 39.95
Price includes VAT for USA
Subscribe to journal
Immediate online access to all issues from 2019. Subscription will auto renew annually.
US$ 199
This is the net price. Taxes to be calculated in checkout.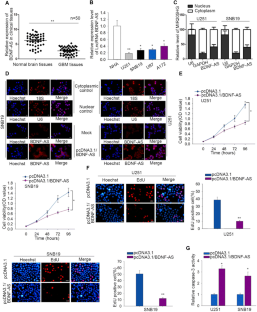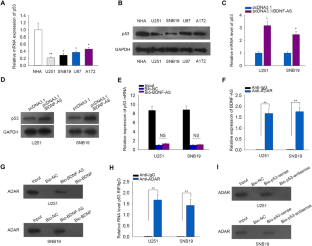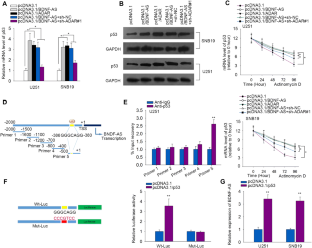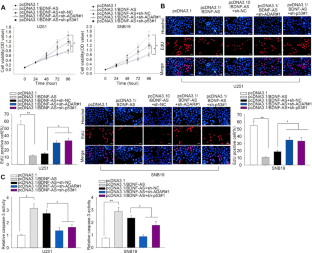 References
1.

Wen PY, Kesari S (2008) Malignant gliomas in adults. N Engl J Med 359:492–507

2.

Siegel RL, Miller KD, Jemal A (2017) Cancer Statistics, 2017. CA Cancer J Clin 67:7–30

3.

Clarke J, Butowski N, Chang S (2010) Recent advances in therapy for glioblastoma. Arch Neurol 67:279–283

4.

Jiang T, Mao Y, Ma W, Mao Q, You Y, Yang X, Jiang C, Kang C, Li X, Chen L, Qiu X, Wang W, Li W, Yao Y, Li S, Li S, Wu A, Sai K, Bai H, Li G, Chen B, Yao K, Wei X, Liu X, Zhang Z, Dai Y, Lv S, Wang L, Lin Z, Dong J, Xu G, Ma X, Cai J, Zhang W, Wang H, Chen L, Zhang C, Yang P, Yan W, Liu Z, Hu H, Chen J, Liu Y, Yang Y, Wang Z, Wang Z, Wang Y, You G, Han L, Bao Z, Liu Y, Wang Y, Fan X, Liu S, Liu X, Wang Y, Wang Q (2016) CGCG clinical practice guidelines for the management of adult diffuse gliomas. Cancer Lett 375:263–273

5.

Louis DN, Perry A, Reifenberger G, von Deimling A, Figarella-Branger D, Cavenee WK, Ohgaki H, Wiestler OD, Kleihues P, Ellison DW (2016) The 2016 World Health Organization classification of tumors of the central nervous system: a summary. Acta Neuropathol 131:803–820

6.

Chai RC, Zhang KN, Liu YQ, Wu F, Zhao Z, Wang KY, Jiang T (2019) Combinations of four or more CpGs methylation present equivalent predictive value for MGMT expression and temozolomide therapeutic prognosis in gliomas. CNS Neurosci Ther 25:314–322

7.

Omuro A, DeAngelis LM (2013) Glioblastoma and other malignant gliomas: a clinical review. JAMA 310:1842–1850

8.

Louis DN (2006) Molecular pathology of malignant gliomas. Annu Rev Pathol 1:97–117

9.

Stupp R, Hegi ME, Gilbert MR, Chakravarti A (2007) Chemoradiotherapy in malignant glioma: standard of care and future directions. J Clin Oncol 25:4127–4136

10.

Miller JJ, Wen PY (2016) Emerging targeted therapies for glioma. Expert opinion on emerging drugs 21:441–452

11.

Shi X, Sun M, Liu H, Yao Y, Song Y (2013) Long non-coding RNAs: a new frontier in the study of human diseases. Cancer Lett 339:159–166

12.

Quinn JJ, Chang HY (2016) Unique features of long non-coding RNA biogenesis and function. Nat Rev Genet 17:47–62

13.

Gibb EA, Brown CJ, Lam WL (2011) The functional role of long non-coding RNA in human carcinomas. Mol Cancer 10:38

14.

Porritt MJ, Batchelor PE, Howells DW (2005) Inhibiting BDNF expression by antisense oligonucleotide infusion causes loss of nigral dopaminergic neurons. Exp Neurol 192:226–234

15.

Zheng X, Lin C, Li Y, Ye J, Zhou J, Guo P (2016) Long noncoding RNA BDNF-AS regulates ketamine-induced neurotoxicity in neural stem cell derived neurons. Biomed Pharmacother 82:722–728

16.

Li Y, Xu F, Xiao H, Han F (2018) Long noncoding RNA BDNF-AS inversely regulated BDNF and modulated high-glucose induced apoptosis in human retinal pigment epithelial cells. J Cell Biochem 119:817–823

17.

Zhao H, Diao C, Wang X, Xie Y, Liu Y, Gao X, Han J, Li S (2018) LncRNA BDNF-AS inhibits proliferation, migration, invasion and EMT in oesophageal cancer cells by targeting miR-214. J Cell Mol Med 22:3729–3739

18.

Li W, Dou Z, We S, Zhu Z, Pan D, Jia Z, Liu H, Wang X, Yu G (2018) Long noncoding RNA BDNF-AS is associated with clinical outcomes and has functional role in human prostate cancer. Biomed Pharmacother 102:1105–1110

19.

Zhang H, Liu C, Yan T, Wang J, Liang W (2018) Long noncoding RNA BDNF-AS is downregulated in cervical cancer and has anti-cancer functions by negatively associating with BDNF. Arch Biochem Biophys 646:113–119

20.

Paz-Yaacov N, Bazak L, Buchumenski I, Porath HT, Danan-Gotthold M, Knisbacher BA, Eisenberg E, Levanon EY (2015) Elevated RNA editing activity is a major contributor to transcriptomic diversity in tumors. Cell Rep 13:267–276

21.

Bass BL, Weintraub H (1988) An unwinding activity that covalently modifies its double-stranded RNA substrate. Cell 55:1089–1098

22.

Galeano F, Tomaselli S, Locatelli F, Gallo A (2012) A-to-I RNA editing: the "ADAR" side of human cancer. Semin Cell Dev Biol 23:244–250

23.

Slotkin W, Nishikura K (2013) Adenosine-to-inosine RNA editing and human disease. Genome Med 5:105

24.

Chan TH, Qamra A, Tan KT, Guo J, Yang H, Qi L, Lin JS, Ng VH, Song Y, Hong H, Tay ST, Liu Y, Lee J, Rha SY, Zhu F, So JB, Teh BT, Yeoh KG, Rozen S, Tenen DG, Tan P, Chen L (2016) ADAR-mediated RNA editing predicts progression and prognosis of gastric cancer. Gastroenterology 151:637–650

25.

Fritzell K, Xu LD, Lagergren J, Ohman M (2018) ADARs and editing: the role of A-to-I RNA modification in cancer progression. Semin Cell Dev Biol 79:123–130

26.

Muller PA, Vousden KH (2014) Mutant p53 in cancer: new functions and therapeutic opportunities. Cancer Cell 25:304–317

27.

Zhu J, Sammons MA, Donahue G, Dou Z, Vedadi M, Getlik M, Barsyte-Lovejoy D, Al-awar R, Katona BW, Shilatifard A, Huang J, Hua X, Arrowsmith CH, Berger SL (2015) Gain-of-function p53 mutants co-opt chromatin pathways to drive cancer growth. Nature 525:206–211

28.

Leroy B, Fournier JL, Ishioka C, Monti P, Inga A, Fronza G, Soussi T (2013) The TP53 website: an integrative resource centre for the TP53 mutation database and TP53 mutant analysis. Nucleic Acids Res 41:D962–D969

29.

Liu S, Jiang T, Zhong Y, Yu Y (2019) miR-210 inhibits cell migration and invasion by targeting the brain-derived neurotrophic factor in glioblastoma. J Cell Biochem. https://doi.org/10.1002/jcb.28414

30.

Chai Y, Liu J, Zhang Z, Liu L (2016) HuR-regulated lncRNA NEAT1 stability in tumorigenesis and progression of ovarian cancer. Cancer Med 5:1588–1598

31.

Li Z, Wang Y, Hu R, Xu R, Xu W (2018) LncRNA B4GALT1-AS1 recruits HuR to promote osteosarcoma cells stemness and migration via enhancing YAP transcriptional activity. Cell Prolif 51:e12504

32.

Zhou Y, Zhang X, Klibanski A (2012) MEG3 noncoding RNA: a tumor suppressor. J Mol Endocrinol 48:R45–R53

33.

Shang W, Yang Y, Zhang J, Wu Q (2018) Long noncoding RNA BDNF-AS is a potential biomarker and regulates cancer development in human retinoblastoma. Biochem Biophys Res Commun 497:1142–1148

34.

Wang Y, Zheng Y, Beal PA (2017) Adenosine deaminases that act on RNA (ADARs). Enzymes 41:215–268

35.

Tomaselli S, Locatelli F, Gallo A (2014) The RNA editing enzymes ADARs: mechanism of action and human disease. Cell Tissue Res 356:527–532

36.

Amin EM, Liu Y, Deng S, Tan KS, Chudgar N, Mayo MW, Sanchez-Vega F, Adusumilli PS, Schultz N, Jones DR (2017) The RNA-editing enzyme ADAR promotes lung adenocarcinoma migration and invasion by stabilizing FAK. Sci Signal. https://doi.org/10.1126/scisignal.aah3941

37.

Zhang Y, Wang K, Zhao Z, Sun S, Zhang K, Huang R, Zeng F, Hu H (2018) ADAR3 expression is an independent prognostic factor in lower-grade diffuse gliomas and positively correlated with the editing level of GRIA2 (Q607R). Cancer Cell Int 18:196

38.

Checler F, Alves da Costa C (2014) p53 in neurodegenerative diseases and brain cancers. Pharmacol Ther 142:99–113

39.

Kitamura Y, Shimohama S, Kamoshima W, Matsuoka Y, Nomura Y, Taniguchi T (1997) Changes of p53 in the brains of patients with Alzheimer's disease. Biochem Biophys Res Commun 232:418–421

40.

Al-Rugeebah A, Alanazi M, Parine NR (2019) MEG3: an oncogenic long non-coding RNA in different cancers. Pathol Oncol Res 25:859–874

41.

Beckerman R, Prives C (2010) Transcriptional regulation by p53. Cold Spring Harb Perspect Biol 2:a000935

42.

Miyashita T, Reed JC (1995) Tumor suppressor p53 is a direct transcriptional activator of the human bax gene. Cell 80:293–299

43.

Preca BT, Bajdak K, Mock K, Lehmann W, Sundararajan V, Bronsert P, Matzge-Ogi A, Orian-Rousseau V, Brabletz S, Brabletz T, Maurer J, Stemmler MP (2017) A novel ZEB1/HAS2 positive feedback loop promotes EMT in breast cancer. Oncotarget 8:11530–11543

44.

Ling Z, Wang X, Tao T, Zhang L, Guan H, You Z, Lu K, Zhang G, Chen S, Wu J, Qian J, Liu H, Xu B, Chen M (2017) Involvement of aberrantly activated HOTAIR/EZH2/miR-193a feedback loop in progression of prostate cancer. J Exp Clin Cancer Res 36:159

45.

Chen Y, Bao C, Zhang X, Lin X, Huang H, Wang Z (2019) Long non-coding RNA HCG11 modulates glioma progression through cooperating with miR-496/CPEB3 axis. Cell Prolif 52:e12615

46.

Zhang X, Du K, Lou Z, Ding K, Zhang F, Zhu J, Chang Z (2019) The CtBP1-HDAC1/2-IRF1 transcriptional complex represses the expression of the long noncoding RNA GAS5 in human osteosarcoma cells. Int J Biol Sci 15:1460–1471
Acknowledgements
The authors have a deep gratitude towards all lab members.
Ethics declarations
Conflict of interest
The authors declared that they have no conflict of interest.
Additional information
Publisher's Note
Springer Nature remains neutral with regard to jurisdictional claims in published maps and institutional affiliations.
Electronic supplementary material
Below is the link to the electronic supplementary material.
About this article
Cite this article
Lv, X., Gu, C. & Guo, S. Activation of BDNF-AS/ADAR/p53 Positive Feedback Loop Inhibits Glioblastoma Cell Proliferation. Neurochem Res 45, 508–518 (2020). https://doi.org/10.1007/s11064-019-02943-w
Received:

Revised:

Accepted:

Published:

Issue Date:
Keywords
Glioblastoma

BDNF-AS

ADAR

p53

Positive feedback loop