Correction to: Isoliquiritigenin Provides Protection and Attenuates Oxidative Stress-Induced Injuries via the Nrf2-ARE Signaling Pathway After Traumatic Brain Injury
The original version of this article unfortunately contained a mistake. The Fluorescence Immunoassays text written in Materials and Methods section and Fig. 1i, j is incorrect. In Fig. 1j, the images corresponding to Sham and TBI + ILG are incorrect. In Fig. 1i the figure caption "TBI + EDA" are incorrect. The corrected text and Fig. 1i, j are given below.
Fluorescence Immunoassays
After deparaffinization and rehydration, brain tissue section and cells were mounted on coverslips and fixed with 4% paraformaldehyde. These samples then were blocked with 5% bovine serum albumin (BSA) in PBS for 30 min at 37 °C, and incubated overnight at 4 °C with anti-AQP4 (1:100), anti-GFAP (1:300) and anti-NFL (1:500) specific primary detection antibodies. After washing with PBS (7 min/3 times), the slides were then incubated for 2 h at room temperature with the appropriate secondary detection antibody (1:1000). After washing in PBS, the slides were re-stained with DAPI for 7 min. The slices of Negative Control group (Sham group) were incubated with primary antibody (anti-Nrf2,1:400) overnight at 4 °C. Afterward, the slides were incubated with Alexa Fluor 647 donkey antimouse and Alexa Fluor 647 donkey antirabbit secondary antibodies for 1 h at 37 °C. Then, two different fields were randomly selected in each slide, and captured for positive cells as Negative Control group (Donkey antirabbit secondary antibody) and Sham group (Donkey antimouse secondary antibody), respectively. Fluorescence was detected using a Nikon confocal laser microscope (Nikon, A1PLUS, Tokyo, Japan).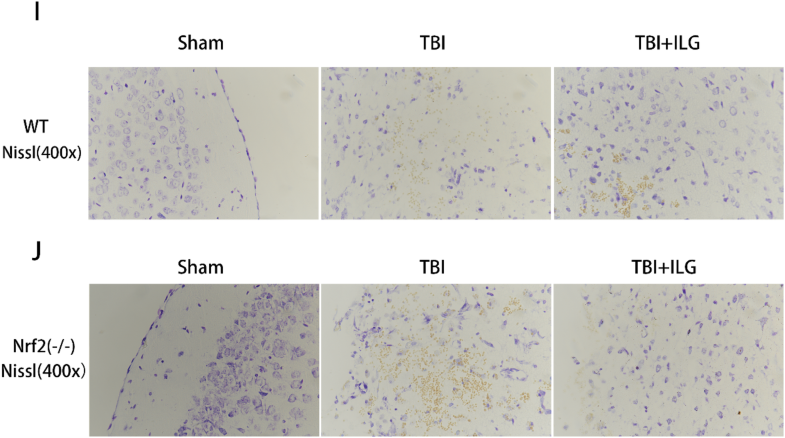 Copyright information
© Springer Science+Business Media, LLC, part of Springer Nature 2019