Modelling Sporadic Alzheimer's Disease Using Induced Pluripotent Stem Cells
Abstract
Developing cellular models of sporadic Alzheimer's disease (sAD) is challenging due to the unknown initiator of disease onset and the slow disease progression that takes many years to develop in vivo. The use of human induced pluripotent stem cells (iPSCs) has revolutionised the opportunities to model AD pathology, investigate disease mechanisms and screen potential drugs. The majority of this work has, however, used cells derived from patients with familial AD (fAD) where specific genetic mutations drive disease onset. While these provide excellent models to investigate the downstream pathways involved in neuronal toxicity and ultimately neuronal death that leads to AD, they provide little insight into the causes and mechanisms driving the development of sAD. In this review we compare the data obtained from fAD and sAD iPSC-derived cell lines, identify the inconsistencies that exist in sAD models and highlight the potential role of Aβ clearance mechanisms, a relatively under-investigated area in iPSC-derived models, in the study of AD. We discuss the development of more physiologically relevant models using co-culture and three-dimensional culture of iPSC-derived neurons with glial cells. Finally, we evaluate whether we can develop better, more consistent models for sAD research using genetic stratification of iPSCs and identification of genetic and environmental risk factors that could be used to initiate disease onset for modelling sAD. These considerations provide exciting opportunities to develop more relevant iPSC models of sAD which can help drive our understanding of disease mechanisms and identify new therapeutic targets.
Keywords
Sporadic Alzheimer's disease 
Induced pluripotent stem cells 
Neurons 
Glial cells 
Genetic stratification 
Environmental risk factors 
Introduction
The potential of using human neurons derived from induced pluripotent stem cells (iPSCs) for in vitro studies has revolutionised research of dementia and other neurodegenerative diseases as many of the challenges that are posed from studying complex disease pathways in the brain could potentially be unravelled in a cell-culture dish. The number of people with Alzheimer's disease (AD), the most common form of dementia, is increasing rapidly within our ageing population. While progress has been made in the understanding of disease pathogenesis, we still do not have any disease modifying treatments. Access to human neurons derived from iPSCs provide a significant advantage for translational research but these models still need to be refined for us to be able to model the more complex facets of AD.
AD is characterised by amyloid plaques, composed of amyloid-β (Aβ), and neurofibrillary tangles (NFTs), composed of hyperphosphorylated and truncated tau, in the brain. The amyloid cascade hypothesis, proposed in 1992 [1], whereby the production of Aβ from the sequential β- and γ-secretase cleavage of the amyloid precursor protein (APP) drives disease progression resulting in the formation of NFTs and ultimately toxicity and neuronal cell death, remains the principal hypothesis for investigation [2]. Much of the published evidence supporting this hypothesis comes from studies investigating changes that occur due to increased Aβ production as a result of mutations in either APP or in presenilin 1 (PSEN-1) or PSEN-2, components of the γ-secretase complex, that occur in familial AD (fAD). In fAD these mutations drive disease progression due to increased Aβ load, but while these mutations have provided a useful research tool, particularly in the development of transgenic animal models, it is becoming more evident that the disease mechanisms driving sporadic AD (sAD) [3] which accounts for > 95% of all AD cases, may be due to more subtle alterations in multiple pathways.
The genetics of sAD have been widely investigated and a number of genes have been indicated as potential risk factors for disease development. The presence of the ε4 isoform of Apolipoprotein E (APOE) remains the most significant risk factor for developing sAD with those heterozygous for the ε4 allele having an approximately fourfold increased risk of developing AD, while those homozygous for ε4 have an approximately 12-fold increased risk [4]. More recently, triggering receptor expressed on myeloid cells 2 (TREM2) has been identified by whole-genome sequencing as another significant risk factor, with loss of function mutations in TREM2 suggested to cause a 2–3 fold increased risk of developing sAD [5, 6]. While APOE and TREM2 variants could be considered high-risk genes, several other low-risk genes have been identified by genome-wide association studies (GWAS) (extensively reviewed by Raghavan and Tosto [7]). The advent of GWAS studies was predicted to reveal the components of genetic risk in sAD and bring about a new understanding of the disease. However, while a number of genes were identified and validated in separate GWAS studies, their contribution to the overall development of disease pathology is still not fully understood. Interestingly, however, as a number of these genes, including APOE and TREM2, are involved in multiple key pathways linked to sAD, it suggests that understanding the genetics of AD may enable us to significantly progress our understanding of an individual's risk of developing the disease.
With the advent of iPSC technology to produce human neurons there has been a number of studies using iPSC-derived neurons to investigate AD. Along with this has come a wealth of review articles to compare differentiation protocols, discuss disease modelling and review evidence from different research studies. The field is advancing rapidly but with the majority of these primary research studies describing models derived from patients with familial mutations, it still appears that we are a long way from really understanding the more complex sAD. In this review we will first discuss the existing studies using iPSC-derived stem cell models and compare those using cells derived from fAD patients to studies using cells derived from control individuals or sAD patients. Second, we will acknowledge the limitations of iPSC-derived models and discuss the progress that is needed to build better research models. Finally, we will address whether further genetic stratification and/or the introduction of environmental risk factors may enable us to realistically study sAD in iPSC-derived cellular models.
Investigating sAD Using iPSC-Derived Neurons
To date, most AD models using iPSC-derived neurons have focused on familial forms of AD (fAD), the progress and outcomes of which have recently been well reviewed [8]. These studies, using functional, electrophysiologically active neurons, have predominantly used iPSCs from patients diagnosed with AD with either fAD mutations in APP or PSEN1, or from patients with Down's syndrome where the duplication of the APP gene results in increased Aβ driving early-onset AD. All studies have, so far, shown an increase in Aβ; either in total Aβ or, more specifically in Aβ42 only, resulting in an increase of the Aβ42:40 ratio. An increase in the aggregation-prone Aβ42, and in the Aβ42:40 ratio, accelerates the disease through the production of toxic, oligomeric Aβ species and the formation of amyloid plaques. Other changes have also been observed in these studies including an increase in or altered processing and localisation of APP, an increase in tau and tau phosphorylation, and the activation of GSK3β, a physiological kinase of tau. In this section we review the current studies using iPSC-derived neurons from sAD patients and discuss their findings in terms of future modelling of sAD.
Building Better Models for sAD
The development and refinement of iPSC-derived models for AD is ongoing and significant advances have been made. However, iPSC models and particularly iPSC-derived neurons have their limitations and using them to study sAD is particularly challenging. In this section, we highlight the major limitations of existing models and discuss how these may be overcome to generate better models for AD research, particularly for sAD.
Environmental and Genetic Risk Factors
The lack of a clear genetic cause suggests that the development of sAD is also heavily influenced by environmental risk factors. Here, we define environmental risk factors to mean a non-genetic, external modifier. At present there are several factors that have been identified as increasing the risk of developing sAD. This section looks briefly at what these environmental risk factors are, how they contribute to AD pathology, and whether they have, or can be, modelled using iPSC-derived cell lines to progress our understanding of sAD. We also identify where key risk genes have been identified linking to these specific environmental factors to highlight where a combined approach of genetic stratification and modulation of an environmental risk factor may help us progress our models of sAD.
Future Directions and Outstanding Questions
Research using defined iPSC-derived neuronal models from fAD patients demonstrates the success of this approach to investigate AD. The measurable changes that can be observed in Aβ, tau and related proteins in neurons derived from fAD cell lines have enabled further understanding of the onset and development of pathology in human neurons which is of great benefit to the field. In contrast, however, despite encouraging elements in the analysis of AD pathology in iPSC-derived neurons from sAD patients, the inconsistency in the production of an 'AD phenotype' suggests that further refinement of these models is required to allow us to fully investigate the causes and mechanisms of the disease and its progression. We have summarised the factors described in this review that need to be considered in modelling sAD in Fig. 1.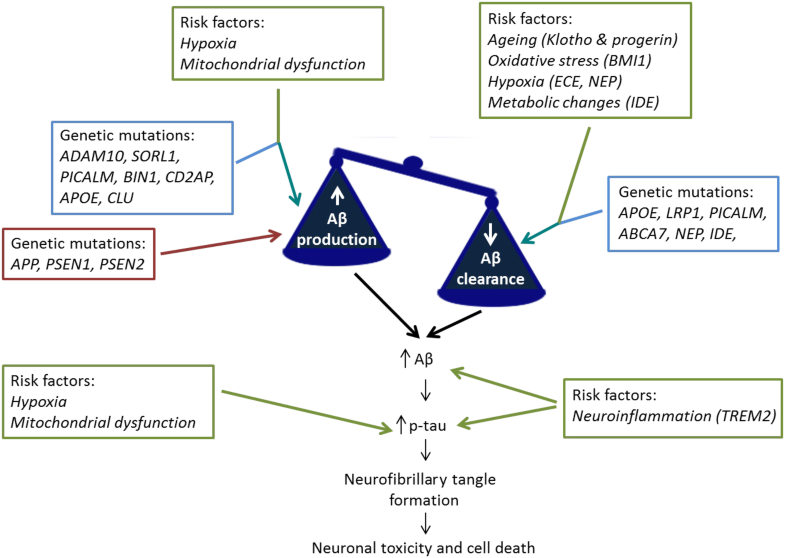 The future of using iPSC-derived models in the study of sAD requires several key areas to be addressed, summarised below as four key questions:-
1.

Can we recapitulate disease progression by 3D culture of neurons and glial cells?

 

2.

Will genetic stratification of iPSCs by sAD risk genes develop more consistent models?

 

3.

Is Aβ clearance impaired in iPSC-derived sAD models?

 

4.

Does the application of environmental risk factors promote the onset of a sAD phenotype in iPSC-derived neurons?

 
iPSC-derived models are advancing, including the development of co-culture to include glial cells and 3D culture with the aim to both mature neurons more rapidly and to create a more physiologically relevant model to study the disease. While the use of fAD cell lines in more complex culture models will hopefully start to delineate disease mechanisms, the generation of iPSC lines from sAD patients may still not give consistent results. This lack of consistency has implications not only in developing our understanding of the onset and progression of sAD, but also in the development of treatments, particularly with the move towards personalised medicine. Therefore, we propose that genetic stratification of cell lines may address some of the inconsistencies observed between different sAD iPSC models and such stratification may identify key pathways for investigation in a given cell line. This will, however, require not only the stratification of existing lines, but the development of isogenic controls. In this review, we have discussed genetic stratification in terms of Aβ production vs Aβ clearance to highlight the potential role of Aβ clearance in the onset and progression of sAD. While not neglecting alterations resulting in increased Aβ production, we consider that Aβ clearance in iPSC-derived cell lines from sAD patients is a key area for investigation to determine whether it may be a primary mechanism for the disease. Finally, despite better culture models and genetic stratification of sAD cell lines, it may be that the initiation of the disease requires additional environmental risk factors. The extent to which susceptibility genes interact with each other and with environmental factors may provide further clues to aetiology. Therefore, we propose that the combined use of specific environmental risk factors in cell lines susceptible to such specific changes, based on genetic stratification, may be able to drive sAD onset.
Notes
Acknowledgements
We gratefully acknowledge the financial support of the Dr. Donald Dean Fund for Dementia Research, The University of Manchester and the Medical Research Council (MR/N013255/1, MR/M024997/1 and MC_PC_16033).
Compliance with Ethical Standards
Conflict of interest
The authors have no conflict of interest to declare.
Copyright information
© The Author(s) 2018
Open AccessThis article is distributed under the terms of the Creative Commons Attribution 4.0 International License (http://creativecommons.org/licenses/by/4.0/), which permits unrestricted use, distribution, and reproduction in any medium, provided you give appropriate credit to the original author(s) and the source, provide a link to the Creative Commons license, and indicate if changes were made.