Abstract
Melissa officinalis has traditionally been used due to its effects on nervous system. Both methanolic and aqueous extracts were tested for protective effects on the PC12 cell line, free radical scavenging properties and neurological activities (inhibition of MAO-A and acetylcholinesterase enzymes and affinity to the GABAA-benzodiazepine receptor). The results suggest that the plant has a significant (P < 0.05) protective effect on hydrogen peroxide induced toxicity in PC12 cells. The radical scavenging properties were also investigated in cells and in cell free systems, where this plant was shown to be a good free radical scavenger. The MAO-A bioassay was also performed to detect possible antidepressant activities demonstrating that both extracts inhibited this enzyme, which has a key role in neurotransmitters metabolism. However, no activity was detected in the acetylcholinesterase and GABA assays. In general, the methanolic extract was more effective than the aqueous.
This is a preview of subscription content, log in to check access.
Access options
Buy single article
Instant access to the full article PDF.
US$ 39.95
Price includes VAT for USA
Subscribe to journal
Immediate online access to all issues from 2019. Subscription will auto renew annually.
US$ 199
This is the net price. Taxes to be calculated in checkout.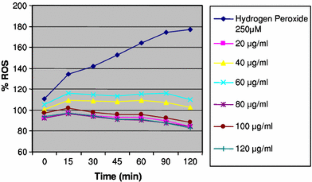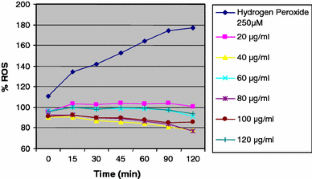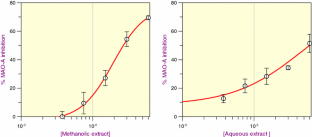 References
1.

Ulbricht C, Brendler T, Gruenwald J et al (2005) Lemon balm (Melissa officinalis L.): an evidence-based systematic review by the Natural Standard Research Collaboration. J Herb Pharmacother 5(4):71–114

2.

Wheatley D (2005) Medicinal plants for insomnia: a review of their pharmacology, efficacy and tolerability. J Psychopharmacol 19(4):414–421. doi:10.1177/0269881105053309

3.

Kennedy DO, Little W, Haskell CF et al (2006) Anxiolytic effects of a combination of Melissa officinalis and Valeriana officinalis during laboratory induced stress. Phytother Res 20(2):96–102. doi:10.1002/ptr.1787

4.

Kennedy DO, Little W, Scholey AB (2004) Attenuation of laboratory-induced stress in humans after acute administration of Melissa officinalis (Lemon Balm). Psychosom Med 66(4):607–613. doi:10.1097/01.psy.0000132877.72833.71

5.

Khandhar SM, Marks WJ (2007) Epidemiology of Parkinson's disease. Dis Mon 53(4):200–205. doi:10.1016/j.disamonth.2007.02.001

6.

Sanders S, Morano C (2008) Alzheimer's disease and related dementias. J Gerontol Soc Work 50(Suppl 1):191–214. doi:10.1080/01634370802137900

7.

Rang HP, Dale MM, Ritter JM et al (2003) Pharmacology. Churchill Livingstone, Edimburgh, pp 456–610

8.

Finkel T, Holbrook NJ (2000) Oxidants, oxidative stress and the biology of ageing. Nature 408(6809):239–247. doi:10.1038/35041687

9.

Greene LA, Tischler AS (1976) Establishment of a noradrenergic clonal line of rat adrenal pheochromocytoma cells which respond to nerve growth factor. Proc Natl Acad Sci USA 73(7):2424–2428. doi:10.1073/pnas.73.7.2424

10.

Hou RR, Chen JZ, Chen H et al (2008) Neuroprotective effects of (-)-epigallocatechin-3-gallate (EGCG) on paraquat-induced apoptosis in PC12 cells. Cell Biol Int 32(1):22–30. doi:10.1016/j.cellbi.2007.08.007

11.

Timonen M, Liukkonen T (2008) Management of depression in adults. BMJ 336(7641):435–439. doi:10.1136/bmj.39478.609097.BE

12.

Mosmann T (1983) Rapid colorimetric assay for cellular growth and survival: application to proliferation and cytotoxicity assays. J Immunol Methods 65(1–2):55–63. doi:10.1016/0022-1759(83)90303-4

13.

Tyson CA, Green CE (1987) Cytotoxicity measures: choice and methods. In: Rauckmann EJ, Padillar GM (eds) The isolated hepatocyte, use in toxicology and xenobiotic biotransformations. Academic Press, Orlando, pp 119–158

14.

Wang H, Joseph JA (1999) Quantifying cellular oxidative stress by dichlorofluorescein assay using microplate reader. Free Radic Biol Med 27(5–6):612–616. doi:10.1016/S0891-5849(99)00107-0

15.

Re R, Pellegrini N, Proteggente A et al (1999) Antioxidant activity applying an improved ABTS radical cation decolorization assay. Free Radic Biol Med 26(9–10):1231–1237. doi:10.1016/S0891-5849(98)00315-3

16.

Ribeiro B, Valentao P, Baptista P et al (2007) Phenolic compounds, organic acids profiles and antioxidative properties of beefsteak fungus (Fistulina hepatica). Food Chem Toxicol 45(10):1805–1813. doi:10.1016/j.fct.2007.03.015

17.

Unno T, Sugimoto A, Kakuda T (2004) Xanthine oxidase inhibitors from the leaves of Lagerstroemia speciosa (L.). Pers. J Ethnopharmacol 93(2-3):391–395. doi:10.1016/j.jep.2004.04.012

18.

Olsen HT, Stafford GI, van Staden J et al (2008) Isolation of the MAO-inhibitor naringenin from Mentha aquatica L. J Ethnopharmacol 117(3):500–502. doi:10.1016/j.jep.2008.02.015

19.

Rhee IK, van de Meent M, Ingkaninan K et al (2001) Screening for acetylcholinesterase inhibitors from Amaryllidaceae using silica gel thin-layer chromatography in combination with bioactivity staining. J Chromatogr A 915(1–2):217–223. doi:10.1016/S0021-9673(01)00624-0

20.

Risa J, Risa A, Adsersen A et al (2004) Screening of plants used in southern Africa for epilepsy and convulsions in the GABA-A-benzodiazepine receptor assay. J Ethnopharmacol 93(2–3):177–182. doi:10.1016/j.jep.2004.01.021

21.

Mencherini T, Picerno P, Scesa C et al (2007) Triterpene, antioxidant, and antimicrobial compounds from Melissa officinalis. J Nat Prod 70(12):1889–1894. doi:10.1021/np070351s

22.

Pereira RP, Fachinetto R, de Souza Prestes A et al (2009) Antioxidant effects of different extracts from Melissa officinalis, Matricaria recutita and Cymbopogon citratus. Neurochem Res 34:973–983. doi:10.1007/s11064-008-9861-z

23.

Lopez V, Akerreta S, Casanova E et al (2007) In vitro antioxidant and anti-rhizopus activities of Lamiaceae herbal extracts. Plant Foods Hum Nutr 62(4):151–155. doi:10.1007/s11130-007-0056-6

24.

Ferreira A, Proenca C, Serralheiro ML et al (2006) The in vitro screening for acetylcholinesterase inhibition and antioxidant activity of medicinal plants from Portugal. J Ethnopharmacol 108(1):31–37. doi:10.1016/j.jep.2006.04.010

25.

Canadanovic-Brunet J, Cetkovic G, Djilas S et al (2008) Radical scavenging, antibacterial, and antiproliferative activities of Melissa officinalis L. extracts. J Med Food 11(1):133–143. doi:10.1089/jmf.2007.580

26.

Valentao P, Fernandes E, Carvalho F et al (2002) Antioxidative properties of cardoon (Cynara cardunculus L.) infusion against superoxide radical, hydroxyl radical, and hypochlorous acid. J Agric Food Chem 50(17):4989–4993. doi:10.1021/jf020225o

27.

Pietta PG (2000) Flavonoids as antioxidants. J Nat Prod 63(7):1035–1042. doi:10.1021/np9904509

28.

Jager AK, Gauguin B, Adsersen A et al (2006) Screening of plants used in Danish folk medicine to treat epilepsy and convulsions. J Ethnopharmacol 105(1–2):294–300. doi:10.1016/j.jep.2005.10.015

29.

Salah SM, Jager AK (2005) Screening of traditionally used Lebanese herbs for neurological activities. J Ethnopharmacol 97(1):145–149. doi:10.1016/j.jep.2004.10.023

30.

Adsersen A, Gauguin B, Gudiksen L et al (2006) Screening of plants used in Danish folk medicine to treat memory dysfunction for acetylcholinesterase inhibitory activity. J Ethnopharmacol 104(3):418–422. doi:10.1016/j.jep.2005.09.032

31.

Abuhamdah S, Huang L, Elliott MS et al (2008) Pharmacological profile of an essential oil derived from Melissa officinalis with anti-agitation properties: focus on ligand-gated channels. J Pharm Pharmacol 60(3):377–384. doi:10.1211/jpp.60.3.0014

32.

Saaby L, Rasmussen HB, Jager AK (2009) MAO-A inhibitory activity of quercetin from Calluna vulgaris (L.) Hull. J Ethnopharmacol 121(1):178–181. doi:10.1016/j.jep.2008.10.012

33.

Chimenti F, Cottiglia F, Bonsignore L et al (2006) Quercetin as the active principle of Hypericum hircinum exerts a selective inhibitory activity against MAO-A: extraction, biological analysis, and computational study. J Nat Prod 69(6):945–949. doi:10.1021/np060015w

34.

Lee MH, Lin RD, Shen LY et al (2001) Monoamine oxidase B and free radical scavenging activities of natural flavonoids in Melastoma candidum D. Don. J Agric Food Chem 49(11):5551–5555. doi:10.1021/jf010622j
Acknowledegments
University of Navarra Foundation and Alumni Navarrensis Association are thanked for finantial support and fellowships.
About this article
Cite this article
López, V., Martín, S., Gómez-Serranillos, M.P. et al. Neuroprotective and Neurological Properties of Melissa officinalis . Neurochem Res 34, 1955–1961 (2009). https://doi.org/10.1007/s11064-009-9981-0
Received:

Accepted:

Published:

Issue Date:
Keywords
Melissa officinalis

Traditional medicine

Neuroprotective

PC12

Antioxidant

MAO