Abstract
Introduction
Elderly patients constitute an expanding part of our society. Due to a continuously increasing life expectancy, an optimal quality of life is expected even into advanced age. Glioblastoma (GBM) is more common in older patients, but they are still often withheld from efficient treatment due to worry of worse tolerance and have a significantly worse prognosis compared to younger patients. Our retrospective observational study aimed to investigate the therapeutic benefit from a second resection in recurrent glioblastoma of elderly patients.
Materials and methods
We included a cohort of 39 elderly patients (> 65 years) with a second resection as treatment option in the case of a tumor recurrence. A causal inference model was built by multiple non- and semiparametric models, which was used to identify matched patients from our elderly GBM database which comprises 538 patients. The matched cohorts were analyzed by a Cox-regression model adjusted by time-dependent covariates.
Results
The Cox-regression analysis showed a significant survival benefit (Hazard Ratio: 0.6, 95% CI 0.36–0.9, p-value = 0.0427) for the re-resected group (18.0 months, 95% CI 13.97–23.2 months) compared to the group without re-resection (10.1 months, 95% CI 8.09–20.9 months). No differences in the co-morbidities or hemato-oncological side effects during chemotherapy could be detected. Anesthetic- and surgical complications were rare and comparable to the complication rate of patients undergoing the first-line resection.
Conclusion
Taken together, in elderly patients, re-resection is an acceptable treatment option in the recurrent state of a glioblastoma. The individual evaluation of the patients′ medical status as well as the chances of withstanding general anesthesia needs to be done in close interdisciplinary consultation. If these requirements are met, elderly patients benefit from a re-resection.
This is a preview of subscription content, log in to check access.
Access options
Buy single article
Instant unlimited access to the full article PDF.
US$ 39.95
Price includes VAT for USA
Subscribe to journal
Immediate online access to all issues from 2019. Subscription will auto renew annually.
US$ 199
This is the net price. Taxes to be calculated in checkout.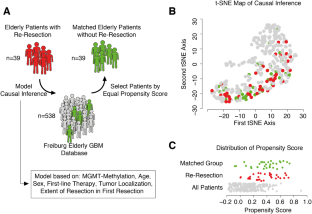 References
1.

Laperriere N, Weller M, Stupp R, Perry JR, Brandes AA, Wick W et al (2013) Optimal management of elderly patients with glioblastoma. Cancer Treat Rev 39:350–357

2.

Stupp R, Taillibert S, Kanner A et al (2017) Effect of tumor-treating fields plus maintenance temozolomide vs maintenance temozolomide alone on survival in patients with glioblastoma: a randomized clinical trial. JAMA 318(23):2306–2316. https://doi.org/10.1001/jama.2017.18718

3.

Minniti G, De Sanctis V, Muni R et al (2009) Hypofractionated radiotherapy followed by adjuvant chemotherapy with temozolomide in elderly patients with glioblastoma. J Neuro-Oncol 91:95–100

4.

Tanaka S, Meyer FB, Buckner JC, Uhm JH, Yan ES, Parney IF (2013) Presentation, management, and outcome of newly diagnosed glioblastoma in elderly patients. J Neurosurg 118(4):786–798

5.

Heiland DH, Haaker G, Watzlawick R et al (2018) One decade of glioblastoma mulforme surgery in 342 elderly patients: what have we learned? J Neurooncol. https://doi.org/10.1007/s11060-018-2964-8

6.

Stupp R, Mason WP, van den Bent MJ et al (2005) Radiotherapy plus concomitant and adjuvant temozolomide for glioblastoma. N Engl J Med 352:987–996

7.

Jordan JT, Gerstner ER, Batchelor TT, Cahill DP, Plotkin SR (2016) Glioblastoma care in the elderly. Cancer 122:189–197

8.

Malmström A, Grønberg BH, Marosi C et al (2012) Temozolamide versus standard 6-week radiotherapy versus hypofractionated radiotherapy in patients older than 60 years with glioblastoma: the Nordic randomized, phase 3 trial. Lancet Oncol 13(9):916–926

9.

Wick W, Platten M, Meisner C et al (2012) Temozolamide chemotherapy alone versus radiotherapy alone for malignant astrocytoma in the elderly: the NOA-08 randomised, phase 3 trial. Lancet Oncol 3(7):707–715

10.

Sughrue ME, Sheean T, Bonney PA, Maurer A J & Teo C. (2015) Aggressive repeat surgery for focally recurrent primary glioblastoma: outcomes and theoretical framework. Neurosurg Focus FOC 38(3):E11. Accessed Oct 29, 2018. https://thejns.org/view/journals/neurosurg-focus/38/3/article-pE11.xml

11.

Sanai N, Berger MS (2008) Glioma extent of resection and its impact on patient outcome. Neurosurgery 62:753–764

12.

Karsy M, Yoon N, Boettcher L et al (2018) Surgical treatment of glioblastoma in the elderly: the impact of complications. J Neurooncol 138:123. https://doi.org/10.1007/s11060-018-2777-9

13.

Chaichana KL, Garzon-Muvdi T, Parker S et al (2011) Supratentorial glioblastoma multiforme: the role of surgical resection versus biopsy among older patients. Ann Surg Oncol 18:239–245

14.

Ewelt C, Goeppert M, Rapp M, Steiger HJ, Stummer W, Sabel M (2011) Glioblastoma multiforme of the elderly: the prognostic effect of resection on survival. J Neurooncol 103:611–618

15.

Perry JR, Laperriere N, O'Callaghan CJ et al (2017) Short-course radiation plus temozolomide in elderly patients with glioblastoma. N Engl J Med 376:1027–1037

16.

Harris G, Jayamanne D, Wheeler H et al (2017) Survival outcomes of elderly patients with glioblastoma multiforme in their 75th year or older treated with adjuvant therapy. Int J Radiat Oncol Biol Phys 98:802–810

17.

Lacroix M, Abi D, Fourney DR et al (2001) A multivariate analysis of 416 patients with glioblastoma multiforme: prognosis, extent of resection, and survival. J Neurosurg 95:190–198

18.

Slutsky DJ (2013) Statistical errors in clinical studies. J Wrist Surg 2(4):285–287. https://doi.org/10.1055/s-0033-1359421

19.

Colson KE, Rudolph KE, Zimmerman SC, et al (2016) Optimizing matching and analysis combinations for estimating causal effects. Sci Rep 6:23222. https://doi.org/10.1038/srep23222

20.

Goldman DA, Hovinga K, Reiner AS, Esquenazi Y, Tabar V, Panageas KS (2018) The relationship between repeat resection and overall survival in patients with glioblastoma: a time-dependent analysis. J Neurosurg 129(5):1231–1239. https://doi.org/10.3171/2017.6.JNS17393

21.

Chaichana KLKK, Chaichana KLKK, Olivi A, Weingart JD, Bennett R, Brem H, Quinones A (2011) Surgical outcomes for older patients with glioblastoma multiforme: preoperative factors associated with decreased survival. Clinical article. J Neurosurg 114:587–594

22.

Wann A, Tully PA, Barnes EH et al (2018) Outcomes after second surgery for recurrent glioblastoma: a retrospective case-control study. J Neurooncol 137:409

23.

Reardon DA, Omuro A, Brandes A, et al. (2017) OS10.3 randomized phase 3 study evaluating the efficacy and safety of nivolumab vs bevacizumab in patients with recurrent glioblastoma: checkmate 143. Neuro-Oncology 19(3):21
Ethics declarations
Conflict of interest
The authors declare that they have no conflict of interest.
Additional information
Publisher's Note
Springer Nature remains neutral with regard to jurisdictional claims in published maps and institutional affiliations.
About this article
Cite this article
Fariña Nuñez, M.T., Franco, P., Cipriani, D. et al. Resection of recurrent glioblastoma multiforme in elderly patients: a pseudo-randomized analysis revealed clinical benefit. J Neurooncol 146, 381–387 (2020). https://doi.org/10.1007/s11060-020-03393-z
Received:

Accepted:

Published:

Issue Date:
Keywords
Recurrent glioblastoma multiforme

Elderly patients

Re-Resection