Abstract
Purpose
Stereotactic radiosurgery (SRS) is feasible for malignant glioma; however, delivering the optimal radiation dose with sufficient large-volume coverage is a major concern. We aimed to investigate the clinical efficacy and safety of fractionated SRS (fSRS) versus single-session SRS (sSRS) for malignant gliomas.
Methods
We retrospectively reviewed 58 malignant glioma patients who underwent gamma knife SRS from January 2015 to December 2018. Forty-one underwent sSRS, and 17 underwent fSRS. Median dose for fSRS was 28 Gy (range 24–35 Gy), with a median dose of 6 Gy per fraction (range 5–7 Gy). Patients received 4 or 5 fractions on consecutive days. Median dose for sSRS was 18 Gy (range 11–25 Gy), with a median isodose of 50% (range 50–65%). Mean target volumes were 5.9 and 19.3 cc for sSRS and fSRS, respectively (p < 0.001, two-sided t test).
Results
After SRS, median progression-free survival (PFS) was 4.5 and 4.6 months (p = 0.58), and median overall survival (OS) was 12.7 and 12.6 months for sSRS and fSRS (p = 0.41), respectively (log-rank test). The incidence of clinically significant radiation necrosis was 20.5% (8/39) and 18.8% (3/16) for sSRS and fSRS, respectively (p = 1, Fisher's exact test).
Conclusion
fSRS for malignant glioma conferred local control and survival comparable with conventional sSRS. The radiation necrosis incidence was comparable between groups when a parallel biological effective dose was administered to the larger target volumes in the fSRS group. fSRS can be a better alternative to sSRS if re-irradiation is considered for large malignant gliomas.
This is a preview of subscription content, log in to check access.
Access options
Buy single article
Instant unlimited access to the full article PDF.
US$ 39.95
Price includes VAT for USA
Subscribe to journal
Immediate online access to all issues from 2019. Subscription will auto renew annually.
US$ 199
This is the net price. Taxes to be calculated in checkout.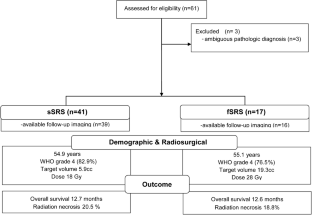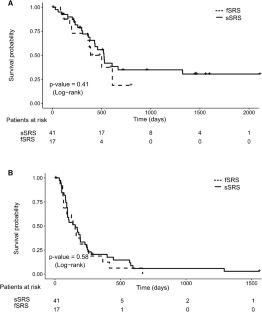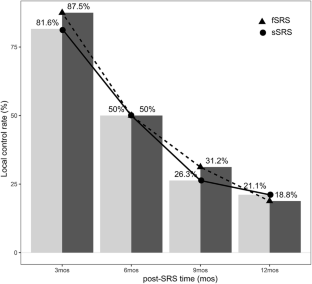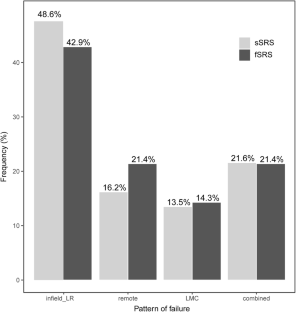 Data availability
The datasets generated during and/or analyzed during the current study are available from the corresponding author on reasonable request.
References
1.

Omuro A, DeAngelis LM (2013) Glioblastoma and other malignant gliomas: a clinical review. JAMA 310:1842–1850. https://doi.org/10.1001/jama.2013.280319

2.

Weller M, Cloughesy T, Perry JR, Wick W (2013) Standards of care for treatment of recurrent glioblastoma–are we there yet? Neuro Oncol 15:4–27. https://doi.org/10.1093/neuonc/nos273

3.

Shah JL, Li G, Shaffer JL, Azoulay MI, Gibbs IC, Nagpal S, Soltys SG (2018) Stereotactic radiosurgery and hypofractionated radiotherapy for glioblastoma. Neurosurgery 82:24–34. https://doi.org/10.1093/neuros/nyx115

4.

Stupp R, Mason WP, van den Bent MJ, Weller M, Fisher B, Taphoorn MJ, Belanger K, Brandes AA, Marosi C, Bogdahn U, Curschmann J, Janzer RC, Ludwin SK, Gorlia T, Allgeier A, Lacombe D, Cairncross JG, Eisenhauer E, Mirimanoff RO, Europe an Organisation for R, Treatment of Cancer Brain T, Radiotherapy G, National Cancer Institute of Canada Clinical Trials G (2005) Radiotherapy plus concomitant and adjuvant temozolomide for glioblastoma. N Engl J Med 352:987–996. https://doi.org/10.1056/NEJMoa043330

5.

Stupp R, Brada M, van den Bent MJ, Tonn JC, Pentheroudakis G, Group EGW (2014) High-grade glioma: ESMO Clinical Practice Guidelines for diagnosis, treatment and follow-up. Ann Oncol. 25:93–101

6.

Shaw E, Scott C, Souhami L, Dinapoli R, Kline R, Loeffler J, Farnan N (2000) Single dose radiosurgical treatment of recurrent previously irradiated primary brain tumors and brain metastases: final report of RTOG protocol 90–05. Int J Radiat Oncol Biol Phys 47:291–298. https://doi.org/10.1016/s0360-3016(99)00507-6

7.

Vogelbaum MA, Angelov L, Lee SY, Li L, Barnett GH, Suh JH (2006) Local control of brain metastases by stereotactic radiosurgery in relation to dose to the tumor margin. J Neurosurg 104:907–912. https://doi.org/10.3171/jns.2006.104.6.907

8.

Kirkpatrick JP, Soltys SG, Lo SS, Beal K, Shrieve DC, Brown PD (2017) The radiosurgery fractionation quandary: single fraction or hypofractionation? Neuro Oncol 19:ii38–ii49. https://doi.org/10.1093/neuonc/now301

9.

Louis DN, Perry A, Reifenberger G, von Deimling A, Figarella-Branger D, Cavenee WK, Ohgaki H, Wiestler OD, Kleihues P, Ellison DW (2016) The 2016 World Health Organization classification of tumors of the central nervous system: a summary. Acta Neuropathol 131:803–820. https://doi.org/10.1007/s00401-016-1545-1

10.

Kong DS, Lee JI, Park K, Kim JH, Lim DH, Nam DH (2008) Efficacy of stereotactic radiosurgery as a salvage treatment for recurrent malignant gliomas. Cancer 112:2046–2051. https://doi.org/10.1002/cncr.23402

11.

Lee MH, Kim KH, Cho KR, Choi JW, Kong DS, Seol HJ, Nam DH, Lee JI (2019) Volumetric changes of intracranial metastases during the course of fractionated stereotactic radiosurgery and significance of adaptive planning. J Neurosurg 1:1–6. https://doi.org/10.3171/2019.3.JNS183130

12.

Wen PY, Macdonald DR, Reardon DA, Cloughesy TF, Sorensen AG, Galanis E, Degroot J, Wick W, Gilbert MR, Lassman AB, Tsien C, Mikkelsen T, Wong ET, Chamberlain MC, Stupp R, Lamborn KR, Vogelbaum MA, van den Bent MJ, Chang SM (2010) Updated response assessment criteria for high-grade gliomas: response assessment in neuro-oncology working group. J Clin Oncol 28:1963–1972. https://doi.org/10.1200/JCO.2009.26.3541

13.

Hochberg FH, Pruitt A (1980) Assumptions in the radiotherapy of glioblastoma. Neurology 30:907–911. https://doi.org/10.1212/wnl.30.9.907

14.

Wallner KE, Galicich JH, Krol G, Arbit E, Malkin MG (1989) Patterns of failure following treatment for glioblastoma multiforme and anaplastic astrocytoma. Int J Radiat Oncol Biol Phys 16:1405–1409. https://doi.org/10.1016/0360-3016(89)90941-3

15.

R Core Team (2014) R: a language and environment for statistical computing. R Foundation for Statistical Computing, Vienna, Austria. https://www.R-project.org/. Accessed 26 June 2019

16.

Niranjan A, Kano H, Iyer A, Kondziolka D, Flickinger JC, Lunsford LD (2015) Role of adjuvant or salvage radiosurgery in the management of unresected residual or progressive glioblastoma multiforme in the pre-bevacizumab era. J Neurosurg 122:757–765. https://doi.org/10.3171/2014.11.JNS13295

17.

Imber BS, Kanungo I, Braunstein S, Barani IJ, Fogh SE, Nakamura JL, Berger MS, Chang EF, Molinaro AM, Cabrera JR, McDermott MW, Sneed PK, Aghi MK (2017) Indications and efficacy of gamma knife stereotactic radiosurgery for recurrent glioblastoma: 2 decades of institutional experience. Neurosurgery 80:129–139. https://doi.org/10.1227/NEU.0000000000001344

18.

Sharma M, Schroeder JL, Elson P, Meola A, Barnett GH, Vogelbaum MA, Suh JH, Chao ST, Mohammadi AM, Stevens GHJ, Murphy ES, Angelov L (2018) Outcomes and prognostic stratification of patients with recurrent glioblastoma treated with salvage stereotactic radiosurgery. J Neurosurg. https://doi.org/10.3171/2018.4.JNS172909

19.

Greenspoon JN, Sharieff W, Hirte H, Overholt A, Devillers R, Gunnarsson T, Whitton A (2014) Fractionated stereotactic radiosurgery with concurrent temozolomide chemotherapy for locally recurrent glioblastoma multiforme: a prospective cohort study. Onco Targets Ther 7:485–490. https://doi.org/10.2147/OTT.S60358

20.

Hudes RS, Corn BW, Werner-Wasik M, Andrews D, Rosenstock J, Thoron L, Downes B, Curran WJ Jr (1999) A phase I dose escalation study of hypofractionated stereotactic radiotherapy as salvage therapy for persistent or recurrent malignant glioma. Int J Radiat Oncol Biol Phys 43:293–298. https://doi.org/10.1016/s0360-3016(98)00416-7

21.

Dale RG (1985) The application of the linear-quadratic dose-effect equation to fractionated and protracted radiotherapy. Br J Radiol 58:515–528. https://doi.org/10.1259/0007-1285-58-690-515

22.

Bentzen SM, Dorr W, Gahbauer R, Howell RW, Joiner MC, Jones B, Jones DT, van der Kogel AJ, Wambersie A, Whitmore G (2012) Bioeffect modeling and equieffective dose concepts in radiation oncology–terminology, quantities and units. Radiother Oncol 105:266–268. https://doi.org/10.1016/j.radonc.2012.10.006

23.

Ene CI, Macomber MW, Barber JK, Ferreira MJ, Ellenbogen RG, Holland EC, Rockhill JK, Silbergeld DL, Halasz LM (2019) Patterns of failure after stereotactic radiosurgery for recurrent high-grade glioma: a single institution experience of 10 years. Neurosurgery 85:E322–E331. https://doi.org/10.1093/neuros/nyy520

24.

Brandes AA, Tosoni A, Franceschi E, Sotti G, Frezza G, Amista P, Morandi L, Spagnolli F, Ermani M (2009) Recurrence pattern after temozolomide concomitant with and adjuvant to radiotherapy in newly diagnosed patients with glioblastoma: correlation With MGMT promoter methylation status. J Clin Oncol 27:1275–1279. https://doi.org/10.1200/JCO.2008.19.4969

25.

Cuneo KC, Vredenburgh JJ, Sampson JH, Reardon DA, Desjardins A, Peters KB, Friedman HS, Willett CG, Kirkpatrick JP (2012) Safety and efficacy of stereotactic radiosurgery and adjuvant bevacizumab in patients with recurrent malignant gliomas. Int J Radiat Oncol Biol Phys 82:2018–2024. https://doi.org/10.1016/j.ijrobp.2010.12.074

26.

Frischer JM, Marosi C, Woehrer A, Hainfellner JA, Dieckmann KU, Eiter H, Wang WT, Mallouhi A, Ertl A, Knosp E, Filipits M, Kitz K, Gatterbauer B (2016) Gamma knife radiosurgery in recurrent glioblastoma. Stereotact Funct Neurosurg 94:265–272. https://doi.org/10.1159/000448924

27.

Gigliotti MJ, Hasan S, Karlovits SM, Ranjan T, Wegner RE (2018) Re-irradiation with stereotactic radiosurgery/radiotherapy for recurrent high-grade gliomas: improved survival in the modern era. Stereotact Funct Neurosurg 96:289–295. https://doi.org/10.1159/000493545

28.

Fetcko K, Lukas RV, Watson GA, Zhang L, Dey M (2017) Survival and complications of stereotactic radiosurgery: a systematic review of stereotactic radiosurgery for newly diagnosed and recurrent high-grade gliomas. Medicine (Baltimore) 96:e8293. https://doi.org/10.1097/MD.0000000000008293

29.

Cho KH, Hall WA, Gerbi BJ, Higgins PD, McGuire WA, Clark HB (1999) Single dose versus fractionated stereotactic radiotherapy for recurrent high-grade gliomas. Int J Radiat Oncol Biol Phys 45:1133–1141. https://doi.org/10.1016/s0360-3016(99)00336-3

30.

Pinzi V, Orsi C, Marchetti M, Milanesi IM, Bianchi LC, DiMeco F, Cuccarini V, Farinotti M, Ferroli P, Finocchiaro G, Franzini A, Fumagalli M, Silvani A, Fariselli L (2015) Radiosurgery reirradiation for high-grade glioma recurrence: a retrospective analysis. Neurol Sci 36:1431–1440. https://doi.org/10.1007/s10072-015-2172-7
Ethics declarations
Conflict of interest
The authors declare no potential conflict of interest.
Additional information
Publisher's Note
Springer Nature remains neutral with regard to jurisdictional claims in published maps and institutional affiliations.
About this article
Cite this article
Choi, S.W., Cho, K.R., Choi, J.W. et al. Fractionated stereotactic radiosurgery for malignant gliomas: comparison with single session stereotactic radiosurgery. J Neurooncol 145, 571–579 (2019) doi:10.1007/s11060-019-03328-3
Received:

Accepted:

Published:

Issue Date:
Keywords
Stereotactic radiosurgery

Fractionated stereotactic radiosurgery

High-grade glioma