Abstract
Wind is a common canopy disturbance in the upland oak (Quercus)- and hickory (Carya)-dominated stands of the Central Hardwood Region of the eastern US. Canopy openings range from small gaps, resulting from windthrow of single dominant trees, to occasional large gaps of many hectares formed by straight-line winds associated with severe thunderstorms and rare subtropical hurricanes. Vegetation regeneration response in small gaps and larger artificially created (i.e., timber harvested) gaps has been extensively studied, but little has been reported on naturally formed large gaps (> 6 trees) where a partial canopy typically remains from residual overstory and midstory trees. We investigated advance regeneration survivorship on a landscape scale within and around 12 large wind-felled gaps created by Hurricane Opal (October 1995) in a Southern Appalachian watershed. We hypothesized that survivorship would (1) change along a linear distance gradient from the unaffected forest towards gap center (2) vary in relation to categorical gap locations-within-gaps versus in the adjacent unaffected forest and (3) be affected by vegetation and environmental variables. In early 1996 we tagged tree seedlings in quadrats located along linear axes that extended from gap center into the unaffected forest and measured a variety of vegetation and environmental variables. Overall mean survivorship declined from 1997 (0.96) to 2016 (0.56). We found that survivorship was related to linear distance gradients for species rated intermediate in shade tolerance, such as red oaks, but not for shade intolerant, tolerant, and semi-tolerant species (e.g. white oaks). We found that survivorship increased on a linear distance gradient from gap center into the unaffected forest over the first 9 years of our investigation. By year 20 this relationship had reversed: survivorship increased from the unaffected forest to gap centers. Survivorship was also modeled as a function of categorical location of tagged seedlings within-gaps versus in the unaffected forest. Again, we found that survivorship of only intermediate shade tolerant species was related to categorical locations. Survivorship decreased in relation to time and cohort competition and increased with initial seedling height. Our 20-year investigation revealed changes in dynamics of regeneration that would not have been apparent in a short-term study. These results will enable resource managers to assess regeneration development in large gaps following windstorms in oak-dominated hardwood stands.
This is a preview of subscription content, log in to check access.
Access options
Buy single article
Instant unlimited access to the full article PDF.
US$ 39.95
Price includes VAT for USA
Subscribe to journal
Immediate online access to all issues from 2019. Subscription will auto renew annually.
US$ 99
This is the net price. Taxes to be calculated in checkout.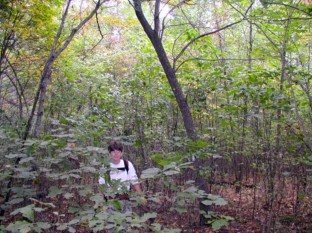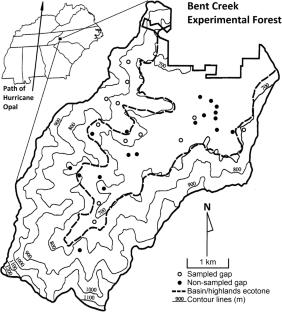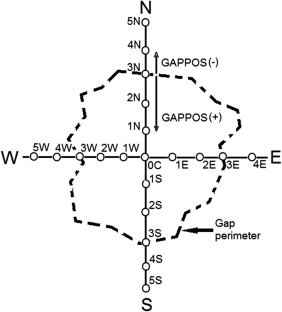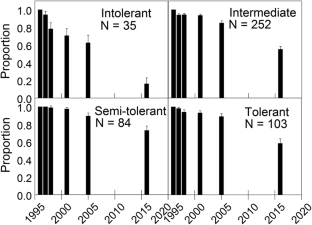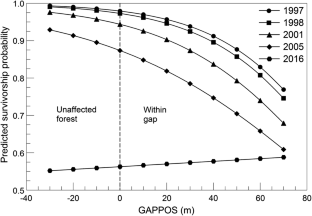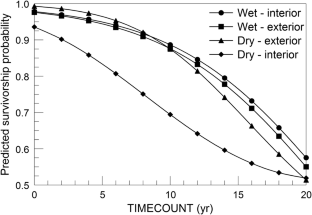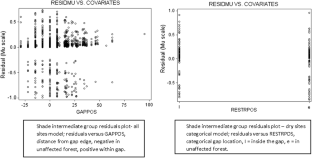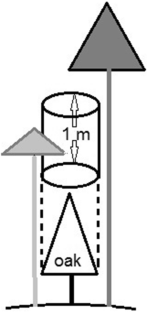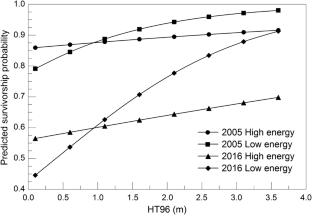 References
Ashton MS (1995) Seedling growth of co-occurring Shorea species in the simulated light environments of a rain forest. For Ecol Manag 72:1–12

Barnes BV, Pregitzer KS, Spies TA, Spooner VH (1982) Ecological forest site classification. J For 80:493–498

Beck DE (1988) Clearcutting and other regeneration options for upland hardwoods. In: Proceedings of the 16th annual hardwood symposium of the hardwood research council, pp 44–54

Beckage B, Clark JS (2003) Seedling survival and growth of three forest tree species: the role of spatial heterogeneity. Ecology 84(7):1849–1861

Beckage B, Clark JS, Clinton BD, Haines BL (1999) A long-term study of tree seedling recruitment in southern Appalachian forests: the effects of canopy gaps and shrub understories. Can J For Res 30:1617–1631

Beers TW, Dress P, Wensel L (1966) Aspect transformation in site productivity research. J For 64:691–692

Berg EC (2002) Hurricane effects on forest understory vegetation in the Southern Appalachians. Ph.D. dissertation. Clemson University. Clemson, p 111

Berg EC (2004) Survivorship and growth of oak regeneration in wind-created gaps. In: Spetich MA (ed) Upland oak ecology symposium: history, current conditions, and sustainability. Gen. Tech. Rep. SRS–73. U.S. Department of Agriculture, Forest Service, Southern Research Station, Asheville, p 311

Booth MG, Hoeksema JD (2010) Mycorrrhizal networks counteract competitive effects of canopy trees on seedling survival. Ecology 91(8):2294–2302

Brose PH, Rebbeck J (2017) A comparison of the survival and development of the seedlings of four upland oak species grown in four different understory light environments. J For 115(3):159–166

Brown N (1996) A gradient of seedling growth from the centre of a tropical rain forest canopy gap. For Ecol Manag 82:239–244

Buckley DS, Sharik TL, Isebrands JG (1998) Regeneration of northern red oak: positive and negative effects of competitor removal. Ecology 79:65–78

Burnham KP, Anderson DR (2002) Model selection and multimodel inference: a practical information-theoretic approach, 2nd edn. Springer, New York

Burns RM, Honkala BH (1990) Silvics of North America, Vol. 2, hardwoods, agriculture handbook 654. U.S.D.A. Forest Service, Washington, DC

Chen J, Franklin JF, Spies TA (1995) Growing-season microclimatic gradients from clearcut edges into old-growth Douglas-fir forests. Ecol Appl 5:74–86

Clinton BD, Baker CR (2000) Catastropic windthrow in the southern Appalachians: characteristics of pits and mounds and initial vegetation responses. For Ecol Manag 126:51–60

Clinton BD, Boring LR, Swank WT (1994) Regeneration patterns in canopy gaps of mixed-oak forests of the southern Appalachians: influences of topographic position and evergreen understory. Am Midl Nat 132(2):308–319

Coates KD, Burton PJ (1997) A gap-based approach for development of silvicultural systems to address ecosystem management objectives. For Ecol Manag 99:337–354

Coomes DA, Grubb PJ (2000) Impacts of root competition in forests and woodlands: a theoretical framework and review of experiments. Ecol Monogr 70(2):171–207

Delta-T Devices Ltd. (1999) Program HEMIVIEW v. 2.1. Cambridge

Dey DC, Parker WC (1997) Overstory density affects field performance of underplanted red oak (Quercus rubra L.) in Ontario. N J Appl For 3:120–125

Everham EM, Brokaw NVL (1996) Forest damage and recovery from catastrophic wind. Bot Rev 62(2):113–185

Finzi AC, Canham CD (2000) Sapling growth in response to light and nitrogen availability in a southern New England forest. For Ecol Manag 131:153–165

Gottschalk KW (1985) Effects of shading on growth and development of northern red oak, black oak, black cherry, and red maple seedlings. I. height, diameter, and root/shoot ratio. In: Dawson JO, Majerus KA (eds) Proceedings of the central hardwood forest conference. V. Soc. of American Foresters Pub. 85-05, pp 189–185

Gray AN, Spies TA (1996) Gap size, within-gap position and canopy structure effects on conifer seedling establishment. J Ecol 84:2458–2473

Greenberg CH, McNab WH (1998) Forest disturbance in hurricane-related downbursts in the Appalachian mountains of North Carolina. For Ecol Manag 104:179–191

Hibbs DE (1982) Gap dynamics in a hemlock-hardwood forest. Can J For Res 12(3):522–527

Holmgren M, Scheffer M, Huston MA (1997) The interplay of facilitation and competition in plant communities. Ecology 78(7):1966–1975

Johnson PS, Shifley SR, Rogers R (2009) The ecology and silviculture of oaks. CABI Publishing, New York

Kathke S, Bruelheide H (2010) Interaction of gap age and microsite type for the regeneration of Picea abies. For Ecol Manag 259:1597–1605

Kramer PJ, Kozlowski TT (1979) Physiology of woody plants. Academic Press, New York, p 811

Kubota Y (2000) Spatial dynamics of regeneration in a conifer/broad-leaved forest in northern Japan. J Veg Sci 11(5):633–640

Lhotka JM, Loewenstein EF (2009) Effect of midstory removal on understory light availability and the 2-year response of underplanted cherrybark oak seedlings. N J Appl For 33(4):171–177

Loftis DL (1989) Regeneration of southern hardwoods: some ecological concepts. In: Proceedings of the national silviculture workshop. USDA Forest Service Timber Management Staff 139-143

Loftis DL (1990) A shelterwood method for regerating red oak in the Southern Appalachians. For Sci 36:917–929

Loftis DL (1995) Personal communication: white oak shade tolerance and survivorship trends

Loftis DL (2004) Upland oak regeneration and management. In: Spetich MA (ed) Upland oak ecology symposium: history, current conditions and sustainability. Gen. Tech. Rep. SRS-73. U.S. Department of Agriculture, Forest Service, Southern Research Station, Asheville, pp 163–167

Madsen P, Larsen JB (1997) Natural regeneration of beech (Fagus sylvatica L.) with respect to canopy density, soil moisture and soil carbon content. For Ecol Manag 97:95–105

McNab WH (1989) Terrain shape index: quantifying effect of minor landforms on tree height. For Sci 35(1):91–104

McNab WH (1993) A topographic index to quantify the effect of mesoscale landform on site productivity. Can J For Res 23(6):1100–1107

McNab WH, Greenberg CH, Berg EC (2004) Landscape distribution and characteristics of large hurricane-related canopy gaps in a southern Appalachian watershed. For Ecol Manag 196:435–447

Meiners SJ, Handel SN, Pickett ST (2000) Tree seedling establishment under insect herbivory: edge effects and inter-annual variation. Plant Ecol 151(151):161–170

Mitchell SJ (2013) Wind as a natural disturbance agent in forests: a synthesis. Forestry 86:147–157

Morrissey RC, Jacobs DF, Davis AS, Rathfon RA (2010) Survival and competitiveness of Quercus rubra regeneration associated with planting stocktype and harvest opening intensity. New For 40:273–287

Motsinger JR, Kabrick JM, Dey DC, Henderson DE, Zenner EK (2010) Effect of midstory and understory removal on the establishment and development of natural and artificial pin oak advance reproduction in bottomland forests. New For 39(2):195–213

Noble IR, Slatyer RO (1980) The use of vital attributes to predict successional changes in plant communities subject to recurrent disturbances. Vegetatio 43(1–2):5–21

Osborne JW (2015) Best practices in logistic regression. Sage, Thousand Oaks, p 462

Puerta-Piñero C, Gomez JM, Valladares F (2007) Irradiance and oak seedling survival and growth in a heterogeneous environment. For Ecol Manag 242:462–469

Runkle JR (1985) Disturbance regimes in temperate forests. In: Pickett SA, White PS (eds) The ecology of natural disturbance and patch dynamics. Academic Press, New York, pp 17–33

Runkle JR (1992) Guidelines and sample protocol for sampling forest gaps. GTR-283. USDA Forest Service Pacific Northwest Research Station

Sanchez-Gomez D, Zavala MA, Valladares F (2006) Seedling survival responses to irradiance are differentially influenced by low-water availability in four tree species of the Iberian cool temperate-Mediterranean ecotone Acta. Oecologia 30:322–332

SAS (2013) The statistical analysis system, version 9.4. Cary

Schweitzer CJ, Dey DC (2017) Kabrick JM, Dey DC, Knapp BO, Larsen DR, Shifley SR, Stelzer HE (eds) Proceedings of the 20th central hardwood forest conference; 2016 March 28–April 1; Columbia, MO. General Technical Report NRS-P-167. U.S. Department of Agriculture, Forest Service, Northern Research Station, Newtown Square, PA, pp 87–98

Shure DJ, Phillips DL, Bostick PE (2006) Gap size and succession in cutover southern Appalachian forests: an 18 year study of vegetation dynamics. Plant Ecol 185:299–318

Sipe TW, Bazzaz FA (1995) Gap partitioning among maples (Acer) in central New England: survival and growth. Ecol 76:1587–1602

Swank WT, Vose JM (1988) Effects of cutting practices on microenvironment in relation to hardwood regeneration. In: Proceedings of the guidelines for regenerating appalachian hardwood stands. SAF Publication 88-03, pp 71–88

Taylor AR, MacLean DA, McPhee D, Dracup E, Keys K (2017) Salvaging has minimal impacts on vegetation regeneration 10 years after severe windthrow. For Ecol Manag 406:19–27

Teste FP, Simard SW, Durall DM, Guy RD, Jones MD, Schoonmaker AL (2009) Access to mycorrhizal networks and roots of trees: importance for seedling survival and resource transfer. Ecology 90(10):2808–2822

Van Der Meer PJ, Dignan P, Saveneh AG (1999) Effect of gap size on seedling establishment, growth and survival at three years in mountain ash (Eucalyptus regnans F. Muell.) forest in Victoria, Australia. For Ecol Manag 117(1–3):33–42

Vodde F, Jogiste K, Engelhart J, Frelich LE, Moser WK, Sims A, Metslaid M (2015) Impact of wind-induced microsites and disturbance severity on tree regeneration patterns: results from the first post-storm decade. For Ecol Manag 348:174–185

Yetter TC, Runkle JR (1986) Height growth rates of canopy tree species in Southern Appalachian gaps. Castanea 51(3):157–167
Acknowledgements
We thank Paul Battenfeld, Virginia Gibbs, Dr. Curtis Hutto (deceased), Julia Kirschman, Carol Perry, Tracy Roof, and Keith Wood for long hours of field data collection and work with sensing instruments. We are grateful for collaboration with research colleague Dr. Catherine Greenberg who kindly assisted with data collection and allowed installation of sample plots in four gaps she had instrumented for other studies.
About this article
Cite this article
Berg, E.C., Zarnoch, S.J. & McNab, W.H. Twenty-year survivorship of tree seedlings in wind-created gaps in an upland hardwood forest in the eastern US. New Forests 50, 323–344 (2019). https://doi.org/10.1007/s11056-018-9685-x
Received:

Accepted:

Published:

Issue Date:
Keywords
Canopy gap

Light gradient

Moisture regime

Regeneration

Site quality survivorship

Wind disturbance