Abstract
The African tulip tree, Spathodea campanulata, the most common tree in Puerto Rico, forms novel forest types with mixtures of native and other introduced tree species. Novel forests increase in area in response to human activity and there is no information about their biomass accumulation and nutrient cycling. We established allometric relationships and chemically analyzed plant parts of African tulip trees to determine the concentration and standing stock of chemical elements (C, N, P, K, Ca, Mg, S, Mn, Al, Fe, Na), and ash. Trees ranged in diameter at breast height from 8 to 85 cm and in height from 8.8 to 28 m. The concentrations of N, P, K, and Ca in leaves of the African tulip tree were similar to those of the native pioneer Cecropia schreberiana and higher than those of mature forest tree species in Puerto Rico. The over bark wood volume of African tulip trees in nine forest stands where it was dominant ranged from 163 to 849 m3/ha. Aboveground biomass ranged from 60 to 296 Mg/ha, and N and P stocks ranged from 190 to 988 and 32 to 137 kg/ha, respectively. Novel forests on abandoned agricultural lands can store more biomass and elements than native and plantation forest stands of similar age.
Access options
Buy single article
Instant access to the full article PDF.
US$ 39.95
Tax calculation will be finalised during checkout.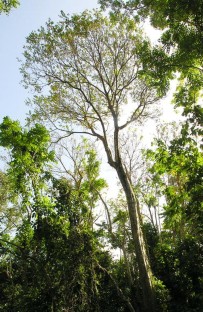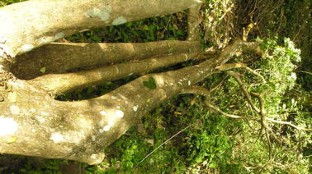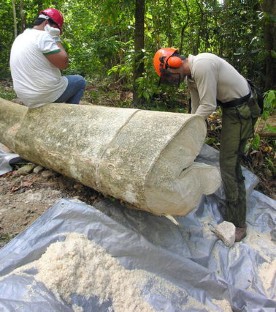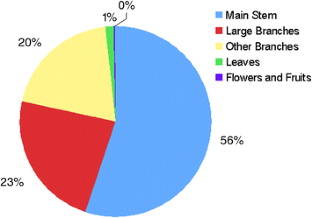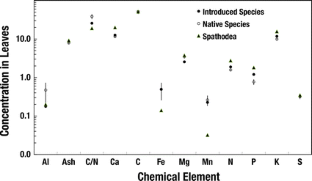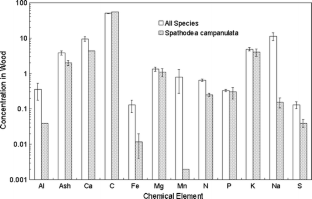 References
Abelleira Martínez OJ (2009) Ecology of novel forests dominated by the African tulip tree (Spathodea campanulata Beauv.) in northcentral Puerto Rico. Masters, University of Puerto Rico, Río Piedras, PR

Abelleira Martínez O, Lugo AE (2008) Post sugar cane succession in moist alluvial sites in Puerto Rico. In: Myster RW (ed) Post-agricultural succession in the Neotropics. Springer, New York, pp 73–92

Abelleira Martínez OJ, Rodríguez MA, Rosario I, Soto N, López A, Lugo AE (2010) Structure and species composition of novel forests dominated by an introduced species in northcentral Puerto Rico. New Forests 39:1–18

Aide TM, Zimmerman JK, Pascarella JB, Rivera L, Marcano Vega H (2000) Forest regeneration in a chronosequence of tropical abandoned pastures: implications for restoration. Restor Ecol 8:328–338

Birdsey RA, Weaver PL (1982) The forest resources of Puerto Rico. Resource Bulletin SO-85, USDA Forest Service Southern Forest Experiment Station. New Orleans, Louisiana

Brandeis TJ, Helmer EH, Oswalt SN (2007) The status of Puerto Rico's forests, 2003. USDA Forest Service, Southern Research Station Resource Bulletin SRS-119, Asheville

Brown S, Lugo AE (1990) Tropical secondary forests. J Trop Ecol 6:1–32

Francis JK (2000) Spathodea campanulata Beauv. In: Francis JK, Lowe CA (eds) Bioecología de árboles nativos y exóticos de Puerto Rico y las Indias Occidentales. Reporte Técnico General IITF-15, Río Piedras, pp 484–487

Frangi JL, Lugo AE (1991) Hurricane damage to a flood plain forest in the Luquillo Mountains of Puerto Rico. Biotropica 23:324–335

Hobbs RJ, Arico S, Aronson J, Baron JS, Bridgewater P, Cramer VA, Epstein PR, Ewel JJ, Klink CA, Lugo AE, Norton D, Ojima D, Richardson DM, Sanderson EW, Valladares F, Vilà M, Zamora R, Zobel M (2006) Novel ecosystems: theoretical and management aspects of the new ecological world order. Glob Ecol Biogeogr 15:1–7

Holdridge LR (1967) Life zone ecology. Tropical Science Center, San José

LECO-Corp (2005) Carbon, hydrogen, and nitrogen in flour and plant tissue. Organic Application Note TruSpec CN, Form No. 203-821-273, St. Joseph, MI

Lugo AE (1992) Comparison of tropical tree plantations with secondary forests of similar age. Ecol Monogr 62:1–41

Lugo AE (2004) The outcome of alien tree invasions in Puerto Rico. Front Ecol Environ 2:265–273

Lugo AE (2009) The emerging era of novel tropical forests. Biotropica 41:589–591

Lugo AE, Figueroa J (1985) Performance of Anthocephalus chinensis in Puerto Rico. Can J For Res 15:577–585

Lugo AE, Helmer E (2004) Emerging forests on abandoned land: Puerto Rico's new forests. For Ecol Manage 190:145–161

Lugo AE, Murphy PG (1986) Nutrient dynamics of a Puerto Rican subtropical dry forest. J Trop Ecol 2:55–76

Luh-Huang CY, Schulte EE (1985) Digestion of plant tissue for analysis by ICP emission spectroscopy. Commun Soil Sci Plant Anal 16:943–958

Murphy PG, Lugo AE (1986) Structure and biomass of a subtropical dry forest in Puerto Rico. Biotropica 18:89–96

Odum HT (1970) Summary: an emerging view of the ecological systems at El Verde. In: Odum HT, Pigeon RF (eds) A tropical rain forest. National Technical Information Service, Springfield, pp I191–I289

SAS Institute Inc (2007) JMP TM Release 7. SAS Institute Inc., Cary

Scatena FN, Silver W, Siccama T, Johnson A, Sánchez MJ (1993) Biomass and nutrient content of the Bisley Experimental Watersheds, Luquillo Experimental Forest, Puerto Rico, before and after Hurricane Hugo. Biotropica 25:15–27

Scatena FN, Moya S, Estrada C, Chinea JD (1996) The first five years in the reorganization of aboveground biomass and nutrient use following Hurricane Hugo in the Bisley Experimental Watersheds, Luquillo Experimental Forest, Puerto Rico. Biotropica 28:424–440

Weaver PL (1995) The colorado and dwarf forests of Puerto Rico's Luquillo Mountains. In: Lugo AE, Lowe C (eds) Tropical forests: management and ecology. Springer, New York, pp 109–141

Weaver PL, Murphy PG (1990) Forest structure and productivity in Puerto Rico's Luquillo Mountains. Biotropica 22:69–82

Wilde SA, Corey RB, Iyer JG, Voigt GK (1979) Soil and plant analysis for tree culture. Oxford & IBH Publishing Co., Oxford
Acknowledgments
This study was part of a summer field course of the National Science Foundation ALACIMA program of the University of Puerto Rico. All authors participated in the planning and execution of fieldwork, and data analysis and interpretation. The two senior authors wrote the manuscript. We thank Josefina Arce, Lucy Gaspar, Brenda Santiago, Angie Rivera and Elieser Nieves for making this study possible. We also thank Iván Vicéns, Carlos Torrens, Carlos Estrada, and Humberto Robles for their collaboration with the harvesting of trees. Mary Jean Sánchez collaborated with the synthesis of chemical data for Puerto Rican trees. We express gratitude to Jaime Díaz and his parents, the Díaz Rivera family, for allowing the harvesting of trees in their farm and helping us during the fieldwork. Mildred Alayón collaborated with the editing of the manuscript and two anonymous reviewers and the following colleagues reviewed the manuscript: F.N. Scatena, F.H. Wadsworth, E. López, E. Medina, and M.J. Sánchez. The study was done in collaboration with the University of Puerto Rico.
About this article
Cite this article
Lugo, A.E., Abelleira, O.J., Collado, A. et al. Allometry, biomass, and chemical content of Novel African Tulip Tree (Spathodea campanulata) Forests in Puerto Rico. New Forests 42, 267 (2011). https://doi.org/10.1007/s11056-011-9258-8
Received:

Accepted:

Published:
Keywords
Nutrient concentration

Nutrient cycling

Stemwood volume

Biomass

Carbon

Introduced species

Puerto Rico

Secondary forests

Novel forests