Effects of various methylchlorosilanes on physicochemical properties of ambient pressure dried silica aerogels
Abstract
Methylchlorosilanes (MSCs) of the type (CH3)nSiCl4−n (n = 1, 2, 3) are usually used for surface modification of silica aerogels (SAs), in which the quantity of Si–Cl and Si–CH3 groups deeply affects the properties of prepared SAs. In this work, methyltrichlorosilane (MTCS, n = 1), dimethyldichlorosilane (DMDCS, n = 2), and trimethylchlorosilane (TMCS, n = 3) were used to modify wet gels and the effects of Si–Cl and Si–CH3 groups' quantity on microstructures and surface properties were explored in detail. It turned out that the MTCS modified SA (MSA) possessed the most compact and nonuniform three-dimensional nanostructure among the three SAs, accompanied by the biggest density of ~ 0.14 g/cm3. Further investigations demonstrated that all the three SAs had similar BET surface area of about 900 m2/g and average pore size of 10–15 nm. Though FTIR analysis presented the discrepancies obviously among the three SAs, the thermal stability of the three SAs was similar, with the onset and peak temperatures in the exothermic reaction of methyl groups being ~ 240 °C and ~ 270 °C, respectively. The best hydrophobicity belonged to the TSA, verified by the biggest contact angles of 155°. Thus, all these indicated that the properties of the three SAs were deeply related to the quantity of Si–Cl and Si–CH3 groups in MCS.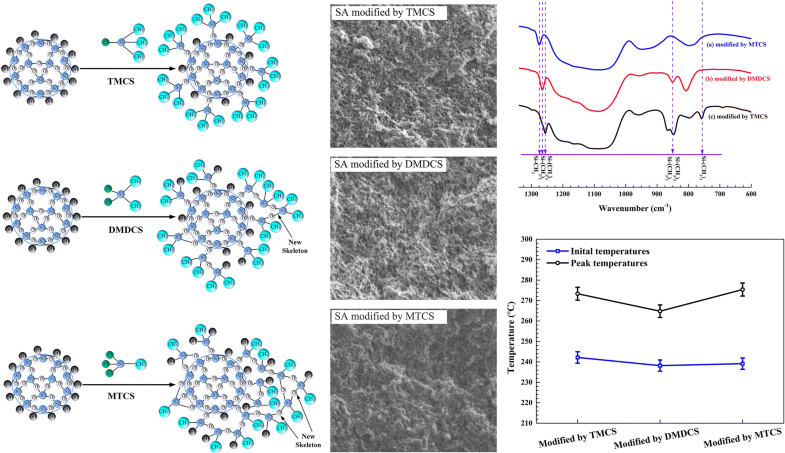 Keywords
Silica aerogels 
Methylchlorosilanes 
Surface modification 
Thermal stability 
Ambient pressure dried 
Notes
Funding information
This work was supported by the National Natural Science Foundation of China (No. 51904336), the Fundamental Research Funds for the Central Universities (grant number 502501003 and 202045001), and the China Scholarship Council (No. 201806375007).
Compliance with ethical standards
Conflict of interest
The authors declare that they have no competing interest
Copyright information
© Springer Nature B.V. 2019