Porous Fe, Co, and N-co-doped carbon nanofibers as high-efficiency oxygen reduction catalysts
Abstract
Oxygen reduction reaction (ORR) is an important reaction in fuel cells. Designing electrocatalysts with outstanding performance is always the key to renewable-energy technologies for fuel cells. Herein, we demonstrate the Fe, Co, and N co-doped porous carbon nanofibers (FeCo/N-C CNFs) as a novel high-performance electrocatalyst for ORR. The synthesis method of this electrocatalysts material is very simple via high-temperature calcination pyrolysis of zinc, cobalt bimetallic zeolitic imidazolate framework (ZIF)-coated electrospun polyacrylonitrile fibers. In alkaline media, the FeCo/N-C CNFs shows a Pt-like ORR performance. The FeCo/N-C CNFs catalysts exhibit excellent performance with an onset potential of 0.99 V and a half-wave potential of 0.83 V in 0.1 M KOH solution, which is similar to those of 20 wt% Pt/C catalysts. Meanwhile, regarding long-term durability and methanol tolerance, the as-synthesized FeCo/N-C CNF catalysts also outperform commercial Pt/C. The unusual catalytic activity mainly from the improvement of electron transfer channels and catalytic sites arise from Fe, Co, and N doping in the porous structure carbon nanofibers.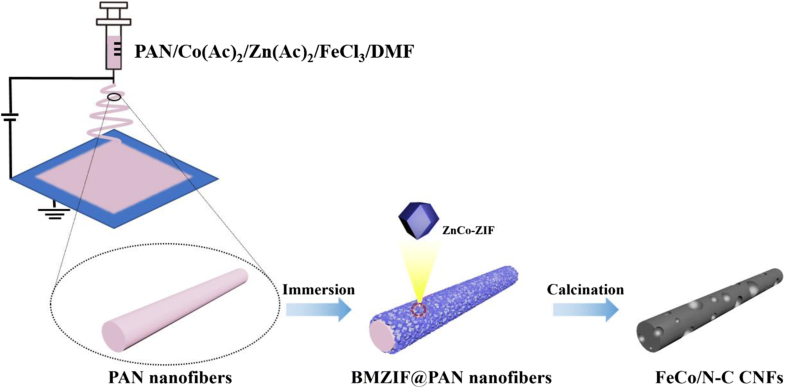 Keywords
Electrospinning 
Nanostructures 
Oxygen reduction reaction 
Zeolitic imidazolate framework 
Electrocatalysts 
Notes
Acknowledgments
We thank Mr. Jing-Ze Zhang for his contribution to the characterization of samples and analysis of results.
Funding information
This work was sponsored by Shanghai Rising-Star Program (19QA1404100). This research was also supported by the National Natural Science Foundation of China (nos. 21671133 and 91745112). This work was funded by the Shanghai Municipal Education Commission (nos. 15ZZ088 and 15SG49), the Science and Technology Commission of Shanghai Municipality (18020500800).
Compliance with ethical standards
Conflict of Interest
The authors declare that they have no conflict of interest.
Copyright information
© Springer Nature B.V. 2019