Polycarboxyl metal–organic framework UiO-66-(COOH)2 as efficient desorption/ionization matrix of laser desorption/ionization mass spectrometry for selective enrichment and detection of phosphopeptides
Part of the following topical collections:
Abstract
Specific enrichment and efficient detection of phosphopeptides are important for phosphoproteomic analysis. Metal–organic frameworks (MOFs) have been proved to be effective enrichment materials combined with the analysis of mass spectrometry. In this work, we have developed a polycarboxylic group MOF-UiO-66-(COOH)2 used as both efficient enrichment material for phosphopeptides and efficient desorption/ionization matrix of laser desorption/ionization time-of-flight mass spectrometry (LDI-TOF MS) without elution. The crystal is spherical and the particle size is about 200 nm. When using it as enrichment material and MS matrix, phosphopeptides of β-casein can be efficiently detected under superior low detection limits of 1 fmol μL−1, and at an extremely low molar ratio of phosphoprotein/non-phosphoprotein (1:2000) mixtures, there are still four phosphopeptides that can be observed. When detecting real samples, most phosphopeptides of non-fat milk and human saliva can be observed, which is comparable with the literature.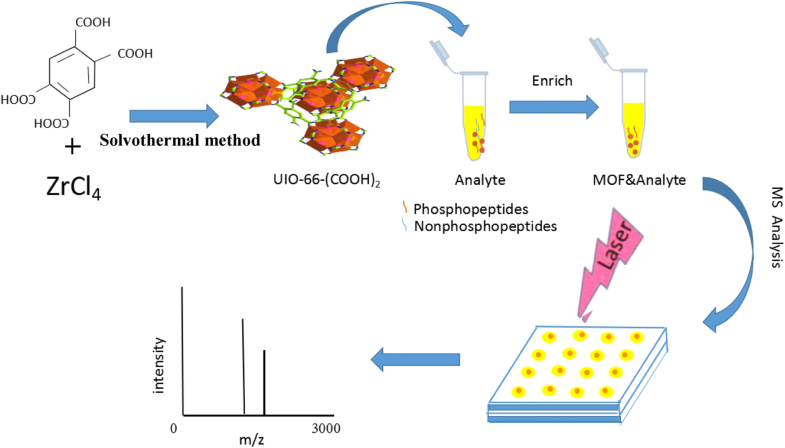 Keywords
Specific adsorption 
Matrix of MALDI-TOF MS 
Metal–organic frameworks 
Nanocomposite 
Notes
Funding information
The authors received financial support from National Natural Science Foundation of China (21874073).
Compliance with ethical standards
Conflict of interest
The authors declare that they have no conflict of interest.
Copyright information
© Springer Nature B.V. 2019