Toxicity and biodegradation of zinc ferrite nanoparticles in Xenopus laevis
Abstract
Zn-doped Fe3O4 magnetic nanoparticles have been proposed as the ideal ferrite for some biomedical applications like magnetic hyperthermia or photothermal therapy because of the possibility to adjust their size and chemical composition in order to design tailored treatments. However, reliable approaches are needed to risk assess Zn ferrite nanoparticles before clinical development. In this work, the in vitro toxicity of the nanoparticles was evaluated in five cellular models (Caco-2, HepG2, MDCK, Calu-3 and Raw 264.7) representing different target organs/systems (gastrointestinal system, liver, kidney, respiratory system and immune system). For the first time, these nanoparticles were evaluated in an in vivo Xenopus laevis model to study whole organism toxicity and their impact on iron and zinc metabolic pathways. Short- and long-term in vivo exposure studies provided insights into the contrasting adverse effects between acute and chronic exposure. Quantitative PCR combined with elemental analysis and AC magnetic susceptibility measurements revealed that at short-term exposure (72 h), the nanoparticles' absorption process is predominant, with the consequent over-expression of metal transporters and metal response proteins. At long-term exposure (120 h), there is an upregulation of metal accumulation involved genes and the return to basal levels of both iron and zinc transporters, involved in the uptake of metals. This suggests that at this stage, the nanoparticles' absorption process is residual compared with the following steps in metabolism, distribution and/or excretion processes, indicated by the increase of iron accumulation proteins at both transcriptional and translational level. This testing approach based on a battery of cellular systems and the use of the Xenopus laevis model could be a viable strategy for studying the toxicity, degradability and ultimately the long-term fate of zinc ferrites in the organism.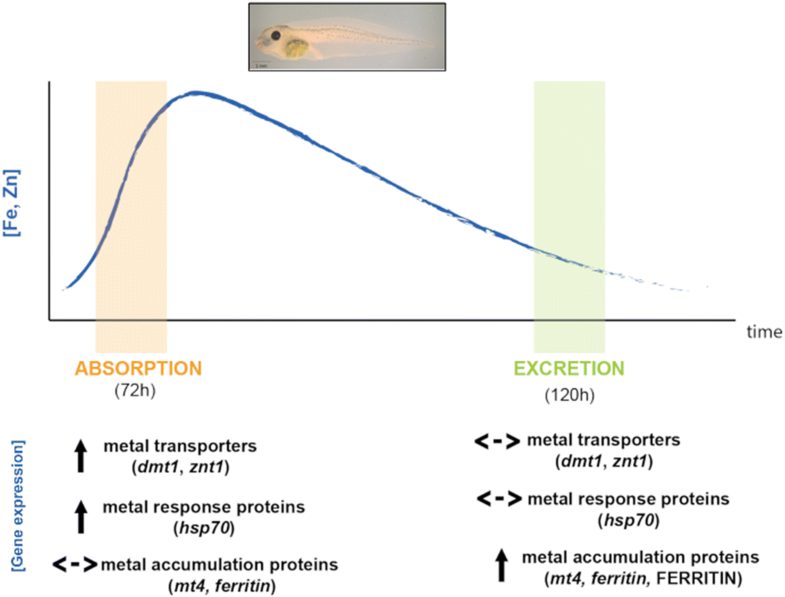 Keywords
Zinc ferrite nanoparticles 
Xenopus laevis
Toxicity 
Biodegradation 
Metabolism 
Environmental and health effects 
Notes
Acknowledgments
Servicio General de Apoyo a la Investigación-SAI, Universidad de Zaragoza is acknowledged. The authors also acknowledge the facilities and the scientific and technical assistance, especially that of Bertrand Leze from the SEM service of the University of East Anglia.
Funding information
M. Marín-Barba has been supported by the People Program (Marie Curie Actions) of the European Union's Seventh Framework Program FP7 under REA grant agreement number 607142 (DevCom). A. Ruiz was supported by FP7-People Framework – Marie Curie Industry and Academia Partnerships & Pathways scheme (DNA-TRAP project, grant agreement no. 612338). L. Gutiérrez recognizes financial support from the Ramón y Cajal subprogram (RYC-2014-15512). E. Lozano-Velasco acknowledges support from Marie Curie fellowship (705089-MIR-CHROM-C).
Compliance with ethical standards
All experiments were performed in compliance with the relevant laws and institutional guidelines at the University of East Anglia. The research has been approved by the local ethical review committee according to UK Home Office regulations.
Conflict of interest
The authors declare that there are no conflicts of interest.
Copyright information
© Springer Nature B.V. 2019