Facile synthesis of foamed-nickel supporting MnO2 as binder-less electrodes for high electrochemical performance supercapacitors
Abstract
The current challenge of the still poor electronic conductivity is one of the major bottlenecks to obtain the large reversible capacitance and rapid rate capability for MnO2-based supercapacitor electrodes. Herein, we report the synthesis of a binder-less Ni/MnO2 electrode with hierarchical MnO2 nanosheets anchoring on the foamed-Ni support frameworks, and the mass loadings of MnO2 on the foamed-Ni and the nanostructural morphology are optimized to enhance its electrochemical performance. Such hierarchical nanosheet structure of MnO2 can improve its electrolyte-accessible surface area and the foamed-Ni framework can effectively enhance its electronic conductivity, which can be beneficial to improve its capacitance and rate capability. The Ni/MnO2 electrodes reveal an areal capacitance of 2.31 F cm−2 at the current density of 1 mA cm−2, which can maintain 1.48 F cm−2 (64.1%) at 20 mA cm−2, exhibiting high capacitance and excellent rate capability. Moreover, the Ni/MnO2 electrode-based supercapacitor exhibits a superior energy density of 160.1 mWh cm−2 and an outstanding cycling stability of 86.8% capacitance retention after 9000 cycles, indicating that such binder-less Ni/MnO2 offers a promising electrode material for the high-performance supercapacitor.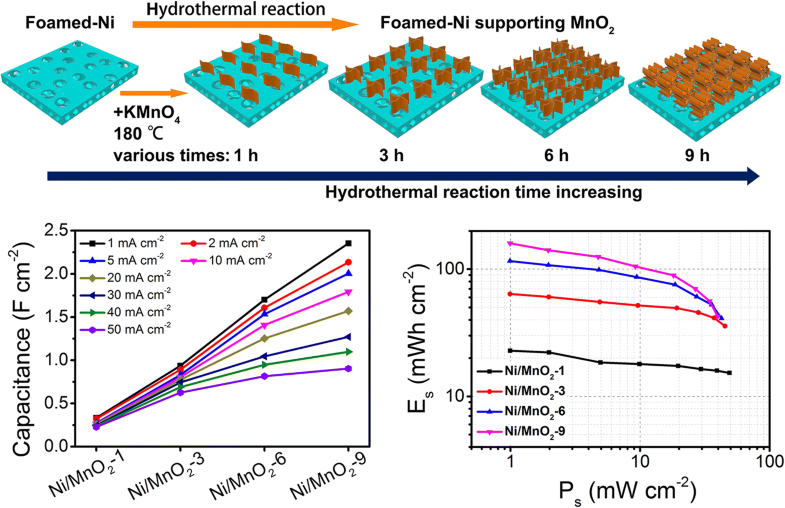 Keywords
Foamed-Ni supporting MnO2 
Supercapacitor 
Binder-less 
Enhanced electrochemical performance 
Nanosheets 
Nanomaterial optimization 
Notes
Funding
This study is financially supported by the Natural Science Foundation of Shaanxi Province (Grant No. 2017JQ2018), Natural Science Foundation of Shaanxi Provincial Education Department (Grant No. 17JK0781), and Undergraduate Platform for Innovation and Entrepreneurship Training Program of Shaanxi Province (Grant No. 201807112).
Compliance with ethical standards
Conflict of interest
The authors declare that they have no conflict of interest.
Copyright information
© Springer Nature B.V. 2019