Fabrication of mesoporous SiO2@SLS composite to remove organic pollutants: hydrogen bond-induced intriguing changes of solubility
Abstract
Because biomass lignin shows good adsorption activity, its derivatives such as alkali lignin and kraft lignin have been applied in water treatment; however, sodium lignosulfonate (SLS), mainly limited by its high water solubility, is not applicable in this respect. In this work, we fabricated SiO2@SLS mesoporous adsorbent using a facile solution coating method by one step. SLS coating SiO2 enables the former to be "separated" from water, accomplishing the soluble to insoluble conversion. This change makes the composite more suitable and efficient to remove organic pollutants from water than the SLS precursor. It is found that interfacial hydrogen bonds play a significant role in the conversion, which is further corroborated by density functional theory calculations. Various characterizations show that SiO2@SLS is composed of uniform particles around 80 nm in size. Abundant mesopores with diameters ranging from 2 to 3 nm are found on the surface of SiO2@SLS nanoparticles. The specific surface areas of SiO2@SLS were measured between 293.4 and 33.2 m2 g−1, depending on the SLS amount used in the preparing process. Originating from the bio-adsorbent lignin precursor, the SiO2@SLS composite shows excellent adsorption property. Representatively, SiO2@SLS-0.6 is able to efficiently remove methylene blue (MB), almost twice as much as SiO2-0 does; its adsorption capacity (Qm) reaches 206.2 mg g−1 according to the Langmuir model fitting; notably, SiO2@SLS-0.6 works very well even in a high-concentration MB solution (50 mg L−1), showing removal efficiencies at 90.0% (within 1 h) and 99.9% (720 h, i.e., 30 days). Plus having remarkable adsorption stability, our composite SiO2@SLS is anticipated to be promising in application of polluted water treatment.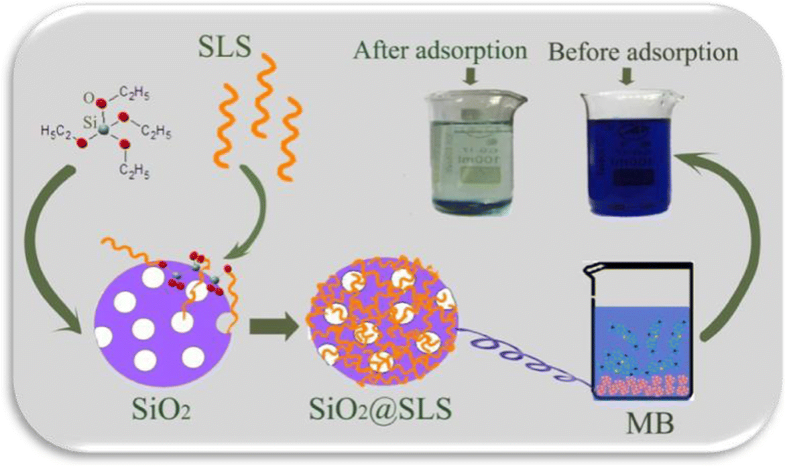 Keywords
Sodium lignosulfonate 
Silica 
Hydrogen bonding 
DFT calculations 
Modeling and simulation 
Environmental effects 
Notes
Funding
This study was funded by the Fundamental Research Funds for the Central Universities (grant number 2572017EB07) and the National Undergraduates Training Programs of Innovation (Northeast Forestry University) (grant number 201710225055).
Compliance with ethical standards
Conflict of interest
The authors declare that they have no conflict of interest
Copyright information
© Springer Nature B.V. 2019