Magnetic nanoparticle-crosslinked ferrohydrogel as a novel class of forward osmosis draw agent
Abstract
In this work, we report a facile strategy to synthesize ferrohydrogel containing magnetic nanoparticle as crosslinker and successfully using as draw agent in forward osmosis processes. Herein, a core–shell magnetic nanoparticle was synthesized to use as a crosslinker in hydrogel matrix by coating 3-(trimethoxysilyl) propyl methacrylate (MPS) shell onto Fe3O4@SiO2 nanoparticles. Ferrohydrogel is synthesized by free radical polymerization of acrylic acid (AA) and acrylamide (AAm) as monomers and Fe3O4@SiO2@MPS as crosslinker (MNP-FHg). Conventional crosslinked pure polymer hydrogel (MBA-PHg) and ferrohydrogel (MBA-FHg), using methylene bisacrylamide (MBA) crosslinker, are compared to those obtained by Fe3O4@SiO2@MPS multifunctional crosslinker. The water flux and swelling ratio yielded by MNP-FHg was investigated and compared with MBA-PHg and MBA-FHg under the same operating condition. The results show the high swelling ratio and water flux for MNP-FHg in comparison to other hydrogel samples and confirmed the significant effect of crosslinker on the performance of polymer hydrogel. Furthermore, thanks to the existence of MNPs, this ferrohydrogel can be easily recovered from the diluted draw solution under an external magnetic field.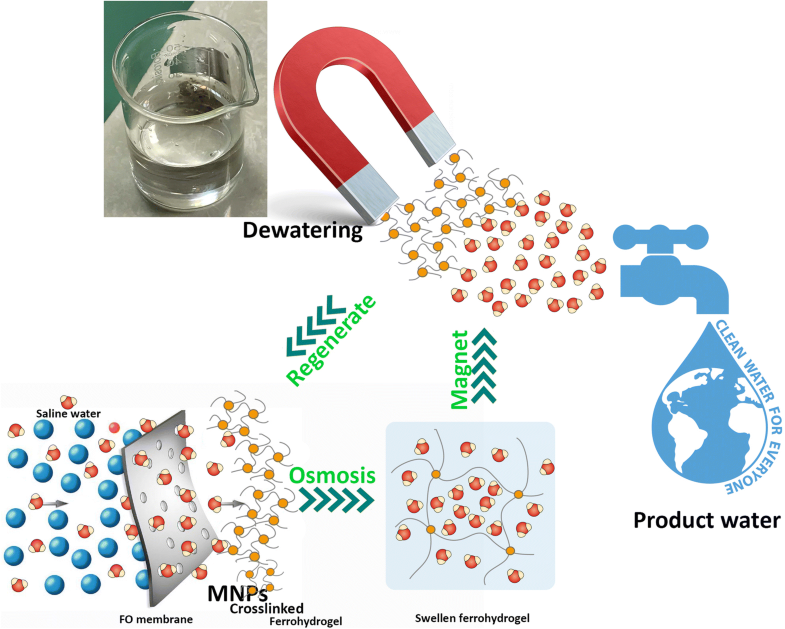 Keywords
Polymeric magnetic hydrogels 
Magnetic nanoparticle 
Forward osmosis 
Crosslinker 
Water flux 
Draw agent 
Notes
Acknowledgments
The authors gratefully acknowledge the financial and instrumental supports received from the University of Tehran.
Compliance with ethical standards
Conflict of interest
The authors declare that they have no conflicts of interest.
Copyright information
© Springer Nature B.V. 2018