Surface modification strategy based on the conjugation of NaYF4:5%Eu luminescent nanoprobe with organic aromatic compounds for application in bioimaging assays
Abstract
Colon cancer is one of the world's most deadly diseases. Because of its internal location, it is necessary to obtain faster and more efficient diagnostic tools for this organ site. In this context, we studied the development of new luminescent nanoprobes (LNPs) as an alternative diagnostic apparatus for detecting this disease. The nanoparticles examined herein are lanthanide-doped sodium yttrium fluoride (NaYF4:Ln) and have shown to be promising as investigative devices. However, significant problems with the use of LNPs are the lack of biocompatibility and the targeting of the system to tumor regions. One of the strategies to bypass these problems is to increase of the particle lipophilicity modifying their surfaces with organic compounds that present high similarity to the biological system. In this work, we synthesized six new materials for use in bioimaging techniques obtained from the combination of nanoparticles of NaYF4:5%Eu with organic aromatic compounds covalently bonded. The materials were characterized structurally and morphologically using XRD and TEM, techniques, which showed the identification of the crystallographic phase β-NaYF4:5%Eu and its nanometric size (particles smaller than 50 nm). The conjugation process was confirmed by FT-IR spectra analysis and from the TGA profile. Excitation and emission spectra allowed the evaluation of the optical properties of the synthesized compounds. The interaction and cellular uptake was confirmed when HT-29 colon cancer cells were exposed to LNPs, indicating that the developed system has promising applications in bioimaging procedures.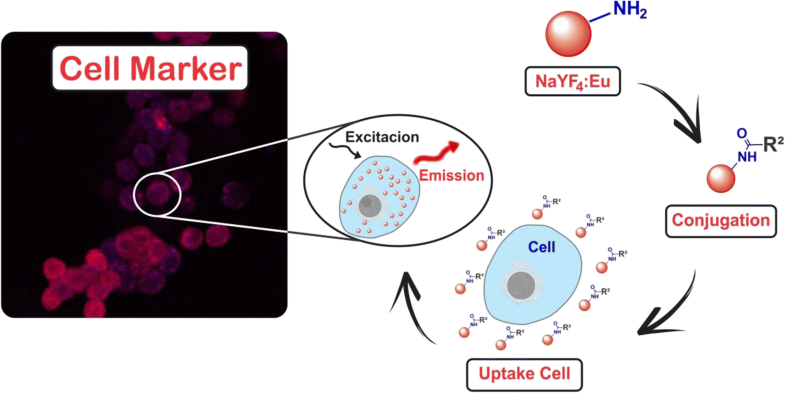 Keywords
Luminescent nanoprobe 
Surface conjugation 
Couple reaction 
Cell imaging 
NaYF4:5%Eu 
Diagnostic tool 
Notes
Acknowledgments
The authors thank the staff in the Department of Chemistry, the Department of Comparative Biomedical Sciences, and the Shared Instrument Facility at Louisiana State University (USA), and the Fundamental Chemistry Department at the Federal University of Pernambuco (Brazil) for their technical support. We gratefully acknowledge the CNPq (Conselho Nacional de Desenvolvimento Científico e Tecnológico), FACEPE (Fundação de Amparo à Ciência e Tecnologia do Estado de Pernambuco), CAPES (Coordenação de Aperfeiçoamento de Pessoal de Nível Superior), and the NSF (National Science Foundation) for funding in support of this work.
Funding
This work was jointly supported by Brazil grants from the FACEPE (grant nos. APQ-0742-1.06/15, APQ-0675-1.06/14, APQ-0549-1.06/17) and from the CNPq (grant no. 428020/2016-0). We also acknowledge the FACEPE for a Brazilian scholarship (grant no. IBPG-1414-3.03/14) and CAPES for an international scholarship through the Science without Borders program (88887.122971/2016-00). USA funding was supported through the NSF (grant no. 1800126) and provided by the LSU School of Veterinary Medicine. These funders had no role in study design, data collection and analysis, decision to publish, or preparation and submission of the manuscript.
Compliance with ethical standards
Conflict of interest
The authors declare that they have no conflict of interest.
Copyright information
© Springer Nature B.V. 2019