Multi-mode photocatalytic performances of CdS QDs modified CdIn2S4/CdWO4 nanocomposites with high electron transfer ability
Abstract
In general, quantum dots have the property of generating a plurality of charge carriers using hot electrons or using a single high-energy photon to improve the photocatalytic properties of the material. In this paper, CdS QDs@CdIn2S4/CdWO4 modified by CdS QDs was synthesized by the microwave-assisted hydrothermal method, and its composition, crystal structure, morphology, and surface physicochemical properties were well characterized. Electron microscopy results showed that CdS QDs@CdIn2S4/CdWO4 composite material exhibited a sheet structure with a length of ca. 350 nm and a width of ca. 50 nm, and CdS QDs uniformly distributes with a diameter of about 5 nm on the sheet structure. UV-visible diffuse reflectance tests showed that the combination of CdS QDs and CdIn2S4 can extend the light absorption range of CdWO4 to the visible region. Photoluminescence spectroscopy confirmed that CdS QDs had efficient electron transport capabilities. The multi-mode photocatalytic activity of CdS QDs@CdIn2S4/CdWO4 showed an excellent ability to degrade organic pollutants. Under the conditions of no co-catalyst and Na2S-Na2SO3 as the sacrificial agent, the hydrogen production of CdS QDs@CdIn2S4/CdWO4 can reach 221.3 μmol g−1 when exposed to visible light (λ > 420 nm) for 8 h.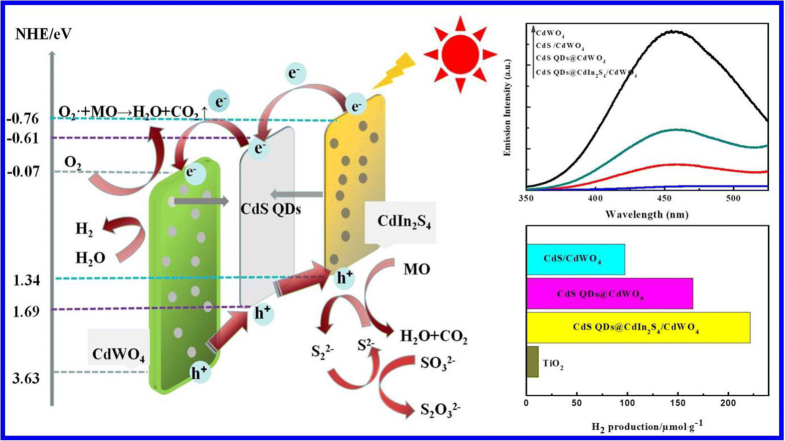 Keywords
Microwave-assisted hydrothermal method 
CdS QDs 
CdIn2S4 
CdWO4 
Multimode photocatalysis 
H2 evolution 
Quantum dots 
Notes
Funding information
This study is supported by the National Natural Science Foundation of China (21376126, 21776144), the Fundamental Research Funds in Heilongjiang Provincial Universities (135209105), Government of Heilongjiang Province Postdoctoral Grants, China (LBH-Z11108), Postdoctoral Researchers in Heilongjiang Province of China Research Initiation Grant Project (LBH-Q13172), Innovation Project of Qiqihar University Graduate Education (YJSCX2017-021X), College Students' Innovative Entrepreneurial Training Program Funded Projects of Qiqihar University (201810232056), and Qiqihar University in 2016 College Students Academic Innovation Team Funded Projects.
Compliance with ethical standards
Conflict of interest
The authors declare that they have no conflict of interest.
Copyright information
© Springer Nature B.V. 2018