The synthesis of graphene-TiO2/g-C3N4 super-thin heterojunctions with enhanced visible-light photocatalytic activities
Abstract
In this paper, an efficient strategy for the synthesis of graphene nanobelt-titanium dioxide/graphitic carbon nitride (graphene-TiO2/g-C3N4) heterostructure photocatalyst was applied to fabricate a kind of visible-light-driven photocatalyst. The heterostructure shows higher absorption edge towards harvesting more solar energy compared with pure TiO2 and pure g-C3N4 respectively. Furthermore, the as-prepared graphene-TiO2/g-C3N4 heterostructure can show enhanced photocatalytic activity under visible-light irradiation. These outstanding performances of photocatalytic activities for graphene-TiO2/g-C3N4 composites can be attributed to the heterojunction interfaces which can separate the electron-hole pairs and impede the recombination of electrons and holes more efficiently. This study conclusively demonstrates a facile and environmentally friendly new strategy to design highly efficient graphene-TiO2/g-C3N4 heterostructure photocatalytic materials for potential applications under visible-light irradiation.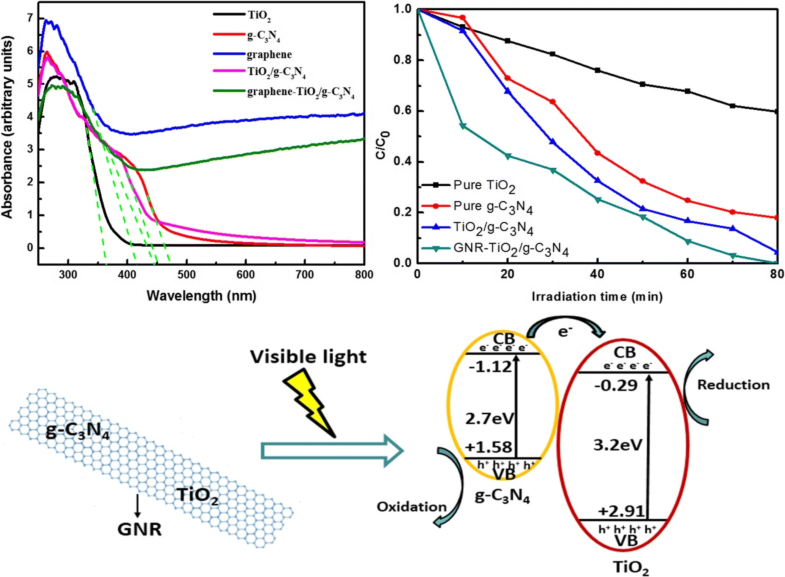 Keywords
Graphene 
Heterojunction 
Visible light 
Photocatalytic activity 
Nanostructured catalysts 
Notes
Funding information
This work was supported by the National Natural Science Foundation of China (NSFC) (grant nos. 21671133, 21271010, 21604051, 21507081), the Shanghai Municipal Education Commission (no. 15ZZ088, no.15SG49), Technology Commission of Shanghai Municipality (18020500800), and International Joint Laboratory on Resource Chemistry.
Compliance with ethical standards
Conflict of interest
The authors declare that they have no conflict of interest.
Copyright information
© Springer Nature B.V. 2018