Ruthenium nanoparticles cofunctionalized with acetylene derivatives of coumarin and perylene: dyad-like intraparticle charge transfer
Abstract
Nanoparticles are a unique structural scaffold for the fabrication of molecular dyad-like structures, in particular, when the functional moieties are bound onto the nanoparticle surface by conjugated interfacial bonds. In the present study, stable ruthenium nanoparticles (RuHC12) were prepared by the self-assembly of 1-dodecyne onto the nanoparticle surface forming ruthenium–vinylidene interfacial bonds and further functionalized with acetylene derivatives of coumarin and perylene by olefin metathesis reactions. Steady-state photoluminescence measurements of ethynylcoumarin-functionalized ruthenium (RuEC) nanoparticles showed that whereas the excitation and emission maxima remained almost unchanged, the normalized emission intensity was significantly enhanced, as compared to that of RuHC12, due to the much higher quantum yield of the coumarin moieties. By contrast, for the nanoparticles cofunctionalized with ethynylcoumarin and ethynylperylene (RuECEP), the excitation and emission maxima were close to those of ethynylperylene-functionalized ruthenium (RuEP) nanoparticles, but the normalized emissions of RuECEP were markedly quenched as compared to those of RuEP, due to effective photoinduced intraparticle charge transfer from the electron-donating coumarin moieties to the electro-accepting perylene moieties via the conjugated metal–ligand interfacial bonds in RuECEP. This is in sharp contrast to conventional coumarin–perylene dyads where energy transfer plays a dominant role and the perylene emissions were actually markedly enhanced. Consistent results were obtained in time-resolved fluorescence measurements, where RuECEP showed an emission lifetime (6.6 ns) that was longer than that of RuEP (5.0 ns), due to stabilization of the perylene excited state by the electron-donating coumarin groups.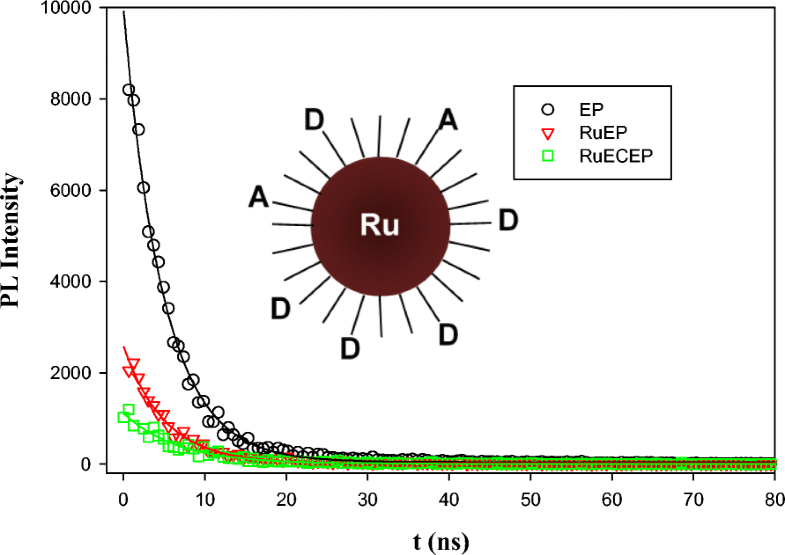 Keywords
Coumarin 
Perylene 
Photoluminescence 
Interfacial bonding 
Nanoparticle 
Molecular dyad 
Electron transfer 
Notes
Acknowledgments
TEM work was carried out at the National Center for Electron Microscopy, Lawrence Berkeley National Laboratory, which is supported by the US Department of Energy, as part of a user project.
Funding
This work was supported, in part, by the National Science Foundation (CHE-1710408).
Compliance with ethical standards
Conflict of interest
The authors declare that they have no conflict of interest.
Copyright information
© Springer Nature B.V. 2018