Agglomeration behavior of lipid-capped gold nanoparticles
Abstract
The current investigation deciphers aggregation pattern of gold nanoparticles (AuNPs) and lipid-treated AuNPs when subjected to aqueous sodium chloride solution with increasing ionic strengths (100–400 nM). AuNPs were synthesized using 0.29 mM chloroauric acid and by varying the concentrations of trisodium citrate (AuNP1 1.55 mM, AuNP2 3.1 mM) and silver nitrate (AuNP3 5.3 μM, AuNP4 10.6 μM) with characteristic LSPR peaks in the range of 525–533 nm. TEM analysis revealed AuNPs to be predominantly faceted nanocrystals with the average size of AuNP1 to be 35 ± 5 nm, AuNP2 15 ± 5 nm, AuNP3 30 ± 5 nm, and AuNP4 30 ± 5 nm and the zeta-average for AuNPs were calculated to be 31.23, 63.80, 26.08, and 28 nm respectively. Induced aggregation was observed within 10 s in all synthesized AuNPs while lipid-treated AuNP2 (AuNP2-L) was found to withstand ionic interferences at all concentration levels. However, lipid-treated AuNPs synthesized using silver nitrate and 1.55 mM trisodium citrate (AuNP3, AuNP4) showed much lower stability. The zeta potential values of lipid-treated AuNPs (AuNP1-L-1x/200, − 17.93 ± 1.02 mV; AuNP2-L-1x/200, − 21.63 ± 0.70; AuNP3-L-1x/200, − 14.54 ± 0.90; AuNP3-L-1x/200 − 13.77 ± 0.83) justified these observations. To summarize, AuNP1 and AuNP2 treated with lipid mixture 1 equals or above 1x/200 or 1x/1000 respectively showed strong resistance against ionic interferences (up to 400 mM NaCl). Use of lipid mixture 1 for obtaining highly stable AuNPs also provided functional arms of various lengths which can be used for covalent coupling.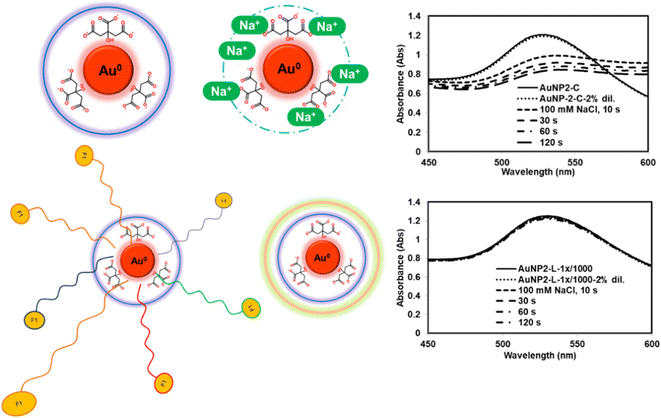 Keywords
Gold nanoparticles 
Ionic interference 
Agglomeration 
Stabilization 
Lipid capping 
Nanobiotechnology applications 
Notes
Acknowledgements
The research was supported by the Russian Foundation for Basic Research [project no. 16-34-60100] and the state budget allocated to the fundamental research (project no. 0356-2017-0017). The authors thank Prof. Tatiana Volova, Prof. Evgenia Slyusareva, and Ms. Nina Slyusarenko of the Siberian Federal University for their assistance in the zeta potential and zeta-average analysis.
Compliance with ethical standards
Conflict of interest
The authors declare that they have no conflict of interest.
Copyright information
© Springer Science+Business Media B.V., part of Springer Nature 2018