A novel one-pot room-temperature synthesis route to produce very small photoluminescent silicon nanocrystals
Abstract
A novel strategy to synthesize photoluminescent silicon nanocrystals (SiNCs) from a reaction between tetraethylorthosilicate (TEOS) and trimethyl-hexadecyl-ammonium borohydride (CTABH4) in organic solvent is presented. The formation reaction occurs spontaneously at room temperature in homogeneous phase. The produced silicon nanocrystals are characterized by using their photoluminescent properties and via HRTEM. In addition, theoretical calculations of the optical absorption spectrum of silicon quantum dots in vacuum with different sizes and surface moieties were performed in order to compare with the experimental findings. The new chemical reaction is simple and can be implemented to produce silicon nanocrystal with regular laboratory materials by performing easy and safe procedures.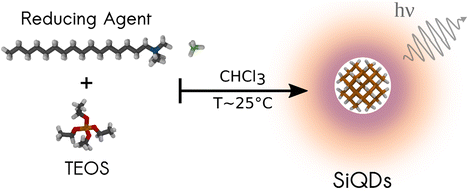 Keywords
Silicon quantum dots 
Photoluminescent silicon nanocrystals 
Synthesis 
Colloids 
Notes
Compliance with ethical standards
Conflict of interest
The authors declare that they have no conflict of interest.
Copyright information
© Springer Science+Business Media B.V., part of Springer Nature 2018