Oxidative potential of silver nanoparticles measured by electron paramagnetic resonance spectroscopy
Abstract
The oxidative potential (OP) of engineered nanomaterials (NM) is considered as promising metric for nanosafety research and risk assessment. Here, we present findings on the analysis of the oxidative potential of three different silver NM by means of a complementary electron paramagnetic resonance (EPR) spectroscopy-based approach, i.e., using the spin trap DMPO (5,5-dimethyl-1-pyrroline-N-oxide) and the spin probe CPH (l-hydroxy-3-carboxy-2,2,5,5-tetramethylpyrrolidine hydrochloride). The results revealed that both methods are principally applicable for OP analysis of nanosilver. However, one of the Ag NM (i.e., NM300) did not cause notable OH▪ generation in the presence of hydrogen peroxide, while a clear OP was detected using the CPH method for all three Ag NPs tested. For the NM300, also a strong OH▪ scavenging potency could be demonstrated, which was due to its surfactant-containing dispersant. This finding may explain for the reported differences in effects of this widely applied reference nanosilver versus other types of Ag NM in toxicological studies. Our findings also demonstrate the relevance of using more than one assay to determine the OP of NM in general.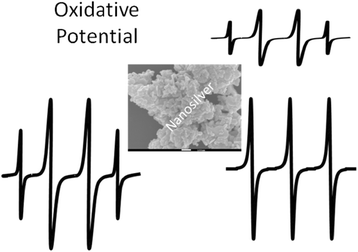 Keywords
Electron paramagnetic resonance spectroscopy 
DMPO 
CPH 
Nanoparticles 
Oxidative potential 
Nanosilver 
Ag 
Notes
Compliance with ethical standards
Conflict of interest
The authors declare that they have no conflict of interest.
Copyright information
© Springer Science+Business Media B.V., part of Springer Nature 2017