Translocation mechanism of C60 and C60 derivations across a cell membrane
Abstract
Carbon-based nanoparticles (NPs) such as fullerenes and nanotubes have been extensively studied for drug delivery in recent years. The permeation process of fullerene and its derivative molecules through membrane is essential to the utilization of fullerene-based drug delivery system, but the mechanism and the dynamics of permeation through cell membrane are still unclear. In this study, coarse-grained molecular dynamics simulations were performed to investigate the permeation process of functionalized fullerene molecules (ca. 0.72 nm) through the membrane. Our results show that single functionalized fullerene molecule in such nanoscale could permeate the lipid membrane in micro-second time scale. Pristine C60 molecules prefer to aggregate into several small clusters while C60OH15 molecules could aggregate into one big cluster to permeate through the lipid membrane. After permeation of C60 or its derivatives into membrane, all C60 and C60OH15 molecules disaggregated and monodispersed in the lipid membrane.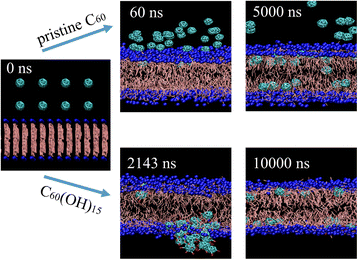 Keywords
Nanoparticles 
Carbon materials 
Cytotoxicity 
Molecular dynamics simulation 
Notes
Compliance with ethical standards
Funding
This study was funded by the National Natural Science Foundation of China (grant no. 21503186, 21403049, and 21674032) and Zhejiang Provincial Natural Science Foundation of China (grant no. LY14B030008).
Conflict of interest
The authors declare that they have no conflict of interest.
Copyright information
© Springer Science+Business Media Dordrecht 2016