Colorimetric detection of Cd2+ using 1-amino-2-naphthol-4-sulfonic acid functionalized silver nanoparticles
Abstract
A colorimetric assay has been developed for facile, rapid, and sensitive detection of Cd2+ using 1-amino-2-naphthol-4-sulfonic acid functionalized silver nanoparticles (ANS-AgNPs). The presence of Cd2+ induces the aggregation of ANS-AgNPs through cooperative metal–ligand interaction. As a result, the characteristic surface plasmon resonance (SPR) peak of ANS-AgNPs at 390 nm was red-shifted to 580 nm, yielding a color change from bright yellow to reddish-brown. The color change is monitored by UV–Vis spectrometer and can be directly read out by the naked eye. Under the optimized conditions, a good linear relationship (correlation coefficient R = 0.997) was obtained between the ratio of the absorbance at 580 nm to that at 390 nm (A580nm/A390nm) and the concentration of Cd2+ over the range of 1.0–10 μM with detection limit of 87 nM. The proposed method is simple and efficient, which has been applied for determining Cd2+ in milk powder, serum, and lake water with satisfactory results.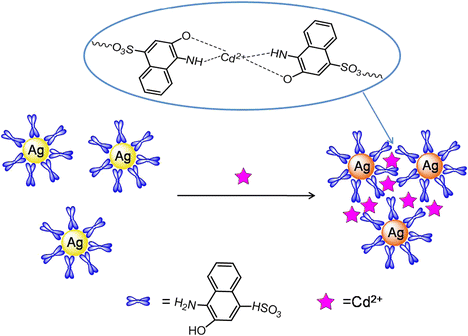 Keywords
Silver nanoparticles 
1-Amino-2-naphthol-4-sulfonic acid 
Colorimetric assay 
Cd2+ 
Sensors 
Colloids 
Notes
Acknowledgments
The first two authors contributed equally to this work. This work is financially supported by the Natural Science Foundation of China (Nos. 21365014, 21505067) and Jiangxi ProvinceScience and Technology University Ground Plan project (KJLD No. 14007).
Copyright information
© Springer Science+Business Media Dordrecht 2016