Organometallic synthesis of ZnO nanoparticles for gas sensing: towards selectivity through nanoparticles morphology
Abstract
ZnO nanoparticles (NP) with different morphologies such as nanorods (NR), isotropic NP, and cloud-like (CL) structures have been synthesized by an organometallic route. The prepared ZnO nanostructures have been deposited on miniaturized silicon gas sensor substrates by an inkjet method, and their responses to CO, C3H8, and NH3 gases have been studied at different operating temperatures (340–500 °C) and relative humidity of 50 %. It is noteworthy that the morphology of the nanostructure of the sensitive layer is maintained after thermal treatment. The morphology of ZnO NP significantly influences the sensor response level and their selectivity properties to reducing gases. Among the three different ZnO types, sensors prepared with NR show the highest response to both CO and C3H8. Sensors made of isotropic NP and CL structures show a lower but similar response to CO. From all investigated nanostructures, sensors made of CL structures show the weakest response to C3H8. With NH3 gas, no effect of the morphology of the ZnO sensitive layer has been evidenced. These different responses highlight the important role of the nanostructure of the ZnO sensitive layer and the nature of the target gas on the detection properties of the sensors.
Graphical Abstract
Three different ZnO nanoparticles morphologies (cloud-like, dots, rods) have been employed as sensitive layers in chemoresistive sensors for the selective detection of CO, C
3
H
8
and NH
3
.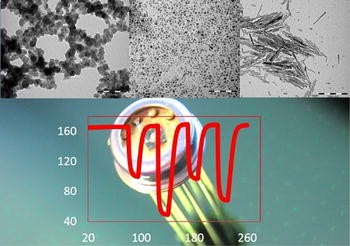 Keywords
Gas sensor 
Zinc oxide 
Morphology influence 
Nanoparticles 
Nanorods 
Crystalline faces 
Selectivity 
Notes
Acknowledgments
This work was supported by the Région Midi Pyrénées, and PRES Université de Toulouse in the frame of the NELI (Nez Electronique Intégré) project. We also thank CNRS, Université Toulouse III Paul Sabatier, and Alpha MOS SA for support.
Compliance with Ethical Standards
Conflict of interest
The authors declare no conflict of interest.
Copyright information
© Springer Science+Business Media Dordrecht 2015