Size measurement uncertainties of near-monodisperse, near-spherical nanoparticles using transmission electron microscopy and particle-tracking analysis
Abstract
Particle-tracking analysis (PTA) in combination with systematic imaging, automatic image analysis, and automatic data processing is validated for size measurements. Transmission electron microscopy (TEM) in combination with a systematic selection procedure for unbiased random image collection, semiautomatic image analysis, and data processing is validated for size, shape, and surface topology measurements. PTA is investigated as an alternative for TEM for the determination of the particle size in the framework of the EC definition of nanomaterial. The intra-laboratory validation study assessing the precision and accuracy of the TEM and PTA methods consists of series of measurements on three gold reference materials with mean area-equivalent circular diameters of 8.9 nm (RM-8011), 27.6 nm (RM-8012), and 56.0 nm (RM-8013), and two polystyrene materials with modal hydrodynamic diameters of 102 nm (P1) and 202 nm (H1). By obtaining a high level of automation, PTA proves to give precise and non-biased results for the modal hydrodynamic diameter in size range between 30 and 200 nm, and TEM proves to give precise and non-biased results for the mean area-equivalent circular diameter in the size range between 8 and 200 nm of the investigated near-monomodal near-spherical materials. The expanded uncertainties of PTA are about 9 % and are determined mainly by the repeatability uncertainty. This uncertainty is two times higher than the expanded uncertainty of 4 % obtained by TEM for analyses on identical materials. For the investigated near-monomodal and near-spherical materials, PTA can be used as an alternative to TEM for measuring the particle size, with exception of 8.9 nm gold, because this material has a size below the detection limit of PTA.
Keywords
Transmission electron microscopy 
Particle-tracking analysis 
Colloidal gold 
Polystyrene beads 
Method validation 
Measurement uncertainty 
Nanometrology 
Notes
Acknowledgments
Vikram Kestens (European Commission, Joint Research Centre, Institute for Reference Materials and Measurements, Geel, Belgium) is acknowledged for critically reading and commenting on the paper. Elke Van Doren, Marina Ledecq, and Michel Abi Daoud Francisco (CODA-CERVA) are acknowledged for their expert technical assistance. The research leading to these results has been supported by the Nanokara project of CODA-CERVA and has been partially funded by the European Union Seventh Framework Programme (FP7/2007-2013) under the project NANoREG (A common European approach to the regulatory testing of nanomaterials), grant agreement 310584. This publication reflects only the author's views, and the Community is not liable for any use that may be made of the information contained therein.
Supplementary material
Open image in new window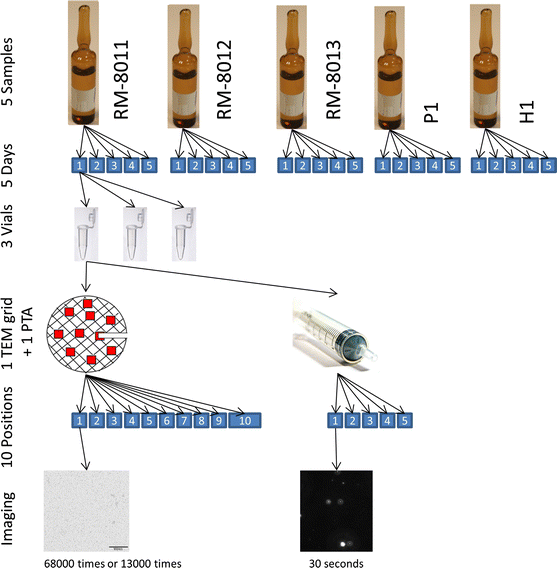 Video 1
Selected particle-tracking analysis movie of near-spherical near-monomodal colloidal gold material RM-8011 (nominal size 30 nm)
Video 2
Selected particle-tracking analysis movie of near-spherical near-monomodal colloidal gold material RM-8013 (nominal size 60 nm)
Video 3
Selected particle-tracking analysis movie of near-spherical near-monomodal colloidal polystyrene material P1 (nominal size 100 nm)
Video 4
Selected particle-tracking analysis movie of near-spherical near-monomodal colloidal polystyrene material H1 (nominal size 200 nm)
Copyright information
© Springer Science+Business Media Dordrecht 2014