Interaction between serum albumins and sonochemically synthesized cadmium sulphide nanoparticles: a spectroscopic study
Abstract
Cadmium Sulphide nanoparticles approximately 5–10 nm in size range were synthesized by sonochemical technique, which follows acoustic cavitation phenomenon and generates nanoparticles with a smaller size range and higher surface area. The in vitro binding interaction of these sonochemically synthesized CdS nanoparticles with serum albumins (SA) were investigated using UV–Vis absorption, fluorescence and circular dichroism (CD) spectroscopic techniques since CdS nanoparticles has biological applications such as cellular labelling and deep-tissue imaging. UV–Vis absorption and fluorescence studies confirm that CdS nanoparticles bind with SA through ground state complex formation (static quenching mechanism). The results suggest that sonochemically synthesized CdS nanoparticles interact with HSA more than that of BSA and these nanoparticles can be easily transported and rapidly released to the targets by serum albumins. CD studies confirmed the conformational change of serum albumins on the interaction of CdS nanoparticles.
Graphical Abstract
This paper investigates the
in vitro
binding interaction of Cadmium Sulphide (CdS) nanoparticles with serum albumins (HSA and BSA) using the UV-vis, steady-state fluorescence, time-resolved fluorescence, synchronous fluorescence and circular dichroism (CD) spectral techniques.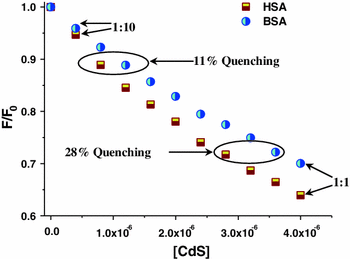 Keywords
Sonochemical synthesis 
CdS nanoparticles 
Serum albumins 
Fluorescence quenching 
Circular dichroism 
Interaction studies 
Notes
Acknowledgments
The author, SA thanks CSIR, New Delhi for the sanction major research Grant (CSIR reference No. 02(0021)/11/EMR-II) and the author, SA thank DST for sanctioning FIST (SR/FST/CSI-190/2008 dated 16th March 2009) and Nanomission (SR/NM/NS-27/2008, dated 25th Feb 2009) projects. The authors thank Prof. P. Ramamurthy, Director, the National Centre for Ultra Fast Processes, University of Madras, Chennai, India for time-resolved fluorescence measurements. Author SN thanks his institute for selecting him in MHRD fellowship.
Copyright information
© Springer Science+Business Media Dordrecht 2013