Abstract
We present a single-step template-free self-assembly method for constructing 1D-chains and 1D-networks of Au-nanoparticles. The chains are formed by simply increasing the ion concentration of nanoparticle solution so that the attractive van der waals force prevails over the repulsive Coulomb interaction. A combination of this method and the previously developed charge trapping technique allows us to place the 1D-chains/networks at designed locations. Further, the nanoparticle structures are stable enough to withstand the subsequent e-beam lithographic processes for formation of nanoparticle-based electronics such as a single electron transistor. Prominent Coulomb oscillation was observed at temperatures as high as 120 K.
This is a preview of subscription content, log in to check access.
Access options
Buy single article
Instant unlimited access to the full article PDF.
US$ 39.95
Price includes VAT for USA
Subscribe to journal
Immediate online access to all issues from 2019. Subscription will auto renew annually.
US$ 99
This is the net price. Taxes to be calculated in checkout.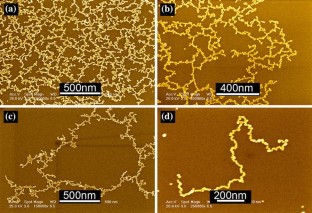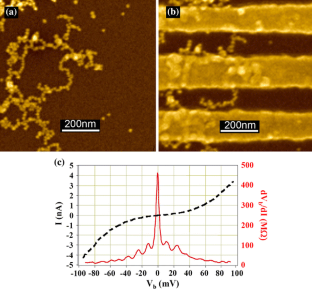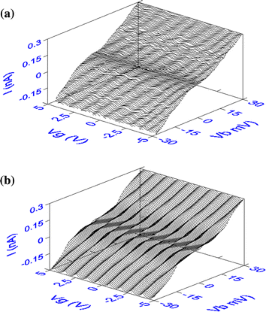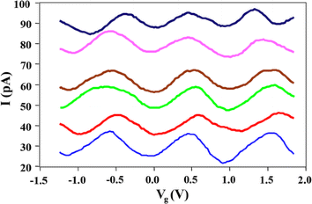 References
Andres RP, Bein T, Dorogi M, Feng S, Henderson JI, Kubiak CP, Mahoney W, Osifchin RG, Reifenberger R (1996) "Coulomb staircase" at room temperature in a self-assembled molecular nanostructure. Science 272:1323–1325

Chi PY, Lin HY, Liu CH, Chen CD (2006) Generation of nano-scaled DNA patterns through electro-beam induced charge trapping. Nanotechnology 17:4854–4858

Daniel MC, Astruc D (2003) Gold nanoparticles: assembly, supramolecular chemistry, quantum-size-related properties, and applications toward biology, catalysis, and nanotechnology. Chem Rev 104:293–346

Govor LV (2009) Formation of close-packed nanoparticle chains. ACS Appl Mater Interfaces 1:488–493

Grabar KC, Freeman RG, Hommer MB, Natan MJ (1995) Preparation and characterization of Au colloid monolayers. Anal Chem 67:735–743

Gruner ME, Rollmann G, Hucht A, Entel P (2008) Structural and magnetic properties of transition metal nanoparticles from first principles. Advances in solid state physics. Springer, Berlin, Heidelberg

Hussain I, Wang ZX, Cooper AI, Brust M (2006) Formation of spherical nanostructures by the controlled aggregation of gold colloids. Langmuir 22:2938–2941

Lin S, Li M, Dujardin E, Girard C, Mann S (2005) One-dimensional plasmon coupling by facile self-assembly of gold nanoparticles into branched chain networks. Adv Mater 17:2553–2559

Lin HY, Tsai LC, Chi PY, Chen CD (2006) DNA as an electron-beam-sensitive reagent for nanopatterning. Adv Mater 18:1517–1520

Lin HY, Tsai LC, Chen CD (2007) Assembly of nanoparticle patterns with single-particle resolution using DNA-mediated charge trapping technique: method and applications. Adv Funct Mater 17:3182–3186

Reuter T, Vidoni O, Torma V, Schmid G, Nan L, Gleiche M, Chi L, Fuchs H (2002) Two-dimensional networks via quasi one-dimensional arrangements of gold clusters. Nano Lett 2:709–711

Sardar R, Shumaker-Parry JS (2008) Asymmetrically functionalized gold nanoparticles organized in one-dimensional chains. Nano Lett 8:731–736

Sooichsen C, Reinhard BM, Liphardt M, Alivisatos AP (2005) A molecular ruler based on plasmon coupling of single gold and silver nanoparticles. Nat Biotech 23:741–745

Tang Z, Kotov N (2005) One-dimensional assemblies of nanoparticles: preparation, properties, and promise. Adv Mater 17:951–962

Thomas KG, Kamat PV (2003) Chromophore-functionalized gold nanoparticles. Acc Chem Res 36:888–898

Wang G, Murray RW (2004) Controlled assembly of monolayer-protected gold clusters by dissolved DNA. Nano Lett 4:95–101

Wu CS, Chen CD, Shih SM, Su WF (2002) Single-electron transistors and memory cells with Au colloidal islands. Appl Phys Lett 81:4595–4597

Zhang H, Hussain I, Brust M, Cooper AI (2004) Emulsion-templated gold beads using gold nanoparticles as building blocks. Adv Mater 16:27–30

Zhang H, Hussain I, Brust M, Butler MF, Rannard SP, Cooper AI (2005) Aligned two- and three-dimensional structures by directional freezing of polymers and nanoparticles. Nat Mater 4:787–793
Acknowledgments
This research was funded by the National Science Council Nos. NSC 98-2311-B-027-001-MY3, NSC 97-2112-M-024-002-MY3, NSC 97-2627-M-001 -002 and by National Taipei University of Technology. Technical support from NanoCore, the Core Facilities for Nanoscience and Nanotechnology at Academia Sinica, is acknowledged.
Electronic supplementary material
Below is the link to the electronic supplementary material.
Supplementary material 1 (MPG 7188 kb)
About this article
Cite this article
Tsai, L., Cheng, I., Tu, M. et al. Formation of single-electron-transistors using self-assembly of nanoparticle chains. J Nanopart Res 12, 2859–2864 (2010) doi:10.1007/s11051-010-9873-x
Received:

Accepted:

Published:

Issue Date:
Keywords
Self-assembly

Single electron transistor

Nanoparticle

Nanoelectronics