Abstract
Invasive aspergillosis (IA) is the most common invasive fungal infection following a hematopoietic cell transplant, with emerging cryptic species exhibiting resistance to commonly used antifungals such as azoles. These species have been increasingly found after the introduction of anti-mold prophylaxis. We report a case of a 56-year-old female with primary myelofibrosis whose allogeneic hematopoietic cell transplant was complicated by disseminated fungal infection (skin, lung) due to Aspergillus calidoustus, a cryptic specie. Treatment of Aspergillus species remains challenging as these cryptic species are usually resistant to azoles including voriconazole which is the first line of treatment of IA. Infection was successfully treated with surgical excision and combination antifungal therapy based on in vitro susceptibility and synergy testing. Therapy included isavuconazole, a drug that has been shown to be non-inferior to voriconazole in the treatment of invasive mold infections.
This is a preview of subscription content, log in to check access.
Access options
Buy single article
Instant unlimited access to the full article PDF.
US$ 39.95
Price includes VAT for USA
Subscribe to journal
Immediate online access to all issues from 2019. Subscription will auto renew annually.
US$ 199
This is the net price. Taxes to be calculated in checkout.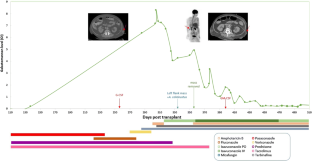 References
1.

Morgan J, Wannemuehler KA, Marr KA, Hadley S, Kontoyiannis DP, Walsh TJ, et al. Incidence of invasive aspergillosis following hematopoietic stem cell and solid organ transplantation: interim results of a prospective multicenter surveillance program. Med Mycol. 2005;43(Suppl 1):S49–58.

2.

Pavie J, Lacroix C, Hermoso DG, Robin M, Ferry C, Bergeron A, et al. Breakthrough disseminated Aspergillus ustus infection in allogeneic hematopoietic stem cell transplant recipients receiving voriconazole or caspofungin prophylaxis. J Clin Microbiol. 2005;43(9):4902–4.

3.

Iwen PC, Rupp ME, Bishop MR, Rinaldi MG, Sutton DA, Tarantolo S, et al. Disseminated aspergillosis caused by Aspergillus ustus in a patient following allogeneic peripheral stem cell transplantation. J Clin Microbiol. 1998;36(12):3713–7.

4.

Alastruey-Izquierdo A, Mellado E, Pelaez T, Peman J, Zapico S, Alvarez M, et al. Population-based survey of filamentous fungi and antifungal resistance in Spain (FILPOP Study). Antimicrob Agents Chemother. 2013;57(7):3380–7.

5.

Maertens JA, Raad II, Marr KA, Patterson TF, Kontoyiannis DP, Cornely OA, et al. Isavuconazole versus voriconazole for primary treatment of invasive mould disease caused by Aspergillus and other filamentous fungi (SECURE): a phase 3, randomised-controlled, non-inferiority trial. Lancet. 2016;387(10020):760–9.

6.

Seroy J, Antiporta P, Grim SA, Proia LA, Singh K, Clark NM. Aspergillus calidoustus case series and review of the literature. Transpl Infect Dis. 2017;19(5):e12755.

7.

Egli A, Fuller J, Humar A, Lien D, Weinkauf J, Nador R, et al. Emergence of Aspergillus calidoustus infection in the era of posttransplantation azole prophylaxis. Transplantation. 2012;94(4):403–10.

8.

Panackal AA, Imhof A, Hanley EW, Marr KA. Aspergillus ustus infections among transplant recipients. Emerg Infect Dis. 2006;12(3):403–8.

9.

Balajee SA, Kano R, Baddley JW, Moser SA, Marr KA, Alexander BD, et al. Molecular identification of Aspergillus species collected for the transplant-associated infection surveillance network. J Clin Microbiol. 2009;47(10):3138–41.

10.

Glampedakis E, Coste AT, Aruanno M, Bachmann D, Delarze E, Erard V, et al. Efficacy of antifungal monotherapies and combinations against Aspergillus calidoustus. Antimicrob Agents Chemother. 2018;62(12):e01137-18.

11.

Miceli MH, Kauffman CA. Isavuconazole: a new broad-spectrum triazole antifungal agent. Clin Infect Dis. 2015;61(10):1558–65.

12.

Verweij PE, van den Bergh MF, Rath PM, de Pauw BE, Voss A, Meis JF. Invasive aspergillosis caused by Aspergillus ustus: case report and review. J Clin Microbiol. 1999;37(5):1606–9.

13.

Alastruey-Izquierdo A, Cuesta I, Houbraken J, Cuenca-Estrella M, Monzon A, Rodriguez-Tudela JL. In vitro activity of nine antifungal agents against clinical isolates of Aspergillus calidoustus. Med Mycol. 2010;48(1):97–102.

14.

Astvad KMT, Hare RK, Arendrup MC. Evaluation of the in vitro activity of isavuconazole and comparator voriconazole against 2635 contemporary clinical Candida and Aspergillus isolates. Clin Microbiol Infect. 2017;23(11):882–7.

15.

Bouchara JP, Chaturvedi V. The curious case of "case report" of infections caused by human and animal fungal pathogens: an educational tool, an online archive, or a format in need of retooling. Mycopathologia. 2018;183(6):879–91.
Ethics declarations
Conflict of interest
The authors report no conflict of interest.
Ethical Statement
The authors confirm that this material is original and has not been published in whole or in part elsewhere, that the manuscript was written attaining complete patient anonymity and that all authors reviewed and approved the final version. In addition, the authors confirm that they have completed the checklist for submission of a case report to Mycopathologia published by Bouchara et al. [15].
Additional information
Publisher's Note
Springer Nature remains neutral with regard to jurisdictional claims in published maps and institutional affiliations.
Handling Editor: Sanjay Haresh Chotirmall.
About this article
Cite this article
Mendoza, M.A., Anderson, A., Morris, M.I. et al. Successful Treatment of Invasive Fungal Infection Due to Highly Resistant Aspergillus calidoustus in an Allogeneic Hematopoietic Cell Transplant Recipient. Mycopathologia (2020). https://doi.org/10.1007/s11046-019-00423-x
Received:

Accepted:

Published:
Keywords
Aspergillus calidoustus

Invasive aspergillosis

Aspergillus ustus

Antifungal therapy

Cryptic species

Antifungal susceptibility testing

Isavuconazole