Abstract
Fusarium species have emerged as responsible for a broad spectrum of infections, including superficial, locally invasive and disseminated ones, especially in the hospital environment. Since there are few reports of invasive and disseminated fusariosis in children, the aim of this study was to report four cases of nosocomial infection caused by this microorganism in children with cancer hospitalized in a public children's hospital located in Brazil. Two of these patients were female and two were male. All patients presented febrile neutropenia, while three patients had acute lymphocytic leukemia and one patient had Wilms' tumor as underlying disease. In two cases, fungi were isolated from blood and identified as Fusarium oxysporum species complex after phenotypic and genotypic studies, while in two other cases fungi were isolated from skin biopsies and identified as Fusarium solani species complex. One patient died 12 days after the onset of cutaneous lesions. All isolates, after susceptibility testing, presented high levels of minimum inhibitory concentration for itraconazole, voriconazole and amphotericin B. Considering the emergence of filamentous fungi as etiologic agents of nosocomial infections, health professionals should be aware of the problems these infections, especially fungal ones, may cause to debilitated patients.
This is a preview of subscription content, log in to check access.
Access options
Buy single article
Instant access to the full article PDF.
US$ 39.95
Price includes VAT for USA
Subscribe to journal
Immediate online access to all issues from 2019. Subscription will auto renew annually.
US$ 199
This is the net price. Taxes to be calculated in checkout.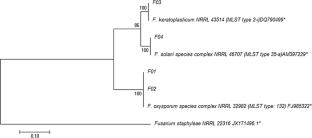 References
1.

Tragiannidis A, Dokos Ch, Sidi V, Papageorgiou T, Koliouskas D, Karamouzis M, et al. Alterations of bone mineral metabolism of children with different cell lineage types of acute lymphoblastic leukaemia under chemotherapy. Hippokratia. 2011;15:43–7.

2.

Georgiadou SP, Pongas G, Fitzgerald NE, Lewis RE, Rytting M, Marom EM, et al. Invasive mold infections in pediatric cancer patients reflect heterogeneity in etiology, presentation, and outcome: a 10-year, single-institution, retrospective study. J Pediatr Infect Dis Soc. 2012;1:125–35.

3.

Nucci M, Anaissie E. Fusarium infections in immunocompromised patients. Clin Microbiol Rev. 2007;20:695–704.

4.

Guarro J. Fusarium, a complex infection caused by a high diversity of fungal species refractory to treatment. Eur J Clin Microbiol Infect Dis. 2013;32:1491–500.

5.

Muhammed M, Anagnostou T, Desalermos A, Kourkoumpetis TK, Carneiro HA, Glavis-Bloom J, et al. Fusarium infection: report of 26 cases and review of 97 cases from the literature. Medicine. 2013;92:305–16.

6.

Tortorano AM, Prigitano A, Esposto MC, Arsic Arsenijevic V, Kolarovic J, Ivanovic D, et al. ESCMID and ECMM joint guidelines on diagnosis and management of hyalohyphomycosis: Fusarium spp., Scedosporium spp and others. Clin Microbiol Infect. 2014;20(Supp 3):27–46.

7.

Boutati EI, Anaissie J. Fusarium, a significant emerging pathogen in patients with hematologic malignancy: ten years' experience at a cancer center and implications for management. Blood. 1997;90:999–1008.

8.

Nucci M, Anaissie J. Cutaneous infection by Fusarium species in healthy and immunocompromised hosts: implications for diagnosis and management. Clin Infect Dis J. 2002;35:909–20.

9.

van Diepeningen AD, Brankovics B, Iltes J, van der Lee TA, Waalwijk C. Diagnosis of Fusarium infections: approaches to identification by the clinical mycology laboratory. Curr Fungal Infect Rep. 2015;9(3):135–43.

10.

Nucci M, Anaissie EJ, Queiroz-Telles F, Martins CA, Trabasso P, Solza C, et al. Outcome predictors of 84 patients with hematologic malignancies and Fusarium infection. Cancer. 2003;98:315–9.

11.

White TJ, Bruns T, Lee S, Taylor J. Amplification and direct sequencing of fungal ribosomal RNA for phylogenetics. In: Innis MA, Gelfand DH, Sninsky JJ, White TJ, editors. PCR protocols: a guide to methods and applications. San Diego: Academic Press; 1990. p. 315–21.

12.

O'Donnell K, Sutton DA, Rinaldi MG, Sarver BA, Balajee SA, Schroers HJ, et al. Internet-accessible DNA sequence database for identifying fusaria from human and animal infections. J Clin Microbiol. 2010;48:3708–18.

13.

Kumar S, Stecher G, Tamura K. MEGA7: molecular evolutionary genetics analysis version 7.0 for bigger datasets. Mol Biol Evol. 2016;33(7):1870–4. https://doi.org/10.1093/molbev/msw054.

14.

Clinical and Laboratory Standarts Institute. Reference method for broth dilution antifungal susceptibility testing of filamentous fungi; Approved standard, 2nd ed. CLSI document M38-A2. 2008. Clinical and Laboratory Standarts Institute, Villanova, PA; 2008.

15.

Okada H, Hamatani S, Kondo M, Imai T, Itoh S, Isobe K, et al. Successful treatment of disseminated Fusarium infection in an infant with leukemia. Int J Hematol. 2000;72(4):494–8.

16.

Chi CC, Wang SH. Disseminated cutaneous Fusarium moniliforme infections in a leukemic child. Int J Dermatol. 2007;46(5):487–9.

17.

Marcoux D, Jafarian F, Joncas V, Buteau C, Kokta V, Moghrabi A. Deep cutaneous fungal infections in immunocompromised children. J Am Acad Dermatol. 2009;61(5):857–64.

18.

Gurusidappa SB, Mamatha HS. Fusarial skin lesion in immunocompromised. Indian J Cancer. 2011;48(1):116–7.

19.

Morris SK, Allen UD, Gupta S, Richardson SE. Breakthrough filamentous fungal infections in pediatric hematopoetic stem cell transplant and oncology patients receiving caspofungin. Can J Infect Dis Med Microbiol. 2012;23:179–82.

20.

Morel LN, Cid PM, De Celada RM, Rodríguez MF, Beato M, Arias ÁG, et al. Disseminated fusariosis in a pediatric population. Pediatr Dermatol. 2013;30(6):e255–6.

21.

Litvinov N, da Silva MT, van der Heijden IM, Graça MG, Marques de Oliveira L, Fu L, et al. An outbreak of invasive fusarium in a children's cancer hospital. Clin Microbiol Infect. 2015;21:1–7.

22.

Schwartz KL, Sheffield H, Richardson SE, Sung L, Morris SK. Invasive Fusarium: a single pediatric center 15-year experience. J Pediatr Infect Dis Soc. 2015;4:163–70.

23.

Bhattacharyya A, Chandy M, Roy MK, Goel G, Hmar L, Bhattacharya S, et al. Infection control challenges of infrequent and rare fungal pathogens: lessons from disseminated Fusarium and Kodamaea ohmeri infections. Infect Control Hosp Epidemiol. 2015;36(7):866–8.

24.

Rosanova MT, Brizuela M, Villasboas M, Guarracino F, Alvarez V, Santos P, et al. Fusarium spp infections in a pediatric burn unit: nine years of experience. Braz J Infect Dis. 2016;20(4):389–92.

25.

Hassler A, Lieb A, Seidel D, Cesaro S, Greil J, Klimko N, et al. Disseminated fusariosis in immunocompromised children-analysis of recent cases identified in the global fungiscope registry. Pediatr Infect Dis J. 2017;36(2):230–1.

26.

Álves F, Figueras C. Representación del Grupo de Trabajo de Infecciones Fúngicas de la Sociedad Española de Infectología Pediátrica. Infecciones Fúngicas Invasivas Emergentes. Anales de Pediatría. 2010;73:52.e1–6.

27.

Short DPG, O'Donnell K, Zhang N, et al. Widespread occurrence of diverse pathogenic types of the fungus Fusarium in bathroom plumbing drains. J Clin Microbiol. 2011;49:4264–72.

28.

Sautour M, Edel-Hermann V, Steinberg C, Sixt N, Laurent J, Dalle F, et al. Fusarium species recovered from the water distribution system of a French university hospital. Int J Hyg Environ Health. 2012;215:286–92.

29.

Campo M, Lewis RE, Kontoyiannis DP. Invasive Fusarium in patients with hematologic malignancies at a cancer center: 1998–2009. J Infect. 2010;60:331–7.

30.

Torres HA, Raad II, Kontoyiannis DP. Infections caused by Fusarium species. J Chemother. 2003;15(Suppl 2):28–35.

31.

Bodey GP, Boktour M, Mays S, et al. Skin lesions associated with Fusarium infection. J Am Acad Dermatol. 2002;47(5):659–66.

32.

Al-Rezqi A, Hawkes M, Doyle J, Richardson SE, Allen U. Invasive mold infections in iatrogenically immunocompromised children: an eight-yr review. Pediatr Transplant. 2009;13:545–52.

33.

Short DP, O'Donnell K, Thrane U, Nielsen KF, Zhang N, Juba JH, Geiser DM. Phylogenetic relationships among members of the Fusarium solani species complex in human infections and the descriptions of F. keratoplasticum sp. nov. and F. petroliphilum stat. nov. Fungal Genet Biol. 2013;53:59–70.

34.

Muraosa Y, Oguchi M, Yahiro M, Watanabe A, Yaguchi T, Kamei K. Epidemiological Study of Fusarium Species Causing Invasive and Superficial Fusariosis in Japan. Med Mycol J. 2017;58(1):E5–13.

35.

Jossi M, Ambrosioni J, Macedo-Vinas M, Garbino J. Invasive Fusarium with prolonged fungemia in a patient with acute lymphoblastic leukemia: case report and review of the literature. Int J Infect Dis. 2010;14:354–6.

36.

Van Diepeningen AD, de Hoog GS. Challenges in Fusarium, a Trans-Kingdom Pathogen. Mycopathologia. 2016;181(3–4):161–3.

37.

Espinel-Ingroff A, Colombo AL, Cordoba S, Dufresne PJ, Fuller J, Ghannoum M, et al. International evaluation of MIC distributions and epidemiological cutoff value (ECV) definitions for Fusarium species identified by molecular methods for the CLSI broth microdilution method. Antimicrob Agents Chemother. 2015;60:1079–84.

38.

Ruíz-Cendoya M, Mariné M, Rodríguez MM, Guarro J. Interactions between triazoles and amphotericin B in treatment of disseminated murine infection by Fusarium oxysporum. Antimicrob Agents Chemother. 2009;53(4):1705–8.

39.

Lewis R, Hogan H, Howell A, Safdar A. Progressive fusariosis: unpredictable posaconazole bioavailability, and feasibility of recombinant interferon-gamma plus granulocyte macrophage-colony stimulating factor for refractory disseminated infection. Leuk Lymphoma. 2008;49(1):163–5.

40.

Arikan S, Lozano-Chiu M, Paetznick V, Rex JH. In vitro synergy of caspofungin and amphotericin B against Aspergillus and Fusarium spp. Antimicrob Agents Chemother. 2002;46(1):245–7.

41.

Rothe A, Seibold M, Hoppe T, Seifert H, Engert A, Caspar C, et al. Combination therapy of disseminated Fusarium oxysporum infection with terbinafine and amphotericin B. Ann Hematol. 2004;83(6):394–7.

42.

Heyn K, Tredup A, Salvenmoser S, Müller FM. Effect of voriconazole combined with micafungin against Candida, Aspergillus, and Scedosporium spp. and Fusarium solani. Antimicrob Agents Chemother. 2005;49(12):5157–9.

43.

Groll AH, Castagnola E, Cesaro S, Dalle JH, Engelhard D, Hope W, et al. Fourth European Conference on Infections in Leukaemia (ECIL-4): guidelines for diagnosis, prevention, and treatment of invasive fungal diseases in paediatric patients with cancer or allogeneic haemopoietic stem-cell transplantation. Lancet Oncol. 2014;15(8):327–40.

44.

Perfect JR, Marr KA, Walsh TJ, Greenberg RN, DuPont B, de la Torre-Cisneros J, et al. Voriconazole treatment for less-common, emerging, or refractory fungal infections. Clin Infect Dis. 2003;36:1122–3.

45.

Nucci M, Marr KA, Vehreschild MJ, de Souza CA, Velasco E, Cappellano P, et al. Improvement in the outcome of invasive fusariosis in the last decade. Clin Microbiol Infect. 2014;20(6):580–5.

46.

Eiden C, Palenzuela G, Hillaire-Buys D, Margueritte G, Cociglio M, Hansel-Esteller S, et al. Posaconazole-increased vincristine neurotoxicity in a child: a case report. J Pediatr Hematol Oncol. 2009;31(4):292–5.

47.

Dalyan Cilo B, Al-Hatmi AM, Seyedmousavi S, Rijs AJ, Verweij PE, Ener B, et al. Emergence of fusarioses in a university hospital in Turkey during a 20-year period. Eur J Clin Microbiol Infect Dis. 2015;34(8):1683–91.

48.

Balajee SA, Borman AM, Brandt ME, Cano J, Cuenca-Estrella M, Dannaoui E, et al. Sequence-based identification of Aspergillus, Fusarium, and Mucorales species in the clinical mycology laboratory: where are we and where should we go from here? J Clin Microbiol. 2009;47:877–84.

49.

O'Donnell K, Sutton DA, Rinaldi MG, Gueidan C, Crous PW, Geiser DM. Novel multilocus sequence typing scheme reveals high genetic diversity of human pathogenic members of the Fusarium incarnatum, F. equiseti and F. chlamydosporum species complexes within the United States. J Clin Microbiol. 2009;47:3851–61.

50.

Healy M, Reece K, Walton D, Huong J, Frye S, Raad II, et al. Use of the DiversiLab System for species and strain differentiation of Fusarium species isolates. J Clin Microbiol. 2005;43:5278–80.
Acknowledgements
We would like to thank "Fundação de Amparo à Pesquisa do Estado de São Paulo" (Fapesp - 2014/16507-0) for financial support and Letícia Campos for English review.
Additional information
Handling Editor: Anne D. van Diepeningen.
About this article
Cite this article
Arnoni, M.V., Paula, C.R., Auler, M.E. et al. Infections Caused by Fusarium Species in Pediatric Cancer Patients and Review of Published Literature. Mycopathologia 183, 941–949 (2018). https://doi.org/10.1007/s11046-018-0257-6
Received:

Accepted:

Published:

Issue Date:
Keywords
Fusarium spp.

Children

Cancer

Nosocomial infection