Abstract
Image watermarking technique is an alternative solution to protecting digital image copyright. This paper proposed a new embedding technique based on different embedding strengths for embedding a watermark. An image is divided into non-overlapping blocks of 8 × 8 pixels. The variance pixel value was computed for each image block. Image blocks with the highest variance value were selected for the embedding regions. Therefore, it was transformed by discrete cosine transforms (DCT). Five DCT coefficients in the middle frequency were selected and the average of selected DCT blocks was calculated to generate different embedding strengths by using a set of rules. The watermark bits were embedded by using a set of embedding rules with the proposed different embedding strengths. For an additional security, the binary watermark was scrambled by using an Arnold Transform before it was embedded. The experimental results showed that the proposed scheme achieved a higher imperceptibility than the other existing schemes. The proposed scheme achieved a watermarked image quality with a PSNR value of 46 dB. The proposed scheme also produced a high watermark extracting resistance under various attacks.
This is a preview of subscription content, log in to check access.
Access options
Buy single article
Instant unlimited access to the full article PDF.
US$ 39.95
Price includes VAT for USA
Subscribe to journal
Immediate online access to all issues from 2019. Subscription will auto renew annually.
US$ 199
This is the net price. Taxes to be calculated in checkout.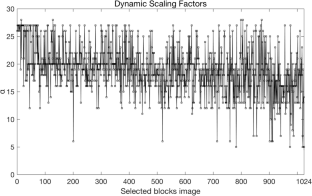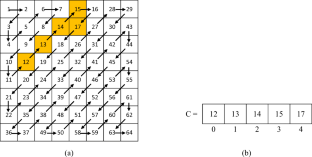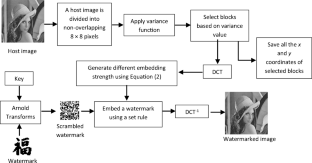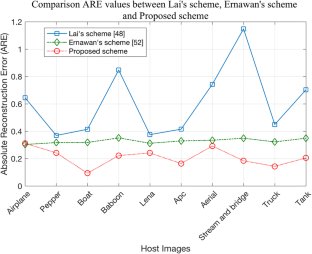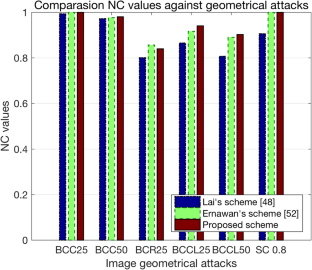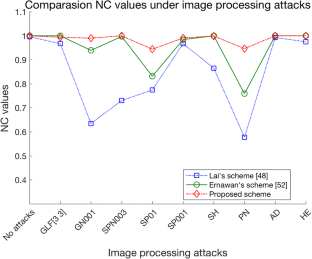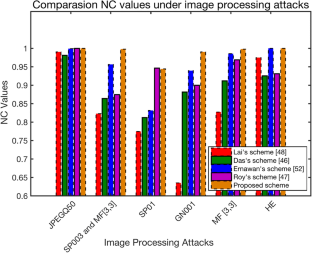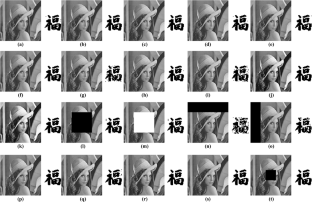 References
1.

Abd El-Latif A, Abd-El-Atty B, Hossain M, Rahman M, Alamri A, Gupta BB (2018) Efficient quantum information hiding for remote medical image sharing. IEEE Access 6:21075–21083

2.

Agarwal C, Mishra A, Sharma A, Bedi P (2014) Optimized gray-scale image watermarking using DWT – SVD and firefly algorithm. Expert Syst Appl 41(17):7858–7867

3.

Ansari IA, Pant M (2015) SVD watermarking: particle swarm optimization of scaling factors to increase the quality of watermark BT. Proceedings of fourth international conference on soft computing for problem solving, In, pp 209–218

4.

Chen ST, Huang HN, Kung WM, Hsu CY (2016) Optimization-based image watermarking with integrated quantization embedding in the wavelet-domain. Multimed Tools Appl 75:5493–5511

5.

Chetan KR, Nirmala S (2015) An efficient and secure robust watermarking scheme for document images using integer wavelets and block coding of binary watermarks. J Inf Secur Appl 24–25:013–024

6.

Das C, Panigrahi S, Sharma VK, Mahapatra KK (2014) A novel blind robust image watermarking in DCT domain using inter-block coefficient correlation. AEU Int J Electron Commun 68(3):244–253

7.

Dey N, Samanta S, Chakraborty S, Das A, Chaudhuri SS, Suri JS (2014) Firefly algorithm for optimization of scaling factors during embedding of manifold medical information: an application in ophthalmology imaging. J Med Imaging Health Inform 4(3):384–394

8.

Dogan S, Tuncer T, Avci E, Gulten A (2011) A robust color image watermarking with Singular Value Decomposition method. Adv Eng Softw 42(6):336–346

9.

El-Latif A, Abd-El-Atty B, Hossain M, Elmougy S, Ghoneim A (2018) Secure quantum steganography protocol for fog cloud Internet of Things. IEEE Access 6:10332–10340

10.

Ernawan F (2016) Robust image watermarking based on psychovisual threshold. J ICT Res Appl 10(3):228–242

11.

Ernawan F, Kabir MN (2018) A block-based RDWT-SVD image watermarking method using human visual system characteristics. Vis Comput:001–019

12.

Ernawan F, Kabir MN (2018) A blind watermarking technique using redundant wavelet transform for copyright protection. In: International Colloquium on Signal Processing & its Applications (CSPA), pp 221–226

13.

Ernawan F, Kabir MN (2018) A robust image watermarking technique with an optimal DCT-psychovisual threshold. IEEE Access 6:20464–20480

14.

Ernawan F, Ramalingam M, Sadiq AS, Mustaffa Z (2017) An improved imperceptibility and robustness of 4x4 DCT-SVD image watermarking using modified entropy. J Telecommun Electron Comput Eng 9(2–7):111–116

15.

Fazli S, Moeini M (2016) A robust image watermarking method based on DWT, DCT, and SVD using a new technique for correction of main geometric attacks. Optik 127(2):964–972

16.

Giri KJ, Bashir R (2017) Digital watermarking: a potential solution for multimedia authentication. In: Intelligent techniques in signal processing for multimedia security. Springer, Cham, pp 093–112

17.

Guo JM, Riyono D, Prasetyo H (2018) Hyperchaos permutation on false-positive-free SVD-based image watermarking. Multimed Tools Appl:001–024

18.

Hien TD, Nakao Z, Chen Y-W (2006) RDWT domain watermarking based on independent component analysis extraction. In: Applied soft computing technologies: the challenge of complexity. Springer, Berlin/Heidelberg, pp 401–414

19.

Hsiao CY, Tsai MF, Yang CY (2018) Simple and robust watermarking scheme based on square-root-modulus technique. Multimed Tools Appl 77:30419–30435

20.

Hsu L-Y, Hu H-T (2017) Robust blind image watermarking using crisscross inter-block prediction in the DCT domain. J Vis Commun Image Represent 46:033–047

21.

Hu H, Hsu L (2015) Exploring DWT-SVD-DCT feature parameters for robust multiple watermarking against JPEG and JPEG2000 compression. Comput Electr Eng 41:052–063

22.

Hu H-T, Chang J-R, Hsu L-Y (2016) Robust blind image watermarking by modulating the mean of partly sign-altered DCT coefficients guided by human visual perception. AEU Int J Electron Commun 70(10):1374–1381

23.

Kester QA, Nana L, Pascu AC, Gire S, Eghan JM, Quaynor NN (2016) A hybrid image cryptographic and spatial digital watermarking encryption technique for security and authentication of digital images. In: 17th UKSim-AMSS international conference on modelling and simulation (UKSim), pp 322–326

24.

Khan A, Siddiqa A, Munib S, Malik SA (2014) A recent survey of reversible watermarking techniques. Inf Sci 279:251–272

25.

Lai CC (2011) An improved SVD-based watermarking scheme using human visual characteristics. Opt Commun 284(4):938–944

26.

Lee Y, Seo Y, Kim D (2019) Digital blind watermarking based on depth variation prediction map and DWT for DIBR free-viewpoint image. Signal Process Image Commun 70:104–113

27.

Liansheng S, Bei Z, Zhanmin W, Ailing T (2017) An optical color image watermarking scheme by using compressive sensing with human visual characteristics in gyrator domain. Opt Lasers Eng 92:085–093

28.

Lusson F, Bailey K, Leeney M, Curran K (2013) A novel approach to digital watermarking, exploiting colour spaces. Signal Process 93(5):1268–1294

29.

Makbol NM, Khoo BE (2014) A new robust and secure digital image watermarking scheme based on the integer wavelet transform and singular value decomposition. Digital Signal Process 33:134–147

30.

Makbol NM, Khoo BE, Rassem TH (2016) Block-based discrete wavelet transform-singular value decomposition image watermarking scheme using human visual system characteristics. IET Image Process 10:034–052

31.

Makbol NM, Khoo BE, Raseem TH, Loukhaoukha K (2017) A new reliable optimized image watermarking scheme based on the integer wavelet transform and singular value decomposition for copyright protection. Inform Comput Sci Intell Syst Appl 417:381–400

32.

Manikandan V, Masilamani V (2018) Histogram shifting-based blind watermarking scheme for copyright protection in 5G. Comput Electr Eng 72:614–630

33.

Moosazadeh M, Ekbatanifard G (2017) An improved robust image watermarking method using DCT and YCoCg-R color space. Optik Int J Light Electron Opt 140:975–988

34.

Murali P, Sankaradass V (2018) An efficient ROI based copyright protection scheme for digital images with SVD and orthogonal polynomials transformation. Int J Light Electron Opt 170:242–264

35.

Naseri M, Heidari S, Baghfalaki M, Fatahi N, Gheibi R, Batle J, Farouk A, Habibi A (2017) A new secure quantum watermarking scheme. Optik 139:77–86

36.

Parekh M, Bidani S, Santhi V (2018) Spatial domain blind watermarking for digital images. In: Progress in computing, analytics and networking. Springer, Singapore, pp 519–527

37.

Peng Y, Lan H, Yue M, Xue Y (2017) Multipurpose watermarking for vector map protection and authentication. Multimed Tools Appl 77(4):7239–7259

38.

Pizzolante R, Castiglione AR, Carpentieri B, De Santis A, Palmieri F, Castiglione AN (2018) On the protection of consumer genomic data in the internet of living things. Comput Secur 74:384–400

39.

Qin C, Ji P, Zhang X, Dong J, Wang J (2017) Fragile image watermarking with pixel-wise recovery based on overlapping embedding strategy. Signal Process 25(3):036–048

40.

Qin C, Ji P, Chang CC, Dong J, Sun X (2018) Non-uniform watermark sharing based on optimal iterative BTC for image tampering recovery. IEEE Multimedia 25(3):036–048

41.

Roy S, Pal AK (2017) A blind DCT based color watermarking algorithm for embedding multiple watermarks. AEU Int J Electron Commun 72:149–161

42.

Roy S, Pal AK (2017) A robust blind hybrid image watermarking scheme in RDWT-DCT domain using Arnold scrambling. Multimed Tools Appl 76(3):3577–3616

43.

Sangeetha N, Anita X (2018) Entropy based texture watermarking using discrete wavelet transform. Int J Light Electron Opt 160:380–388

44.

Singh SP, Bhatnagar G (2018) A new robust watermarking system in integer DCT domain. J Vis Commun Image Represent 53:086–101

45.

Singh P, Chadha RS (2013) A survey of digital watermarking techniques, applications and attacks. Int J Eng Innov Technol 2(9):165–175

46.

Singh D, Singh SK (2017) DCT based efficient fragile watermarking scheme for image authentication and restoration. Multimed Tools Appl 76(1):953–977

47.

SIPI Image Database. http://sipi.usc.edu/database/database.php. Accessed 10 Jan 2019

48.

Soliman MM, Hassanien AE, Onsi HM (2016) An adaptive watermarking approach based on weighted quantum particle swarm optimization. Neural Comput & Applic 27:469–481

49.

Song X, Wang S, Liu S, Abd El-Latif A, Niu X (2013) A dynamic watermarking scheme for quantum images using quantum wavelet transform. Quantum Inf Process 12(12):3689–3706

50.

Song X, Wang S, Abd El-Latif A, Niu X (2014) Dynamic watermarking scheme for quantum images based on Hadamard transform. Multimed Syst 20(4):379–388

51.

Song X, Wang S, Abd El-Latif A, Niu X (2015) New approaches for efficient information hiding-based secret image sharing schemes. Signal Image Video Process 9(3):499–510

52.

Su Q, Niu Y, Zhao Y, Pang S, Liu X (2013) A dual color images watermarking scheme based on the optimized compensation of singular value decomposition. AEU Int J Electron Commun 67(8):652–664

53.

Sun L, Xu J, Liu S, Zhang S (2018) A robust image watermarking scheme using Arnold transform and BP neural network. Neural Comput & Applic 30:2425–2440

54.

Tareef A, Al-Ani A (2015) A highly secure oblivious sparse coding-based watermarking system for ownership verification. Expert Syst Appl 42(4):2224–2233

55.

Thakkar FN, Srivastava VK (2017) A blind medical image watermarking: DWT-SVD based robust and secure approach for telemedicine applications. Multimed Tools Appl 76:3669–3697

56.

Tomar R, Patni JC, Dumka A, Anand A (2015) Blind watermarking technique for grey scale image using block level discrete cosine transform (DCT). In: Emerging ICT for bridging the future – proceedings of the 49th annual convention of the Computer Society of India CSI 2, pp 81–89

57.

Yadav N, Singh K (2015) Robust image-adaptive watermarking using an adjustable dynamic strength factor. Signal Image Video Process 9(7):1531–1542
Acknowledgments
This work was supported by Fundamental Research Grant Scheme (FRGS) No. RDU190117 from Ministry of Higher Education, Malaysia.
Additional information
Publisher's note
Springer Nature remains neutral with regard to jurisdictional claims in published maps and institutional affiliations.
About this article
Cite this article
Ariatmanto, D., Ernawan, F. An improved robust image watermarking by using different embedding strengths. Multimed Tools Appl (2020) doi:10.1007/s11042-019-08338-x
Received:

Revised:

Accepted:

Published:
Keywords
Different embedding strengths

Adaptive scaling factor

Embedding scheme

Extracting scheme

Image watermarking

Discrete cosine transforms